Autodesk
Hit Us With Your Best Shot
Autodesk came to us for creative concepts and lead-generating assets to tell the story of its cloud-based creative project management software, Autodesk ShotGrid, in the aftermath of the pandemic. Our efforts resulted in an account-based marketing campaign and assets including an eBook, infographics, emails and a series of digital ads.

Autodesk ShotGrid helps film and TV studios improve their operational efficiency by helping them increase project workload capacity, improve resource planning, accelerate creative reviews and approvals, and increase task & process automation.
As it became clear that the new world of work involved increased remote collaboration, we saw an opportunity to tout the benefits of this unique creative project management software. We worked to create personally-relevant traffic drivers to generate new leads and engage new contacts by highlighting the benefits of ShotGrid, including maximized productivity and enhanced collaboration/creativity from anywhere in the world.
Our account-based marketing campaign drove growth of ShotGrid in film and TV among studio owners, C-level executives, producers and VFX supervisors.
Contact Us
Two Key Opportunities
Reach new film and TV studios and current Autodesk customers who are working in a newly remote world of production
Create a personally-relevant creative campaign that could be transcreated for a global audience
Reach new film and TV studios who are working in a newly remote world of production
This portion of the campaign was directed at prospecting for new contacts who might find ShotGrid useful for their productions. Our main goal was to encourage prospects such as C-Suite executives, producers and VFX supervisors to fill out a contact form and download an eBook.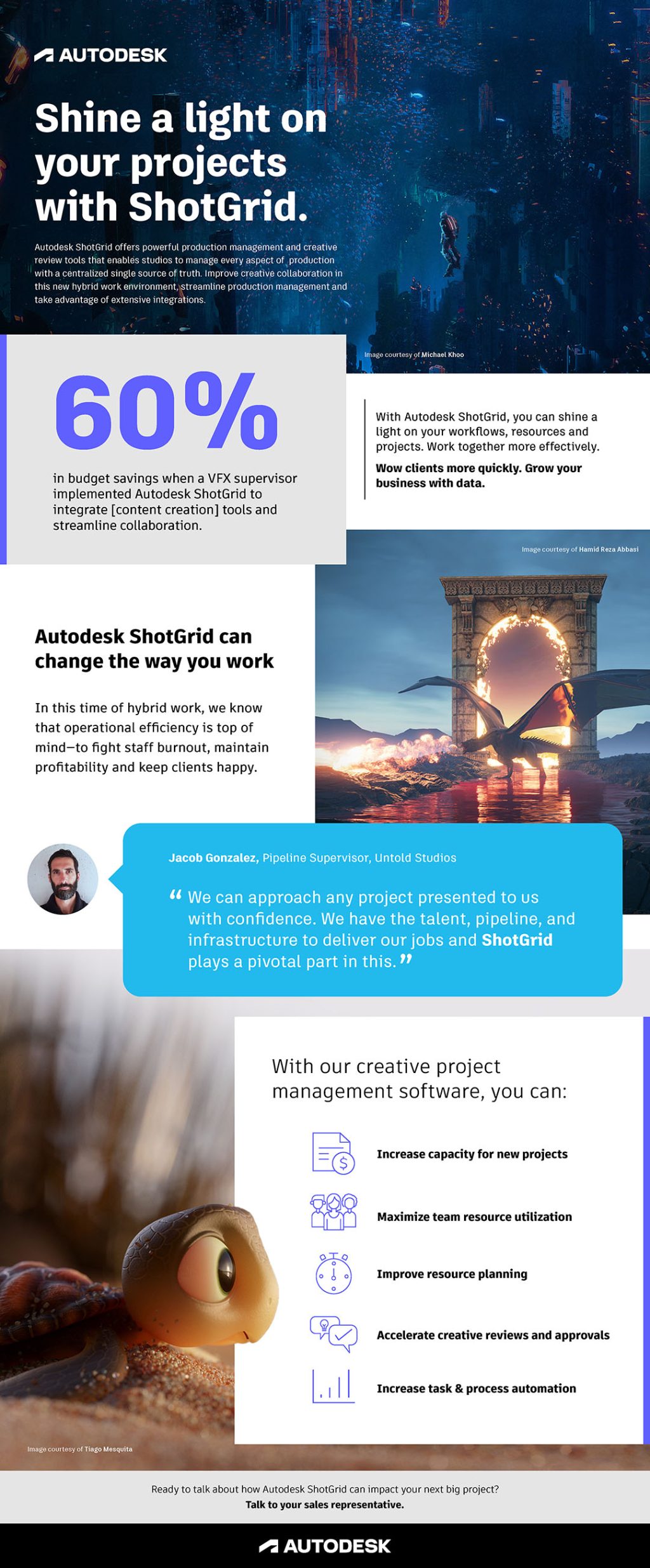 The eBook, "6 Secrets to Successful Cloud-Based Workflows" features copywriting and design from the Noble team. Over the course of 30 pages, the eBook outlines the benefits of using ShotGrid in the new landscape of remote work. Drawing on case studies from existing ShotGrid users, the eBook helps the prospect visualize how they might use the same tools to track their team's production from anywhere in the world.
In the end, the eBook helped prospects understand the operational efficiencies ShotGrid offers and the value it can bring to their creative teams, and it encouraged engagement with the lead-generating assets to enlist in a long lead cycle and convert to sales.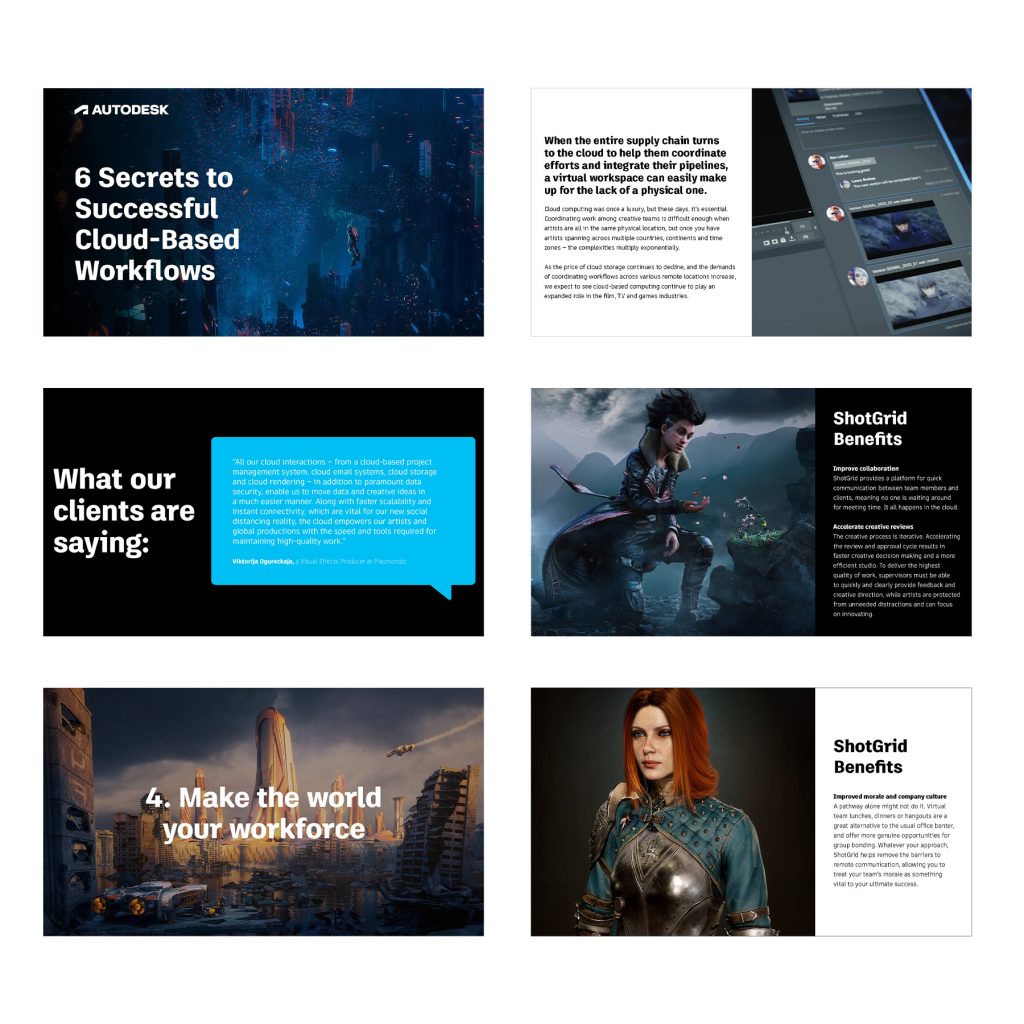 Create a personally-relevant creative campaign that could be transcreated for a global audience
This campaign included infographics, display ads, social and carousel ads targeting existing Autodesk accounts. It was a global campaign that was executed and localized in focused countries such as North America, China, Japan, South Korea, UK, France and Germany.
Taking a cue from Autodesk research, we trained our focus on executive-level/buyers, including C-level, directors, managers and business owners. We also targeted influencers within production companies such as project managers, 3D animators, previsualization artists, lighting artists, technical directors, interior designers and more.
With these assets, we sought to show the key value of ShotGrid: operational efficiency. With visually engaging storytelling and testimonials from existing users, we showed how ShotGrid maximizes productivity and enhances collaboration and creativity. Other benefits we highlighted include:
Increased workload capacity
Improved resource planning
Accelerated review and approval
Increased automation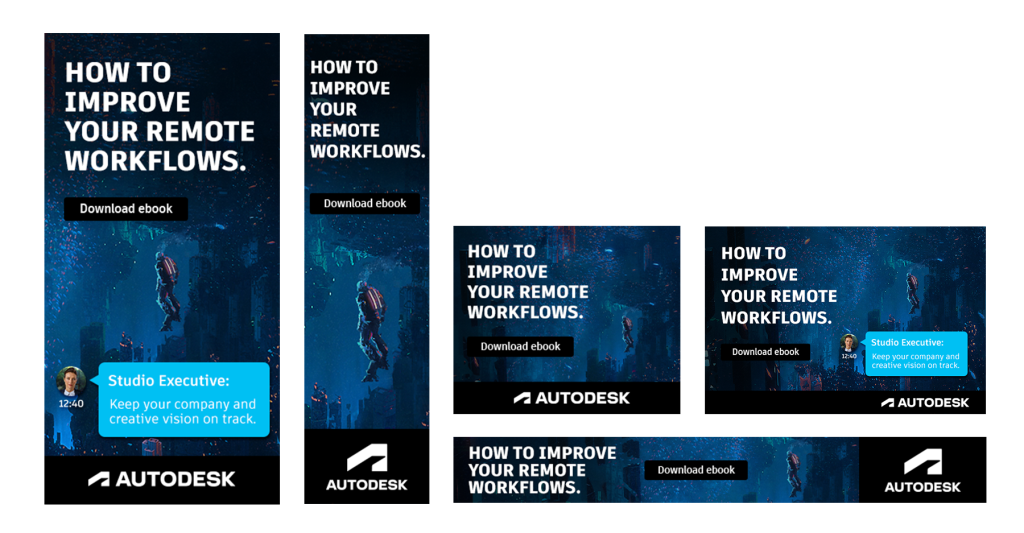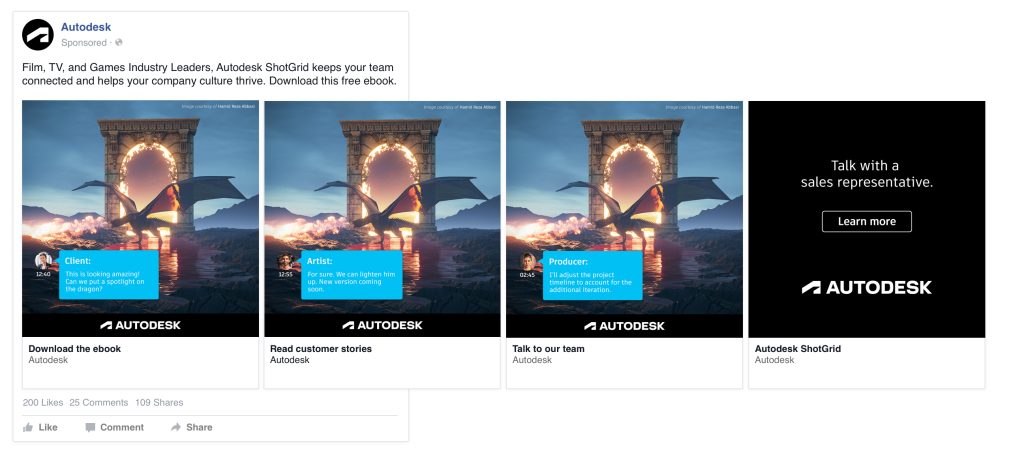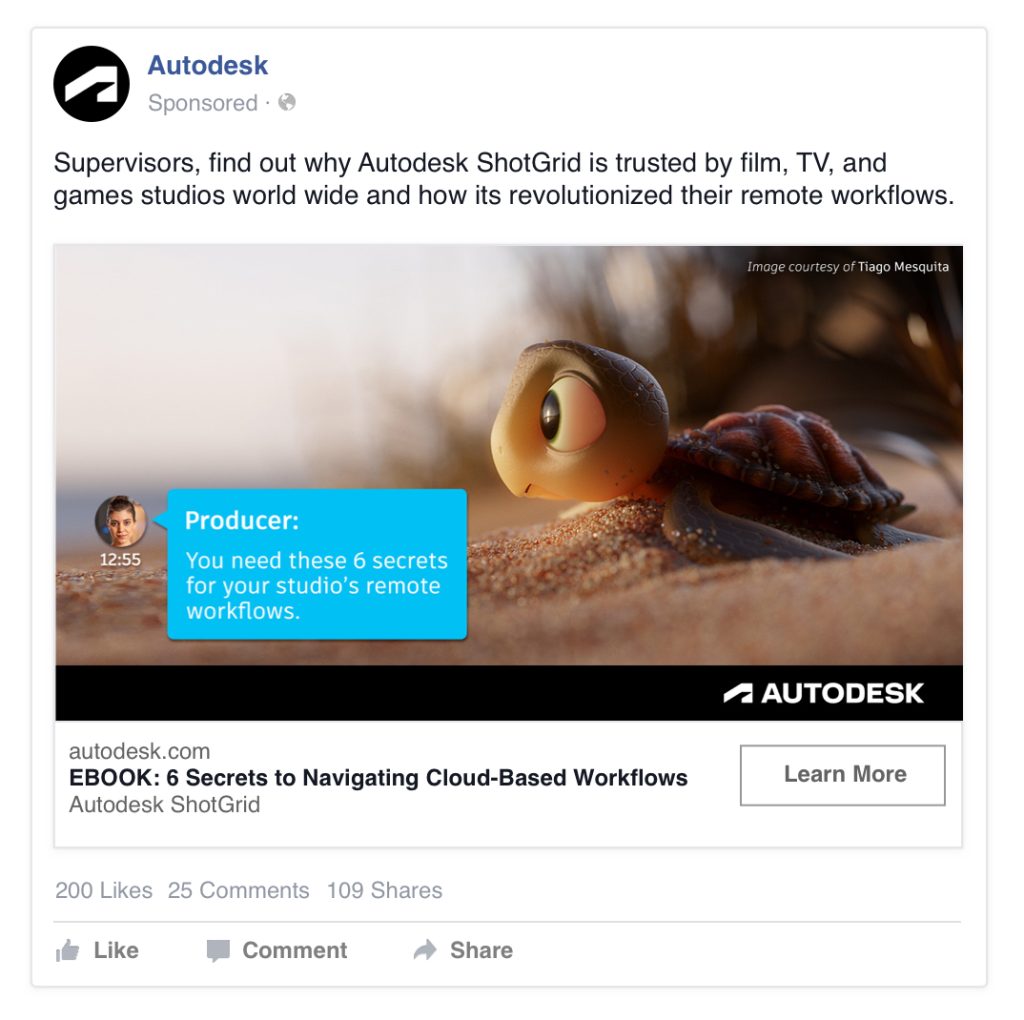 These messages were crucial for those overseeing large, complex projects where reliability is paramount. The messaging also emphasized how ShotGrid supports an increasingly hybrid work environment through smooth collaboration and transparency, ultimately creating a centralized source of truth for all players from C-Suite to client.
In the end, these efforts helped Autodesk achieve the remarkable feat of reaching both existing clients and new prospects as the world emerged from the pandemic.
Interested in turning your digital marketing efforts up a notch? Fill out our start a project form, and we'll be in touch.