Dr. Weil
Just What the Doctor Ordered
When traditional medicine falls short, Dr. Weil advocates for herbal remedies, meditation and mindful living. To keep his authoritative online voice, we prescribed a modern revamp for his website.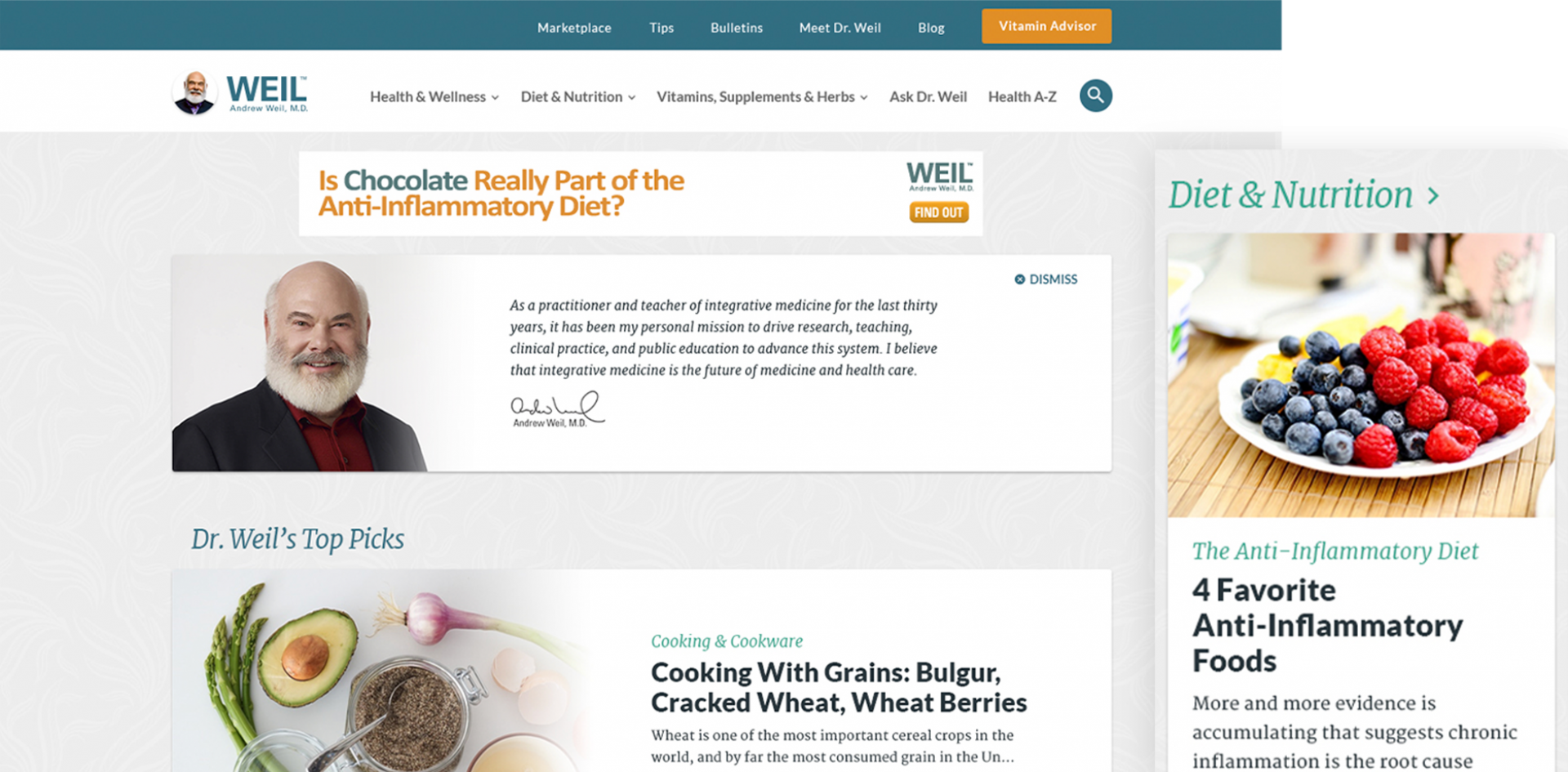 An Online Brand Ready to Level Up
For more than 25 years, DrWeil.com, has attracted a loyal following by being a trusted source of information on the subjects of alternative medicine and healthy living. Yet, as the digital marketplace became oversaturated with health and wellness brands, it became harder than ever before for authentic voices, such as Dr. Weil's, to be heard.
Get in Touch
---
Three Key Opportunities
Reemerge as a leader in the industry with a stronger digital presence
Establish authority on the topic with content that meets readers' needs
Ensure the new website is responsive and stands out among competitors
55

%

Increase in mobile sessions

14

%

Increase in session duration
---
Strengthen Digital Presence
A new site that would better anticipate the needs of visitors seeking health and wellness information and products. A deep discovery on the site informed a strategic plan that would bolster Dr. Weil's digital presence and overall consumer confidence. Our findings showed that a complete content migration and redesign were in order to bring DrWeil.com back into prominence in the health and wellness information market.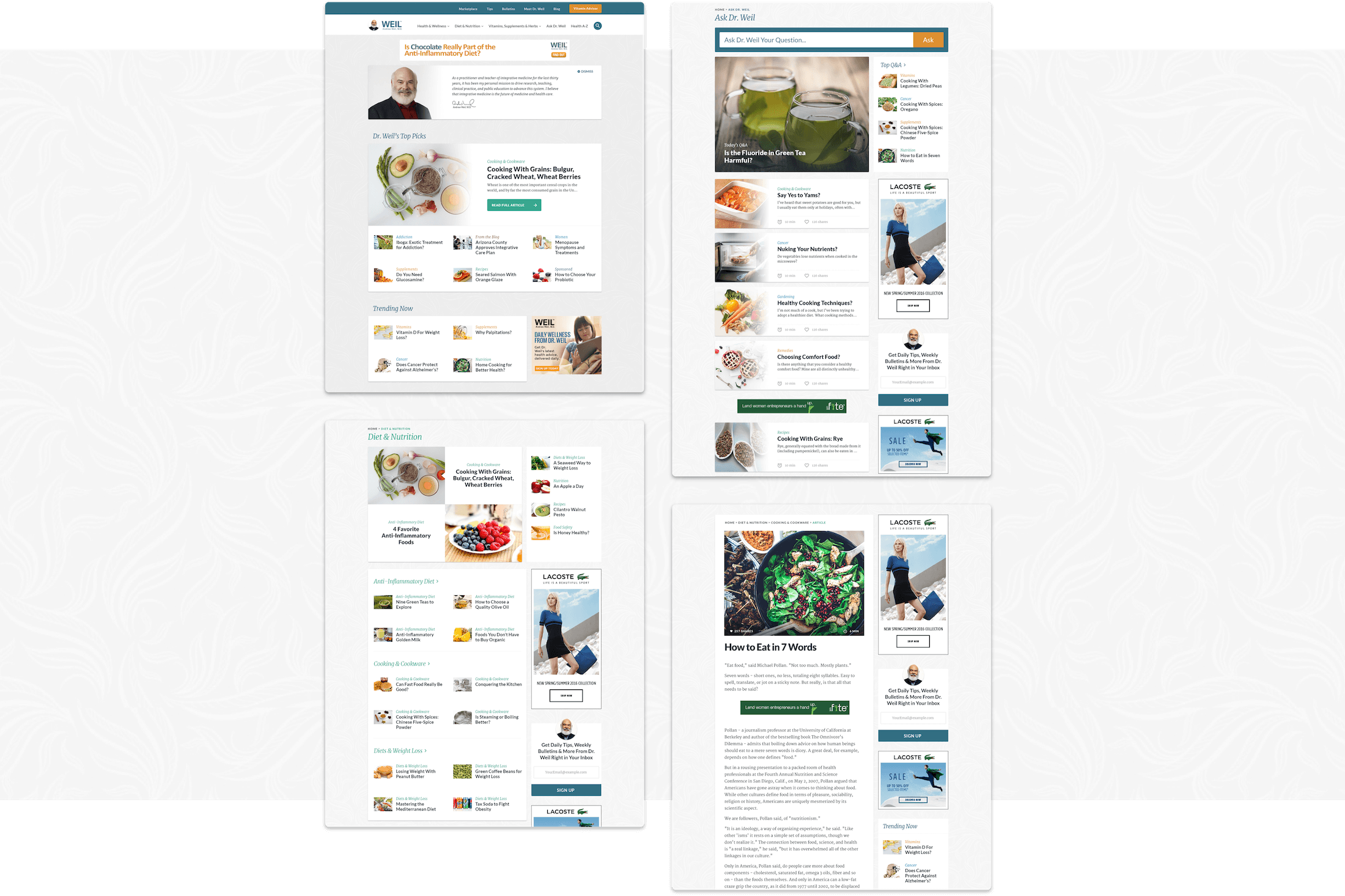 ---
Establish Authority through Relevant Content
A top goal: to organize the site's complex content structure to make it more relevant to readers and more attractive to search engines in a highly competitive industry. Working hand-in-hand with Dr. Weil's medical editorial staff, we researched and honed in on high-traffic keywords related to Dr. Weil's areas of expertise before siloing content into more intuitive categories for the user.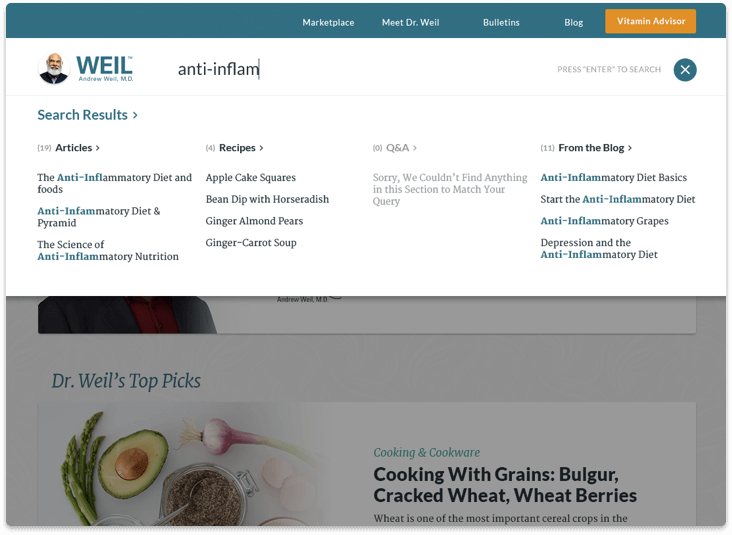 Advanced Search Functionality
The revamped Dr.Weil.com featured improved navigation throughout. Advanced search functionality allows users to effortlessly search for relevant content.
Mega Navigation
Mega navigation, including large images, makes finding information on specific interests easy and fun.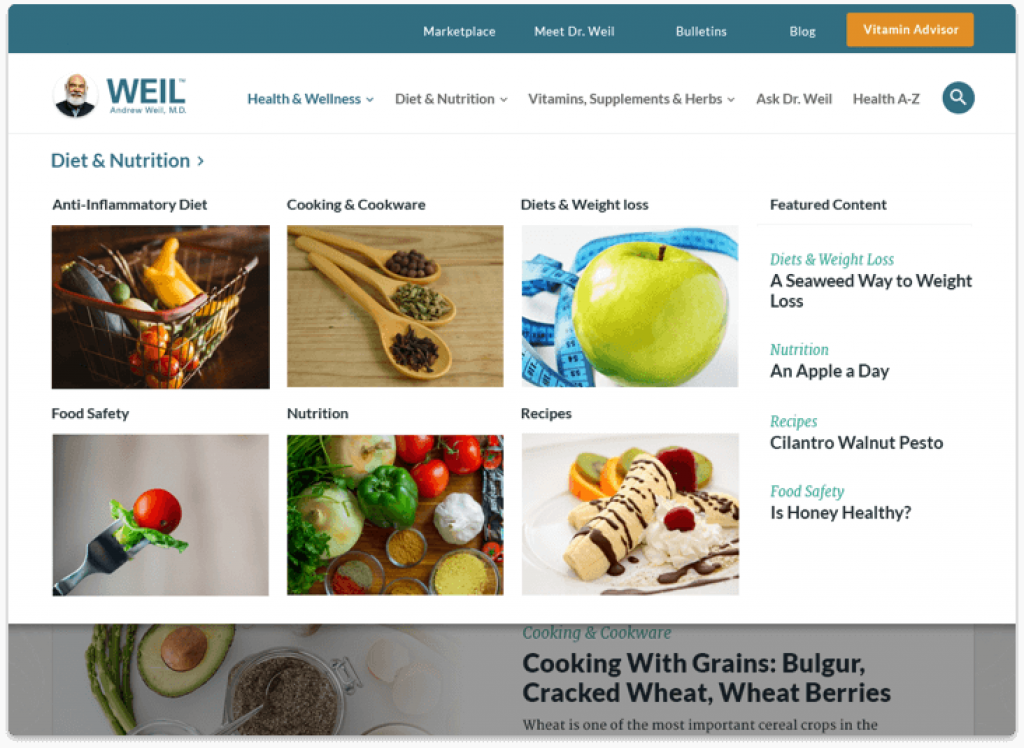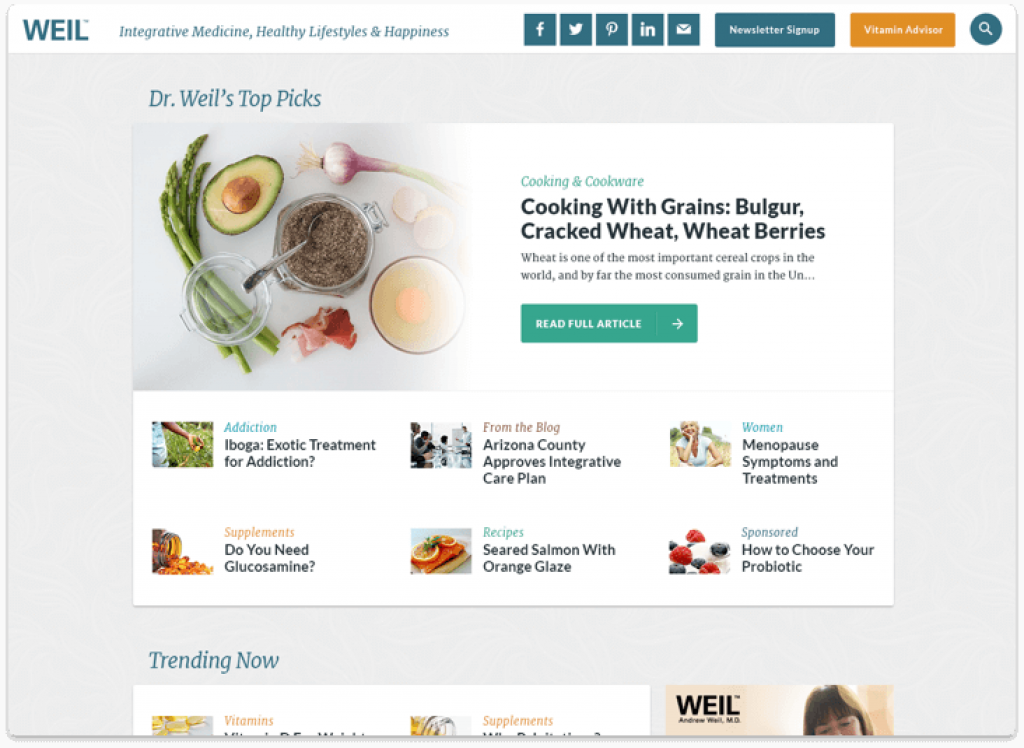 Alternative Navigation
As users scroll down the page, the navigation bar morphs into a call to action, drawing attention toward Dr. Weil's social presence, newsletter and Vitamin Advisor to increase conversions.
---
Standing Out Among the Competition
Because mobile accounts for the majority of searches, we redesigned Dr. Weil's site to be responsive across all device platforms. This makes the site's invaluable content accessible to users searching for information on-the-go. The newly improved user experience and interface is now on par with the needs of the Weil Lifestyle brand's rapidly expanding younger audience, while also remaining a familiar and positive experience for long-time users. The result is an improved site that remains focused on increasing the page views needed for further monetization.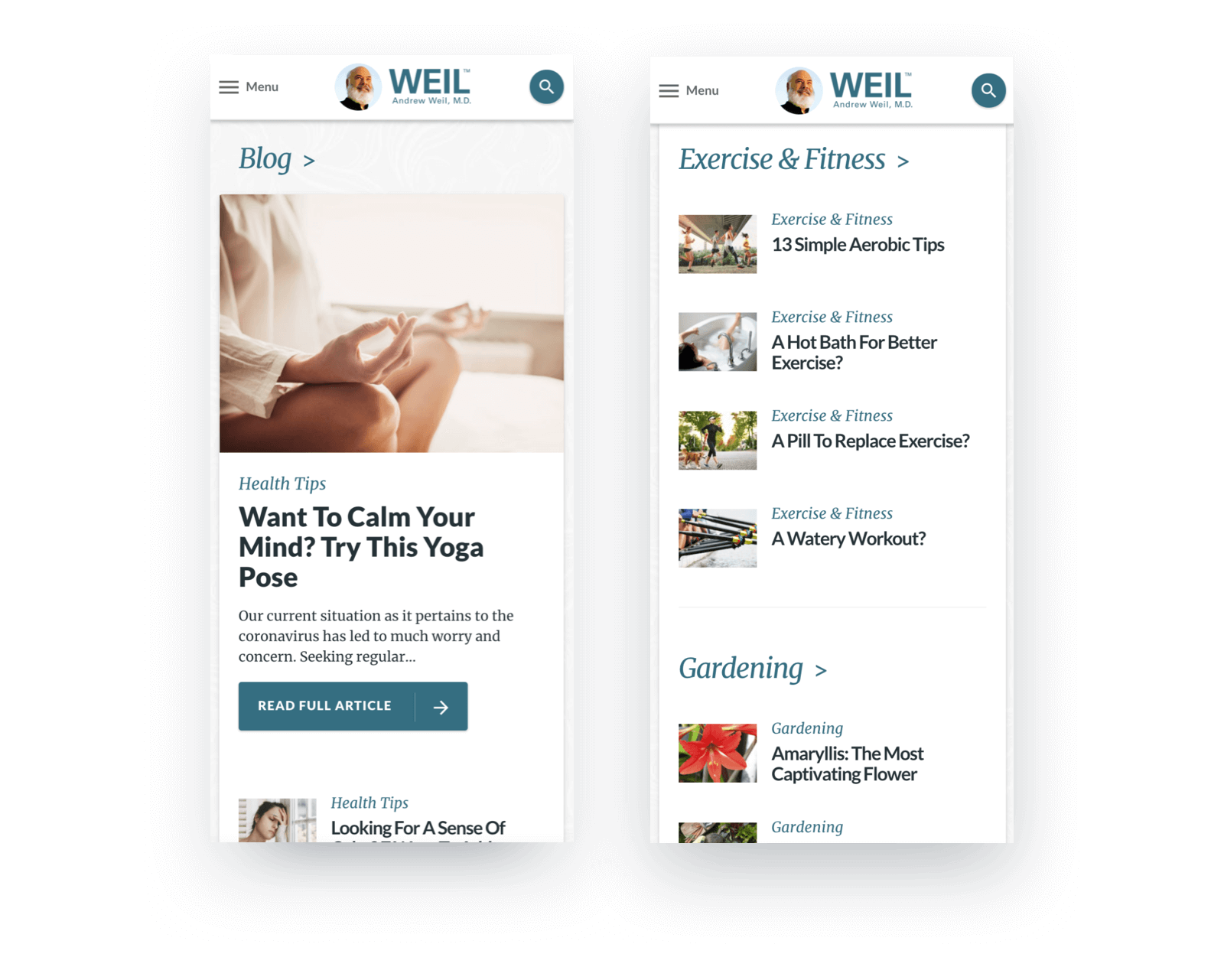 55

%

Increase in mobile sessions

14

%

Increase in session duration

17

%

Increase in pages per session
Awards
2020 AAF Reno Addy Awards

Gold Award for Brand Book Design

2020 AAF Reno Addy Awards

Bronze Award for Campaign

2019 Hermes Creative Awards

Gold for Nonprofit Website
Interested in turning your digital marketing efforts up a notch? Fill out our start a project form, and we'll be in touch.