Greater Nevada Credit Union
Strengthening a Community Lender
When Greater Nevada Credit Union (GNCU) recognized the misalignment between its strong community focus and its digital presence, it partnered with Noble Studios to bridge the gap. GNCU's outdated website and SEO strategy were underperforming, hindering member engagement and new member acquisition. Our mission was clear: enhance the digital user experience to align with GNCU's core values while driving actionable results.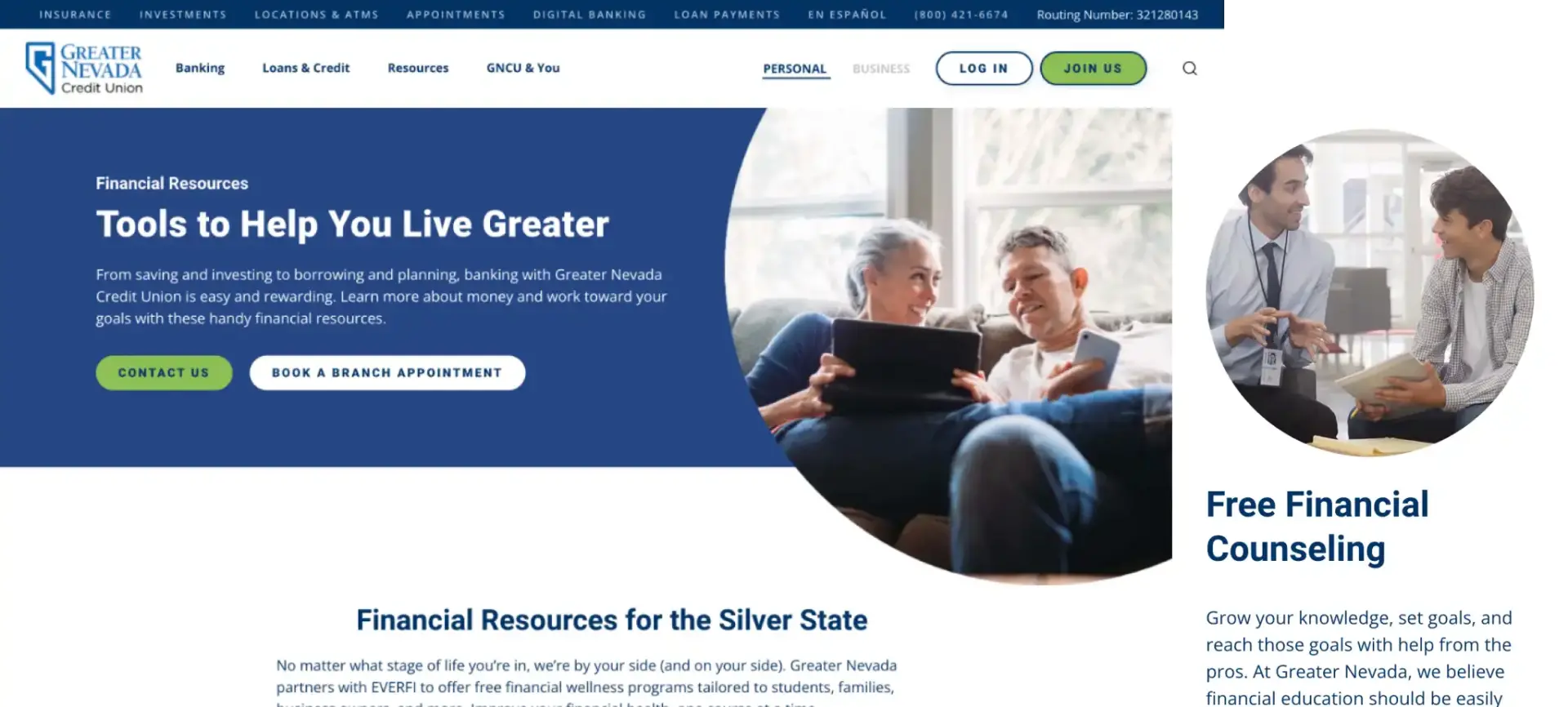 Better SEO Practices in Action
Understanding the intricate dynamics of GNCU's business objectives was the cornerstone of our approach. While the desire was to have new users explore financial products and apply for loans while also being more competitive against other local financial institutions. Underneath those business goals was the desire to attract new users with non-brand keywords and streamline the pathway to conversion.
Get in Touch
---
Key Opportunities
To serve these objectives effectively, we devised a multi-faceted strategy:
Increasing Visibility: The focus was on net new content, targeting highly relevant non-brand keywords, such as "banks in Las Vegas" and "car loans for bad credit." This approach was designed to capture the attention of prospective members actively seeking similar services.
Optimizing Qualified Traffic: Our team worked meticulously on existing product pages that were on the cusp of high rankings for valuable terms like "Nevada car loans" and "savings account." Optimization of these pages was pivotal in converting potential interest into actionable member engagement.
High-Converting Page Design: Collaborating with designers and developers, we crafted pages that not only excelled in search engine rankings but were also user-friendly. The dual focus ensured a seamless path to conversion for users.
Onsite User Experience: With a design that employs an SEO-informed, "outside-in" approach, the website's navigation was made intuitive. Members and prospects could effortlessly locate high-value products and services, thereby improving engagement and satisfaction metrics.
258

%

increase in keyword rankings

11

%

growth in top 10 rankings

296

%

surge in impressions

---
Insights from Discovery and Analysis
To measure the effectiveness of our implemented strategies, we leaned into specific metrics that mattered the most to GNCU:
Visibility: Keyword rankings and Organic impressions were the linchpins here.
Traffic: Organic clicks and sessions provided insight into user engagement.
Conversion: Form completions and conversion rates were the ultimate measure of our success.
During the discovery phase, our team conducted a comprehensive suite of audits designed to catapult Greater Nevada Credit Union's online presence to the next level. We started with an in-depth keyword research to delve into the specific search behaviors pertinent to credit unions, revealing key opportunities in search term variations.
A meticulous content audit followed, where we evaluated the existing site content for performance gaps and areas primed for enhancement. Concurrently, we undertook a competitor analysis to map out the SERP landscape, identifying keyword and content gaps vis-a-vis both direct and indirect competitors. We also rigorously audited the analytics setup—primarily through Google Analytics—to ensure precise tracking of key performance indicators.
Finally, heatmap and click map analyses on crucial website pages like the homepage, product pages, and blogs provided invaluable insights into user intent and behavior, highlighting areas that needed design and navigational improvements. This holistic approach during the discovery phase ensured we had a data-backed, fully-rounded strategy moving forward.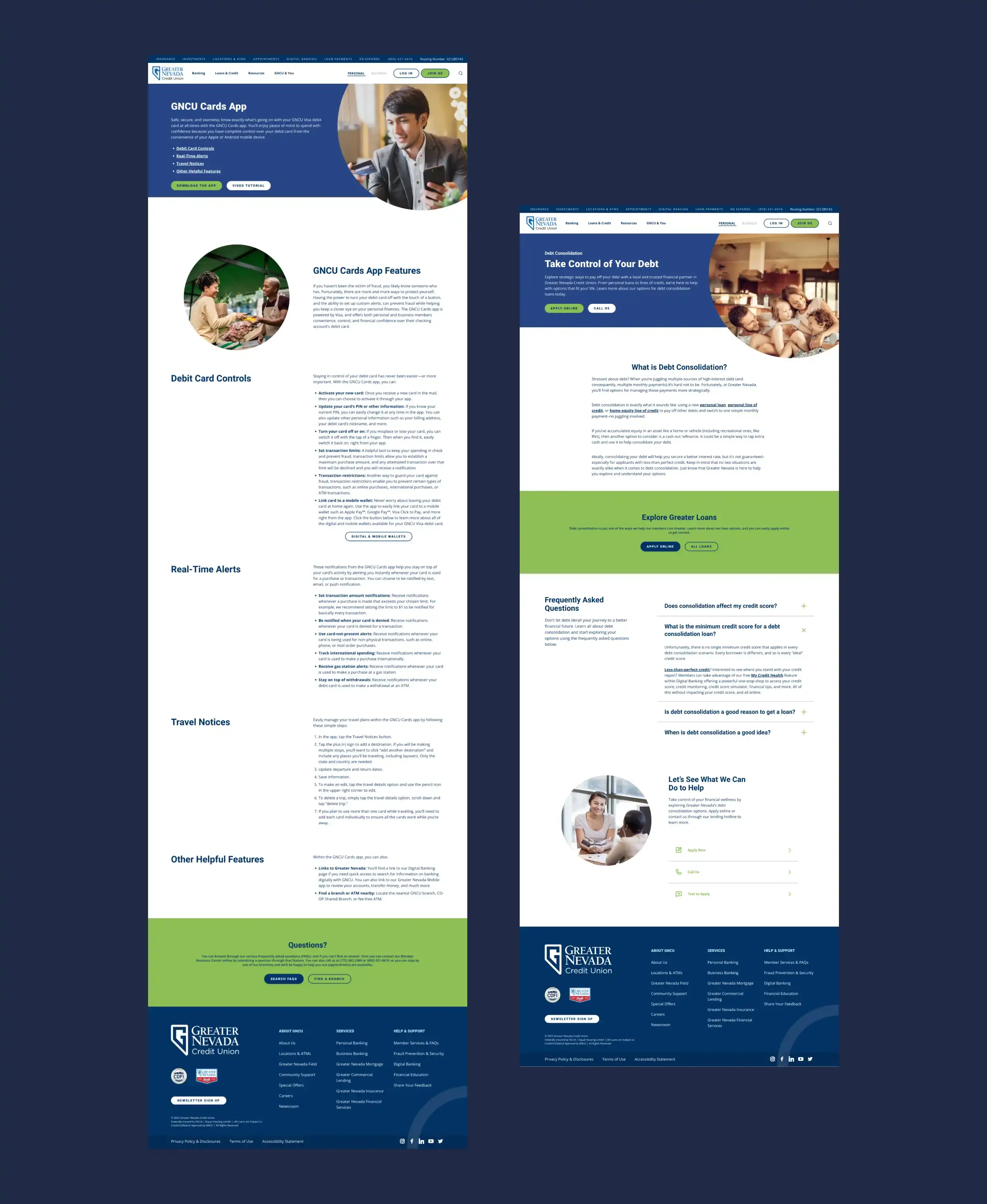 ---
Optimized Content for Higher Conversion Rates
Through the in-depth research and audits, we identified not just where GNCU stood but also the gaps that needed bridging. Their SERP features already included local three-packs, image packs, and "'People Also Ask," among others. However, they had limited organic traffic for non-brand-specific terms and suffered from a poor conversion experience.
So, we got to work. We optimized existing content and wrote new, SEO-rich content pages, prioritizing highly trafficked pages with the most potential to convert. We migrated GNCU's existing Google Analytics tracking. We created new triggers and tags;
This wasn't just about flipping the switch and watching the magic happen. We offered comprehensive pre-launch and post-launch support, including 301 redirect strategy, technical error reports, sitemap submissions and conducted core web vitals and page speed analysis.
The strategy was executed and monitored using a suite of industry-standard tools: Google Analytics, Google Search Console, Semrush, Screaming Frog, BrightEdge and Siteimprove.
This unique blend of content and technical optimization led to standout growth:
258

%

increase in keyword rankings

11

%

growth in top 10 rankings

296

%

surge in impressions

41

%

lift in personal loan applications to 1,278

206

%

explosion in commercial applications to 141

3.1

K

additional organic clicks

1.3

MM

more impressions year-over-year
Awards
Communicator Awards

Award of Excellence – Nonprofit Website
Interested in turning your digital marketing efforts up a notch? Fill out our start a project form, and we'll be in touch.