Visit Newport Beach
Redefining a Luxury Destination Experience
Steeped in luxury, Newport Beach is positioned as the smart alternative to other Southern California destinations. By restructuring site information, we helped it better align with target audiences.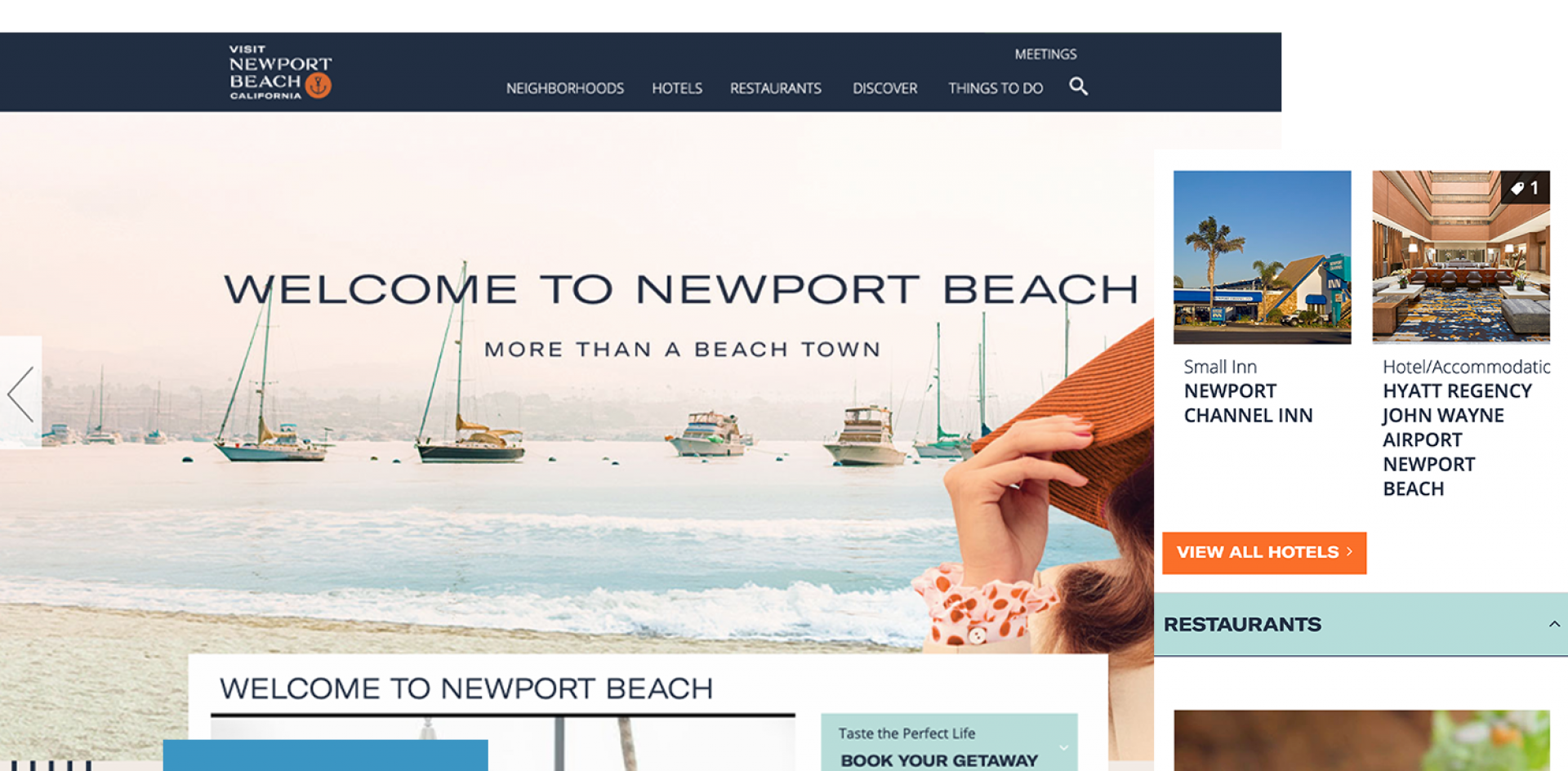 Standing Out from the Crowd
With so many players in the online travel game, Newport Beach & Co. knew it had to enhance its website's user experience and design to cater to tech-savvy travelers. The organization also wanted to track the performance of overall digital marketing efforts in an effort to drive more visitors to the area.
Get in Touch
---
Two Key Opportunities
Upgrade the site's user experience and design to attract tech-savvy travelers
Track performance of digital marketing efforts and drive more visitors to the area
200

%

Increase in traffic within 30 days of launch

92

%

Increase in mobile device network traffic

50

%

Decrease in bounce rate
---
Upgrading the Site's User Experience and Design to Cater to Tech-savvy Travelers
An extensive audit of the site's structure and analytics showed that the client managed two separate mobile and desktop sites. To ease this workload, we consolidated each into a single responsive site with a single content management system.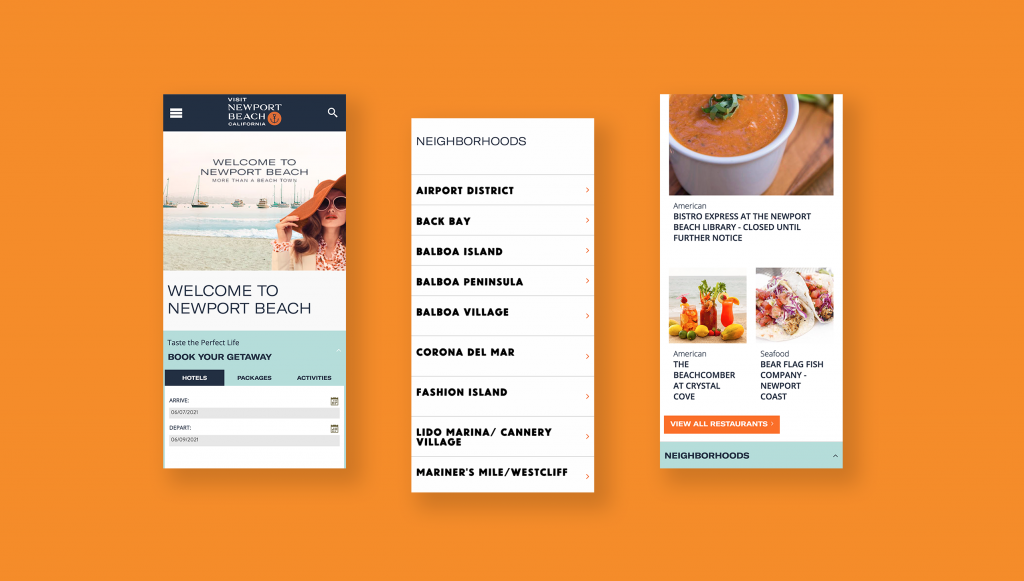 ---
Tracking the Performance of Digital Marketing Efforts and Driving More Visitors to the Area
Geo-location tracking provides targeted information, allowing Newport Beach to see and rank the popularity and effectiveness of the site's content. Custom event tracking lets Newport monitor how user site engagement equates to actual visits to area businesses. It also enables the site owners to see how the weather in a user's location impacts their likelihood to visit the area.
The site's responsive framework allows visitors to seamlessly interact from any device. When creating the sitemap, we accounted for the two-click rule, which dictates that a customer is more likely to convert if they can get to the information they are looking for within two clicks.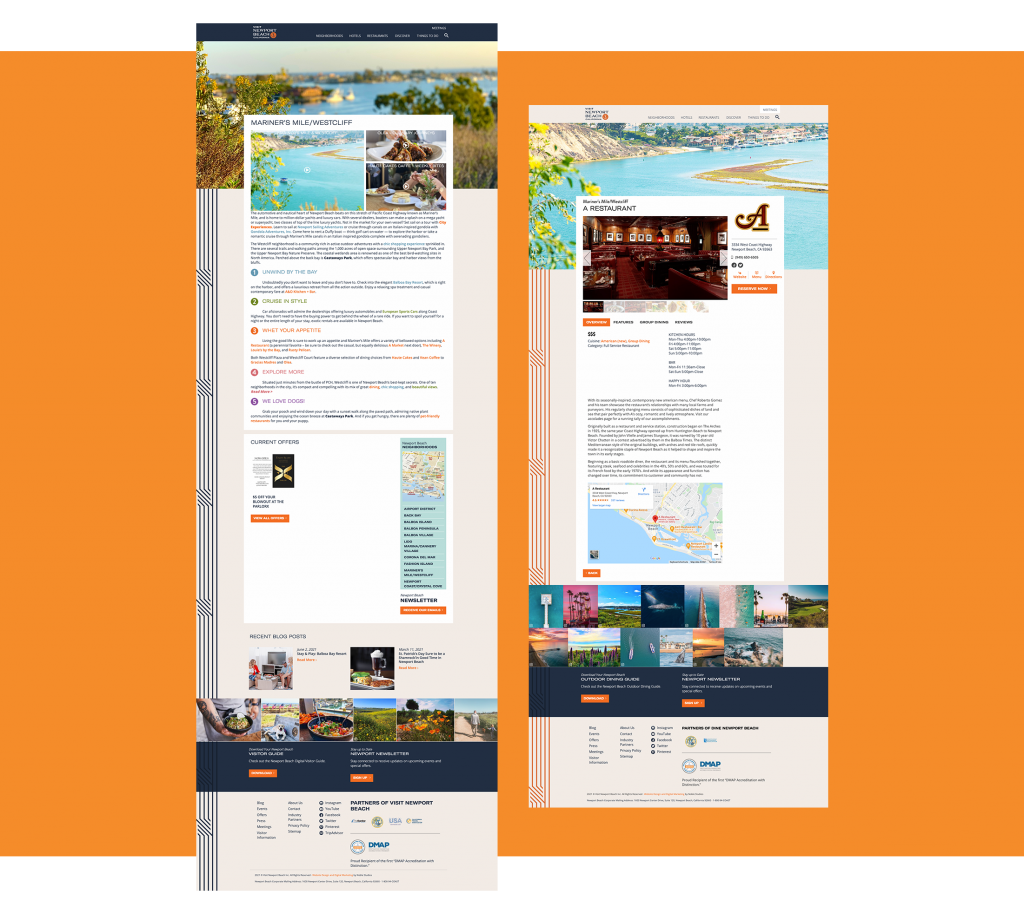 92
%
Increase in mobile device network traffic
200

%

Increase in traffic in first month

50

%

Decrease in bounce rate
Awards
Adrian Awards

Gold for Mobile Site

Adrian Awards

Silver for Website

MarCom Awards

Gold for Mobile Design

MarCom Awards

Gold for Website Redesign