Nintex
Raising the Profile of a Leader in Automation
This global process intelligence and automation company needed to break through the clutter and connect with audiences. The integrated marketing campaign we developed needed to stand alone, speaking to Nintex's general value proposition while simultaneously acting as the perfect overarching container for product campaigns to fit within.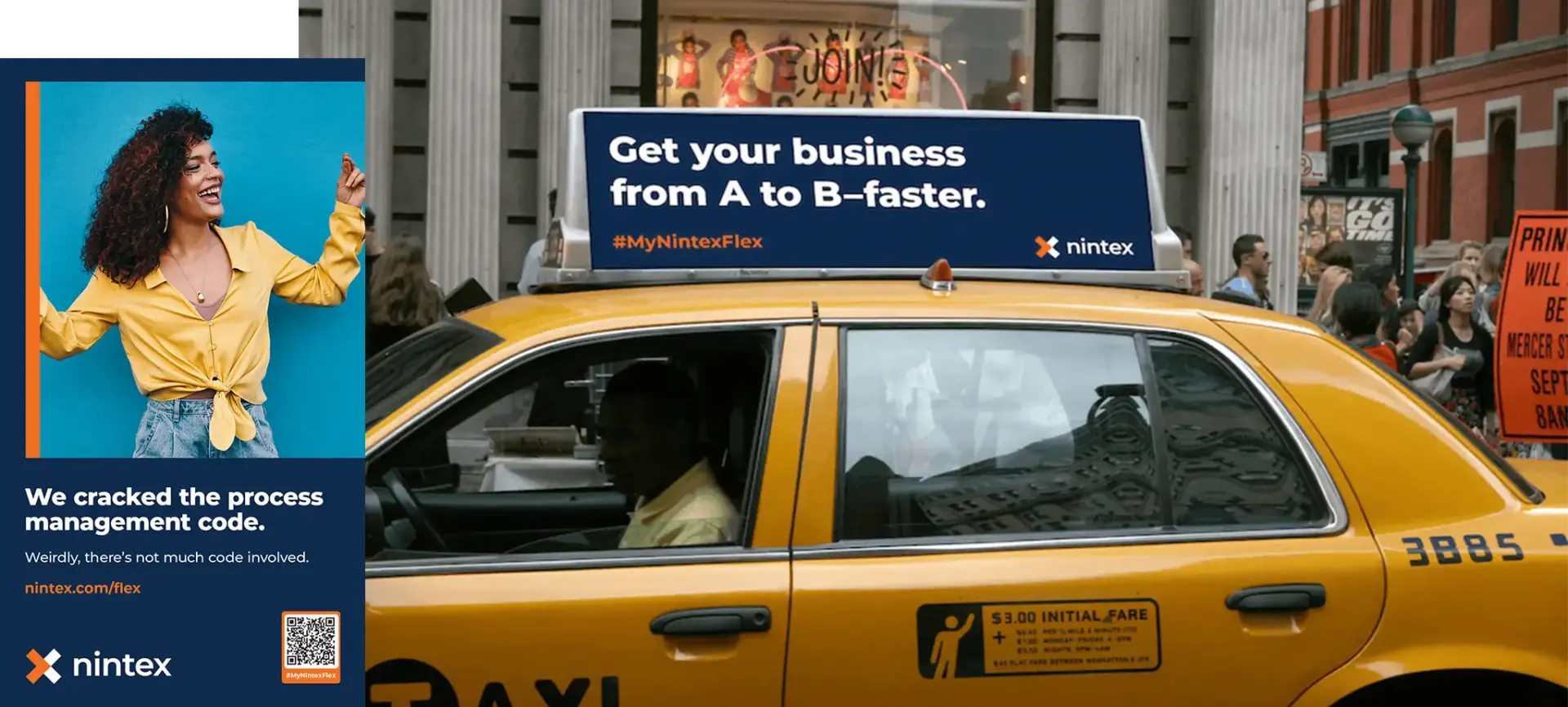 In Search Of: A Scalable Brand Campaign
Nintex engaged us initially wanting product-centric campaigns to support lead generation with a focus on LinkedIn and display advertising. Following our discovery phase, we identified a need for an overarching brand campaign to create consistent in messaging and visuals that could scale to support product-specific initiatives.
Get in Touch
---
Key Opportunities
Develop personally-relevant advertising for key audiences around the globe.
Create an overarching brand campaign scalable for product-specific initiatives.
Develop and apply a consistent look and feel to Nintex's current creative campaigns.
---
Cutting Through the Noise
Part of Noble's philosophy of Creative Digital Performance centers around forging connections and humanizing digital. For that, we had to put ourselves in the shoes of Nintex's target audiences across C-Suite, Compliance, IT and Marketing Ops. In this project, we set out to create a campaign platform that introduces key audiences to Nintex, who they are, what they do, how they are different and why anyone should care. The messaging and visuals were strategically developed to stand out from typical B2B and SaaS advertising with visuals that speak to humanity of streamlining and optimizing workplace processes.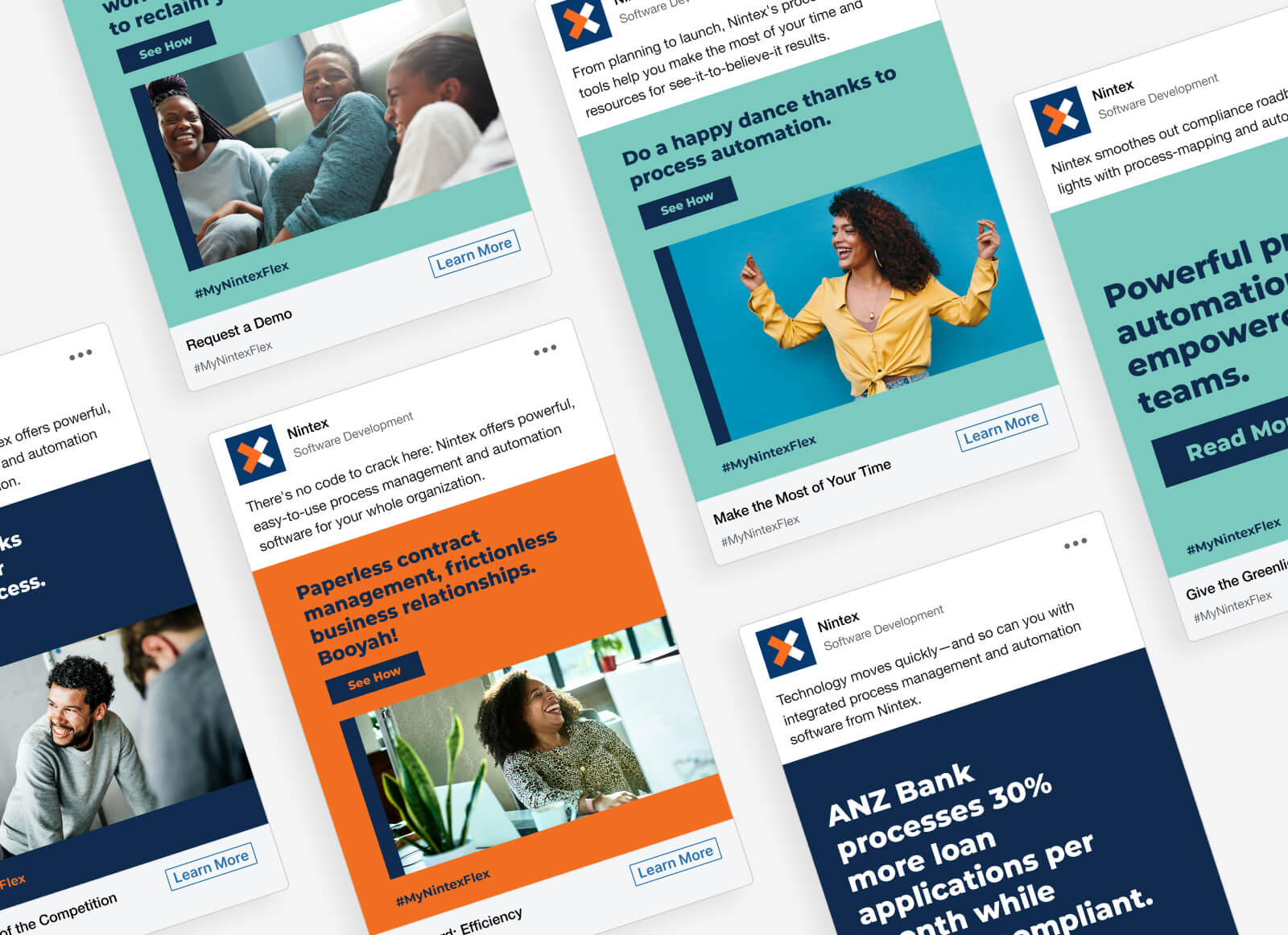 Personally-relevant Is What We Do
Whether an OOH ad is placed in an airport with heavy business travel or a digital ad is targeting CEOs, every ad we created for the campaign was designed to be personally-relevant to the audience and make the post of the channel's specific needs and opportunities.
We sought to convey the message that whether the prospective client wants to uncover automation opportunities or measure the efficiency and awesomeness of a new workflow, Nintex could help. We also wanted to instill confidence in showing off all the ways customers could use the spare time saved by using Nintex products, which resulted in the series of ads shown here. That confidence was dubbed "the Nintex Flex."
Each audience is served creative and copy based on who they are, where they are, their interest and intent. We also test—imagery, CTAs, colors and copy—in order to keep getting better and better.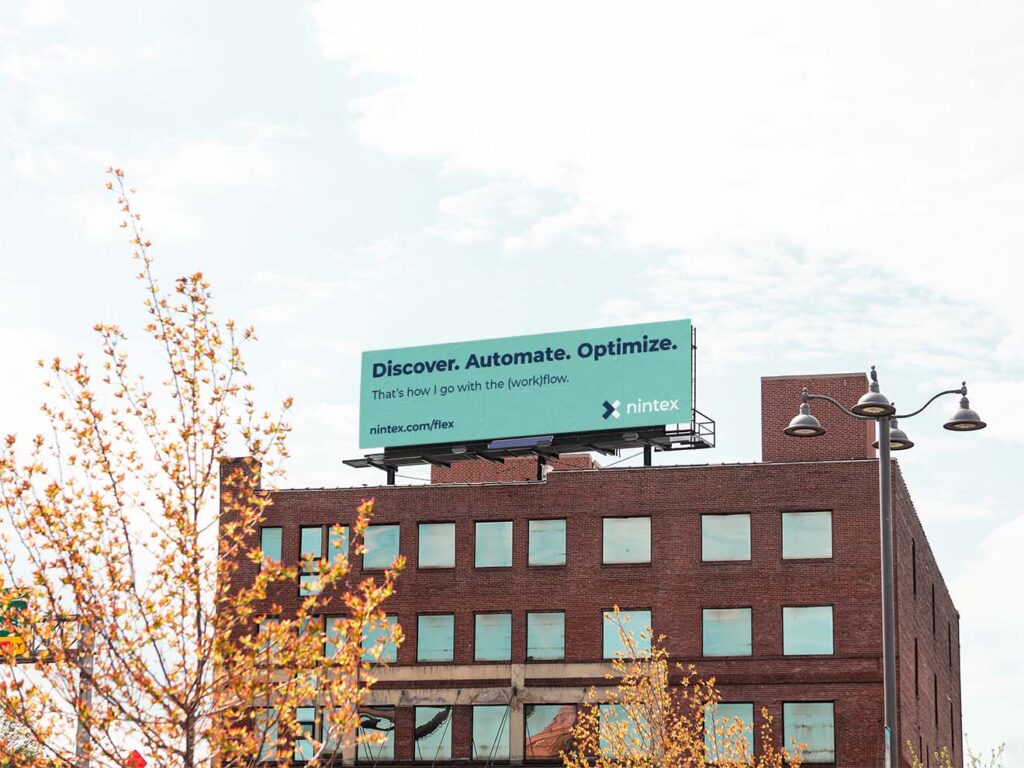 ---
Meeting the Audience Where They Are
Every channel we touched in this campaign was integrated. It's Noble's practice to adapt the creative and copy based on the channel as much as the audience—from swag to out-of-home.
The goals of this campaign were to entice prospective clients to visit the website to learn more, then begin to understand the value proposition and differentiators provided by Nintex. From there, we knew this audience would start considering Nintex for their digital transformation needs and reach out to learn more. With this new campaign in place, potential customers felt that their needs were being listened to and that Nintex could help.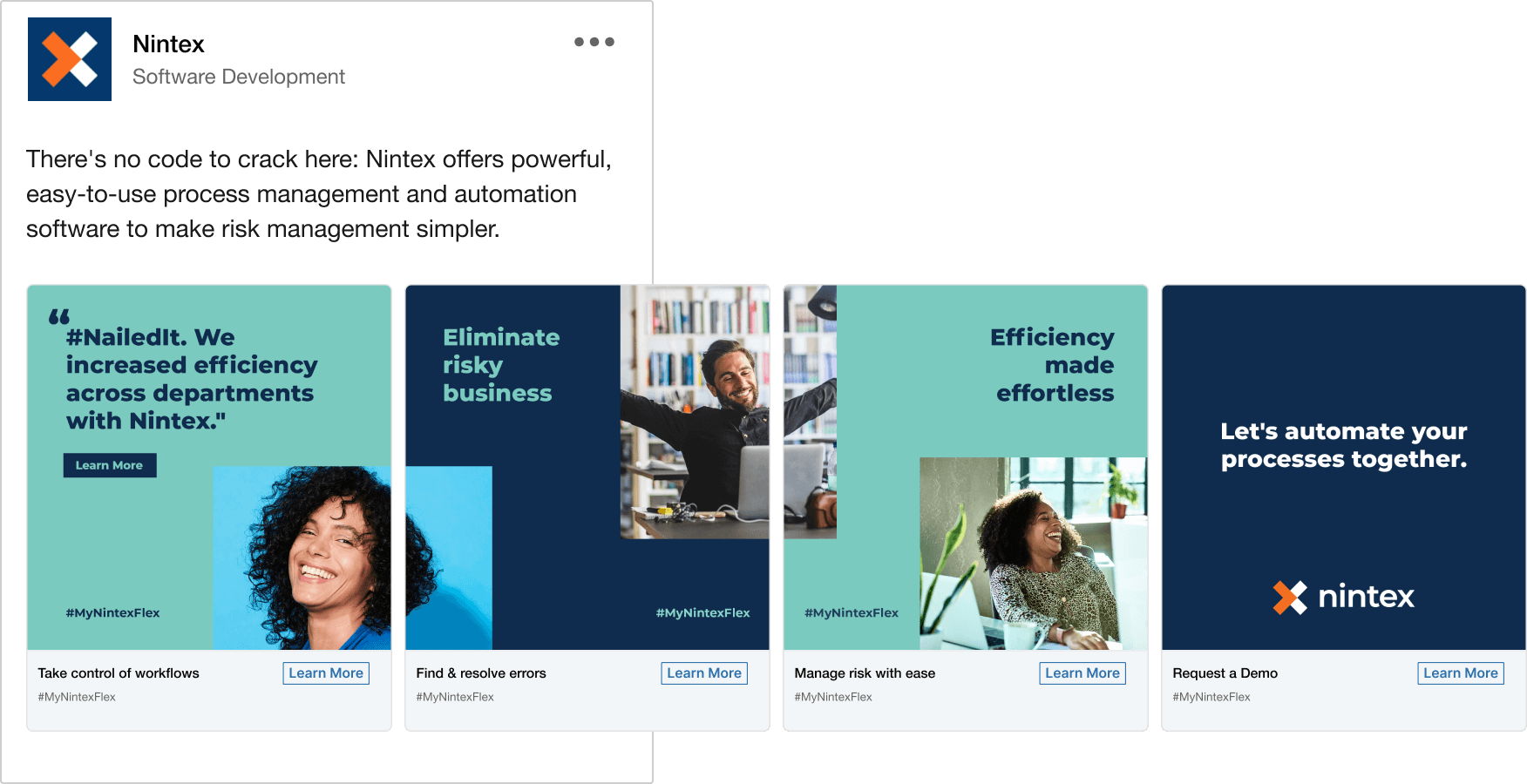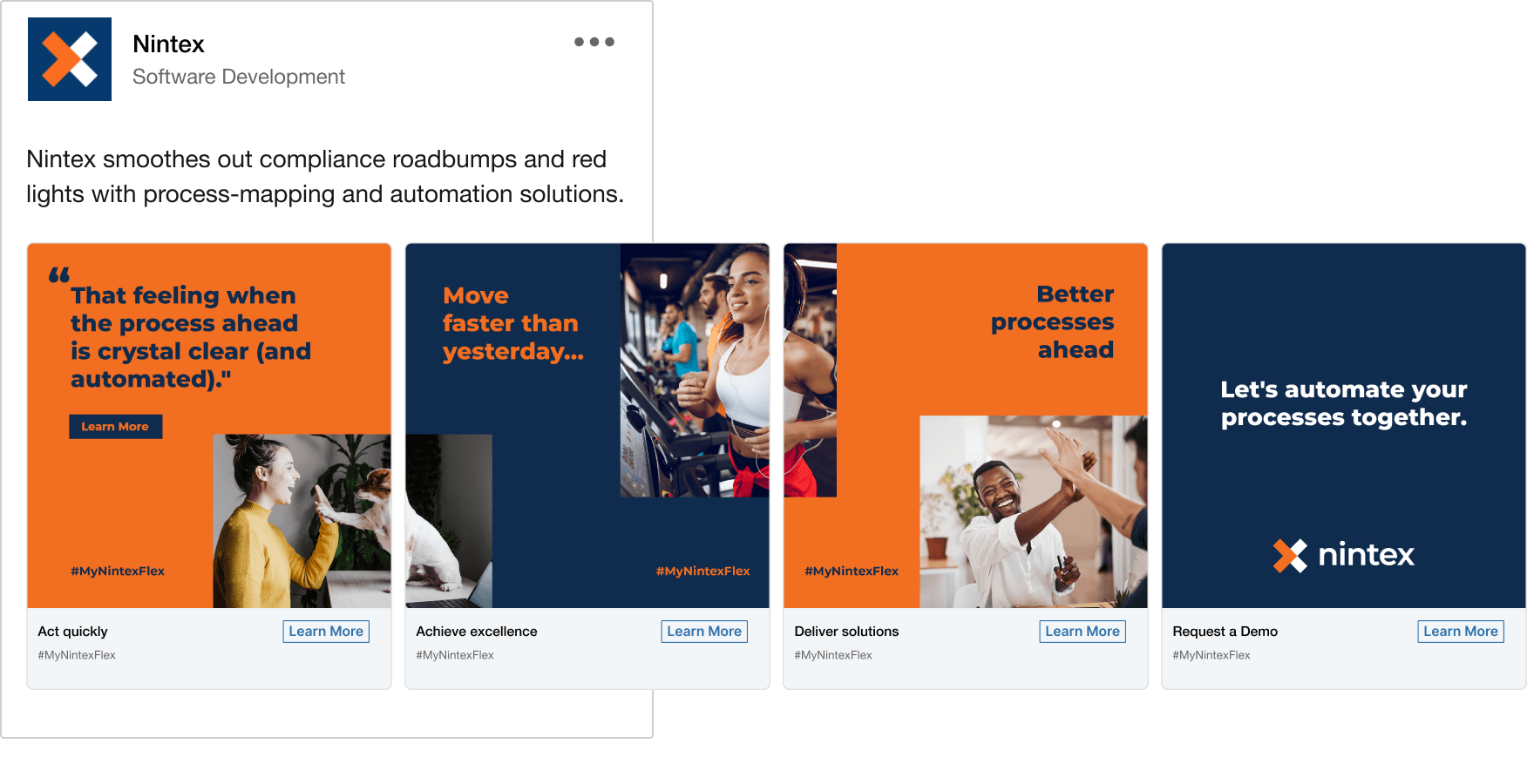 Interested in turning your digital marketing efforts up a notch? Fill out our start a project form, and we'll be in touch.