University of Nevada, Reno
Personalizing the University Experience
To bring the University of Nevada, Reno's virtual tour to life, we created a customizable online experience that immersed prospective students in the campus and encouraged them to take next steps toward enrollment.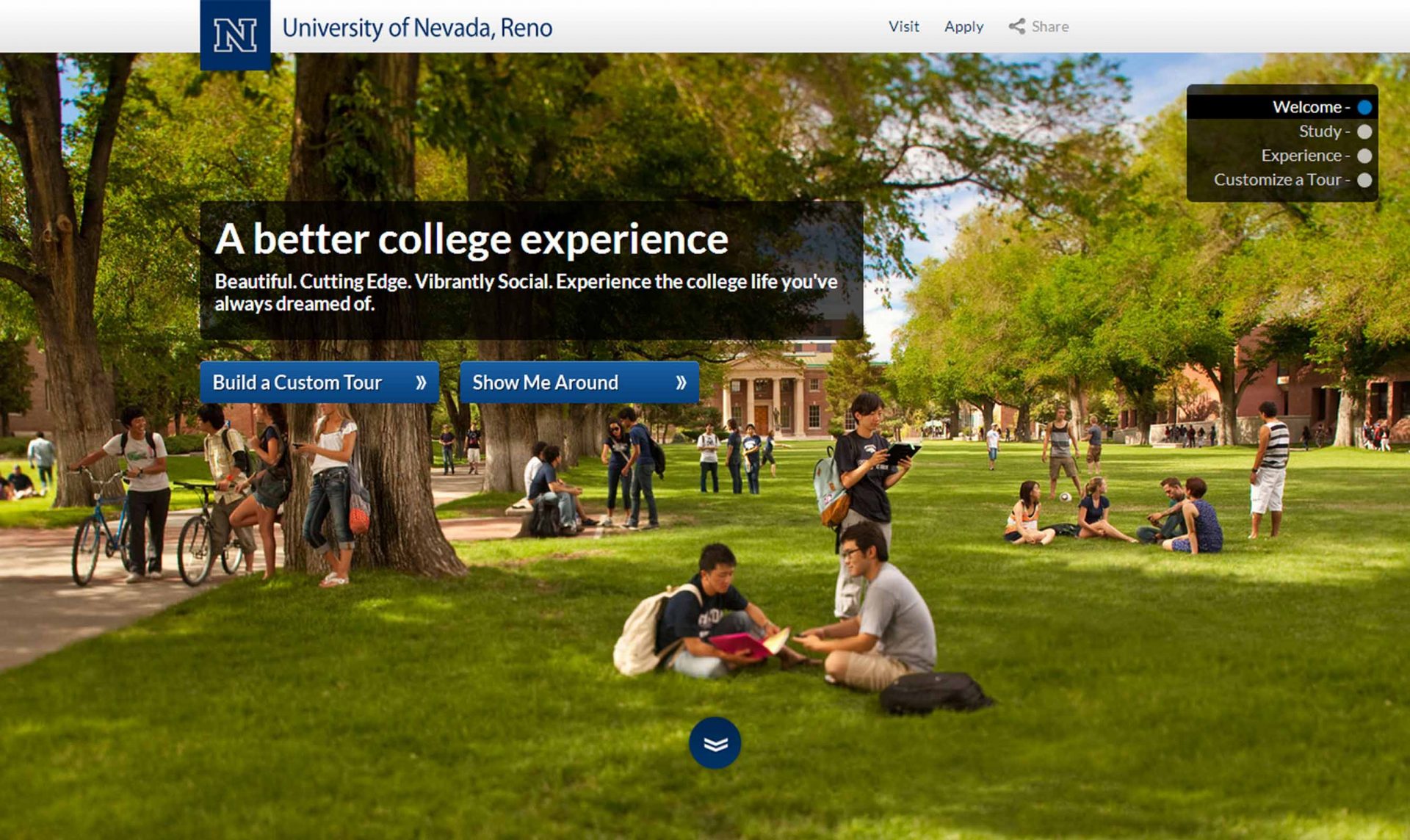 Creating a Campus Tour That Converts
To showcase the campus, UNR partnered with Noble Studios to develop a virtual sales tool that would let students visit campus. The final product? A personalized tour experience designed to fit the unique needs and desires of each student. And positive campus visits translate to applications.
Get in Touch
---
Three Key Opportunities
Create a personalized, virtual tour experience to showcase a growing Western university
Encourage prospective students to take the next steps and enroll
83

%

YoY Increase in On-site Time

80

%

Increase in Out-of-state Visitors

11

%

Increase in Avg. Pages Viewed
---
A Tour That Caters to Students' Preferences
We put ourselves in the shoes of regionally competitive students who value quality of life as much as a quality education. What would they want to know? What would they want to see? To reach these prospects, we developed a virtual tour that featured well-executed photography of the campus and student life, as well as amenities, dorms and meeting spaces. The tour was fully customizable and prospective students could choose up to 10 locations to visit when they embarked on their personalized virtual experience.
Early development
Starting with sketches to wireframes to the final branded design, we held planning and brainstorming sessions to solidify our goals for the virtual tour, and ensure we reached them in an easy-to-use format.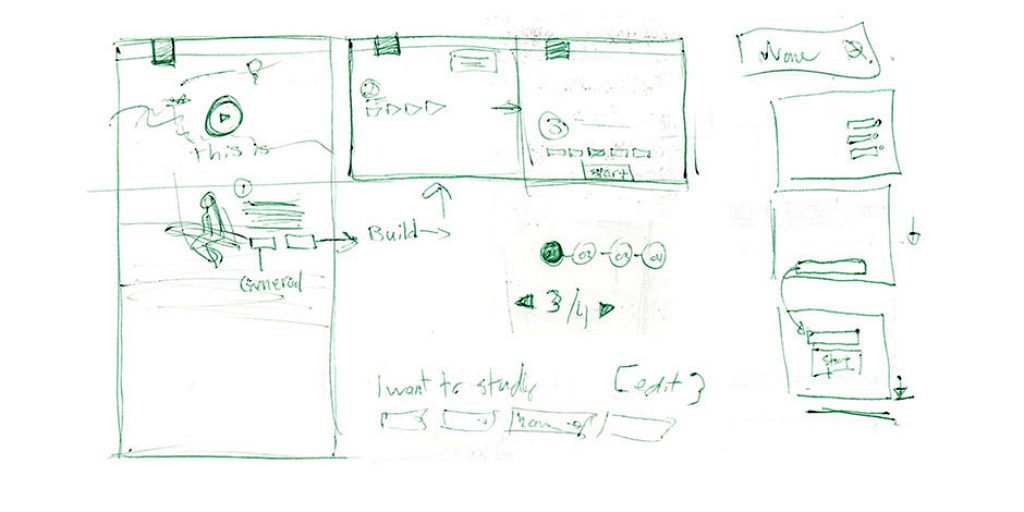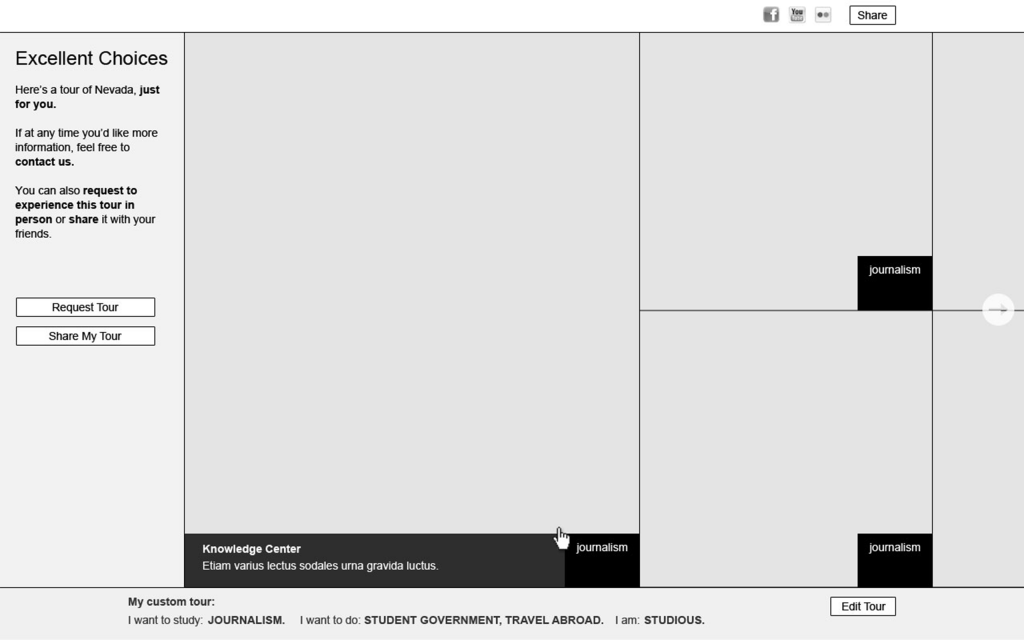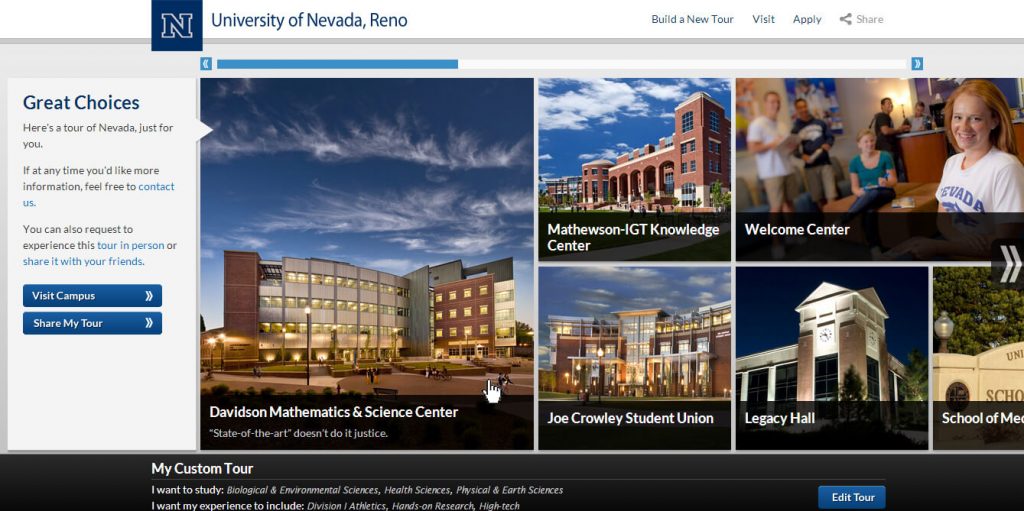 Encouraging Enrollment Through an Immersive Experience
How We Personalized the Tour Experience
Now, when prospective students take UNR's virtual campus tour, they can select "show me around" or "build a custom tour." To build their own tour, they submit their social and academic interests. Our virtual tour program generates a personalized experience that includes the social scene, academic buildings in their field of study, and campus amenities. Users are able to edit and update their choices at any point during the tour. To promote ongoing awareness of the interactive campus tour, students are encouraged to share their experience with friends across social networks.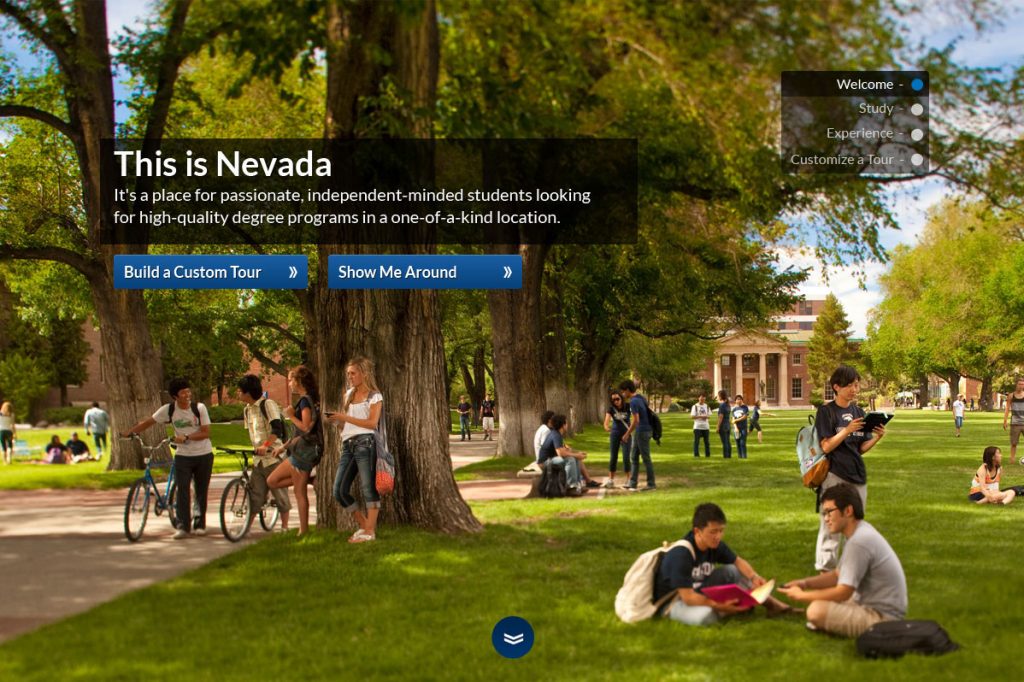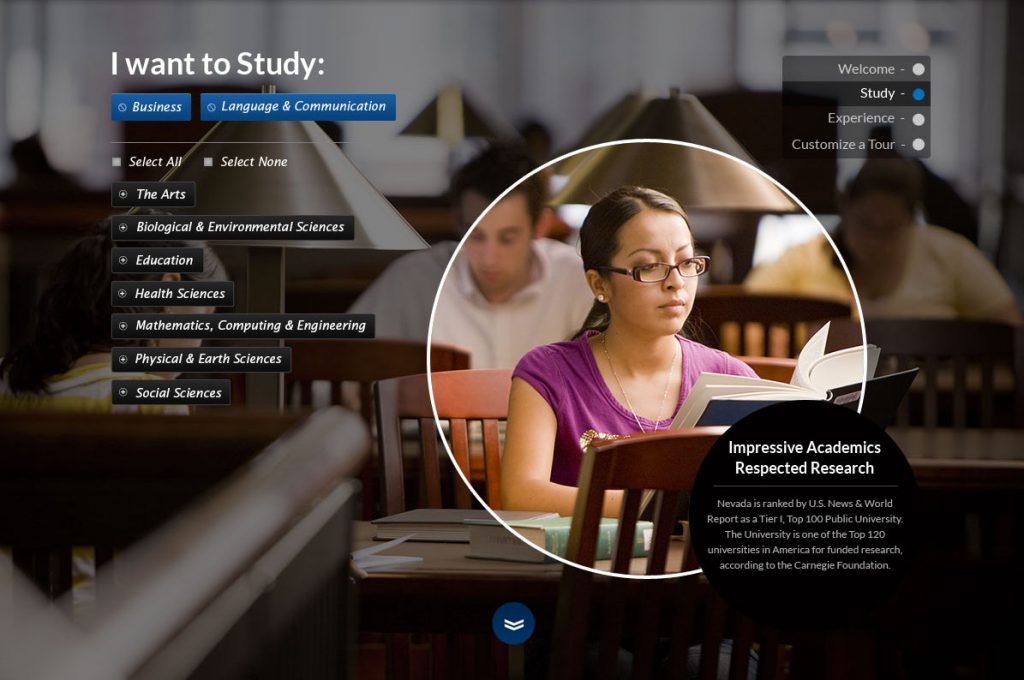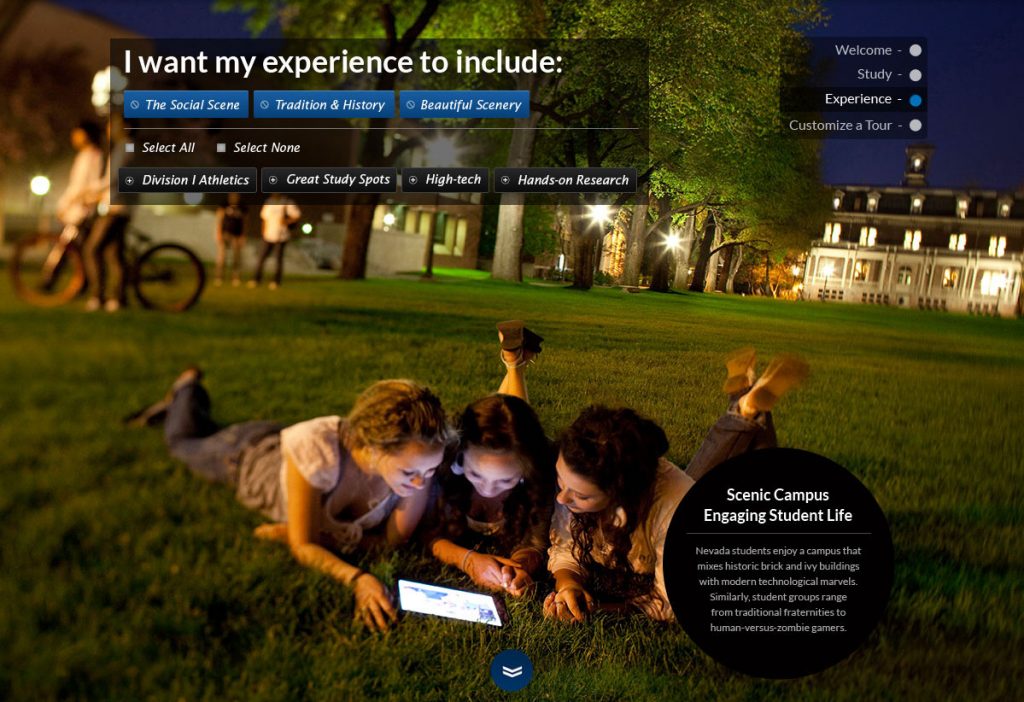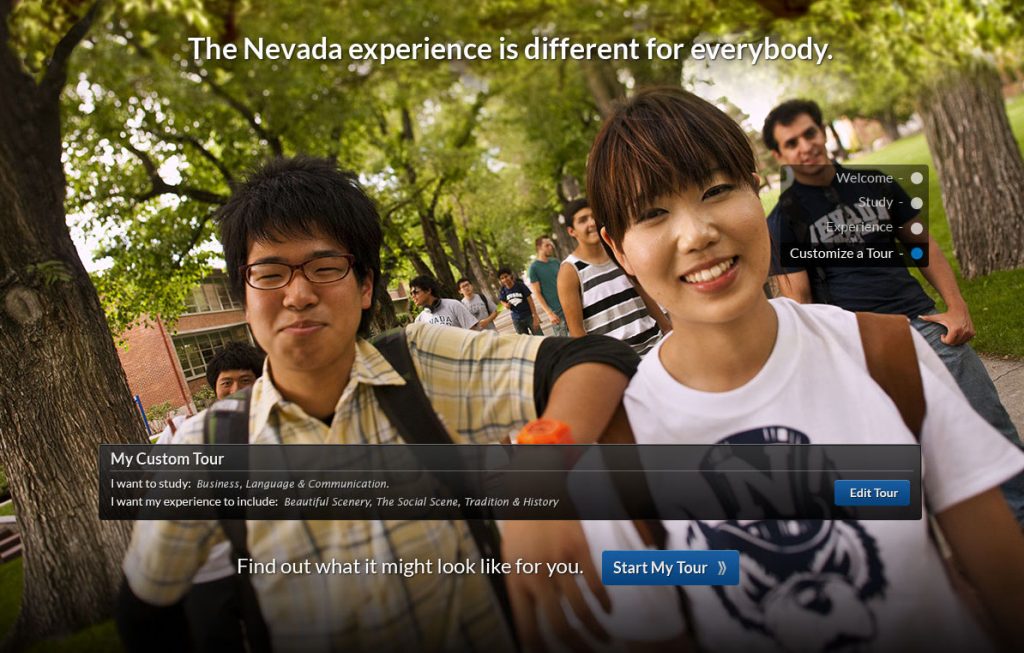 Virtual Tour Features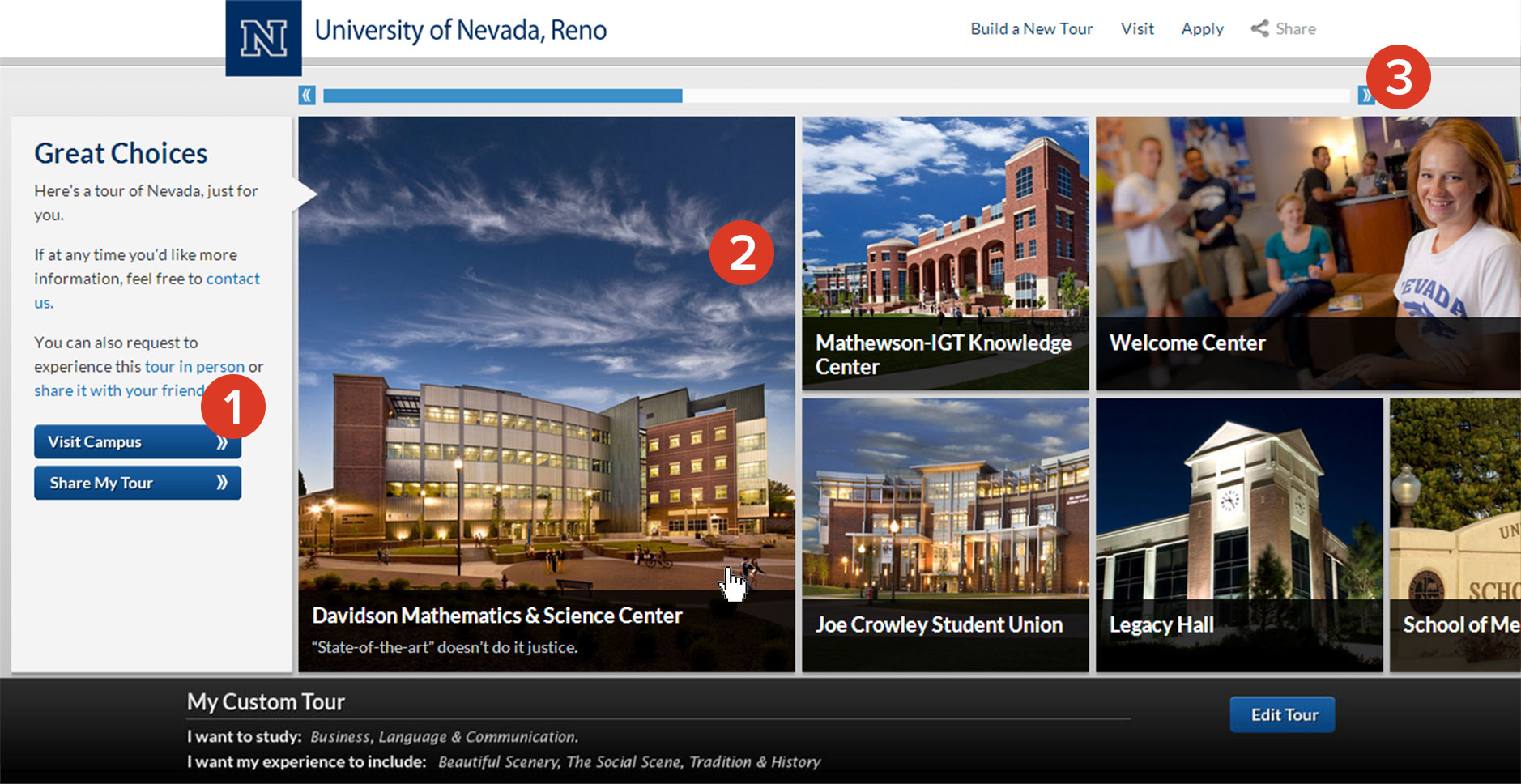 1. Sharing
Prospective students can share their customized tour with their friends and parents via social channels.
2. Customized Stops
Students are treated to a unique virtual tour experience with up to 10 stops that are customized to fit their specific academic and social interests.
3. Scalability
UNR can add additional stops to the virtual tour experience with ease and without added development efforts.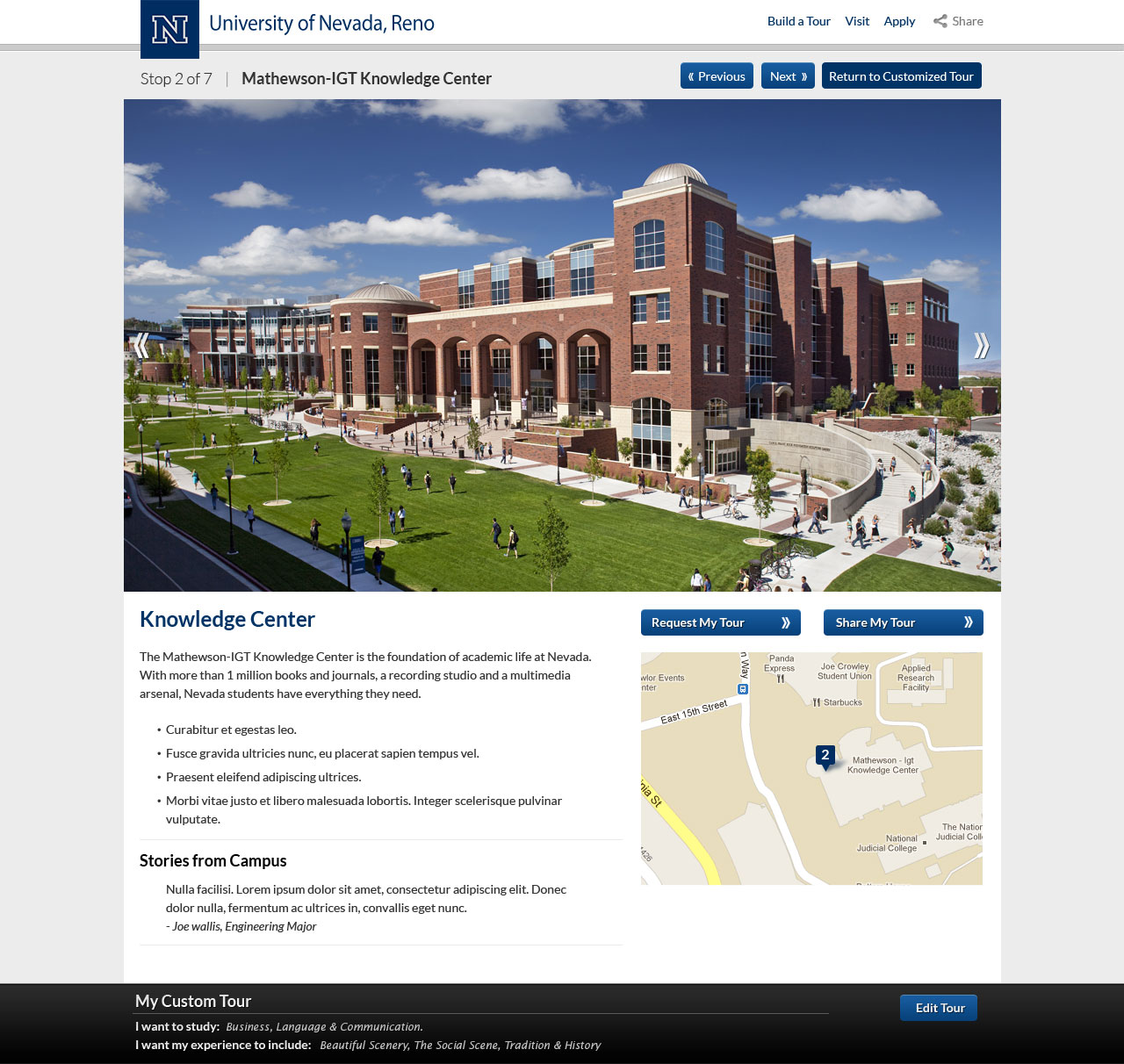 Spotlight on a Tour Stop
The user can learn about a building, its history and amenities on a virtual tour stop. They can also interact with a Google map that shows the location and nearby conveniences. Alumni can share stories from campus, adding to the fully-immersive experience.
Prior to launch, real students and on-campus tour guides were given the opportunity to build their own tour. Here is what they had to say.
Visitors who built a customized tour spent nine minutes longer on the site than users who didn't view the tour. UNR also saw a boost in out-of-state visitors to the site. Bottom line: this improved User Experience translated directly to increased admissions.
83

%

YoY Increase in On-site Time

80

%

Increase in Out-of-state Visitors

11

%

Increase in Avg. Pages Viewed
Awards
W3

Gold for Best in Show Website

Communicator Awards

Gold for Website Visual Appeal

Communicator Awards

Gold for Structure and Navigation

Davey Award

Gold for Website Navigation

Communicator Awards

Silver for Website/School/University

Summit Creative Award

Bronze for Website Education
Interested in turning your digital marketing efforts up a notch? Fill out our start a project form, and we'll be in touch.