Visit Reno-Tahoe
Little City, Big Dreams
The digital arm of the Reno-Sparks Convention and Visitors Authority looked to rebrand for a younger audience, positioning itself as an outdoor adventure hub with plenty to do any time of year.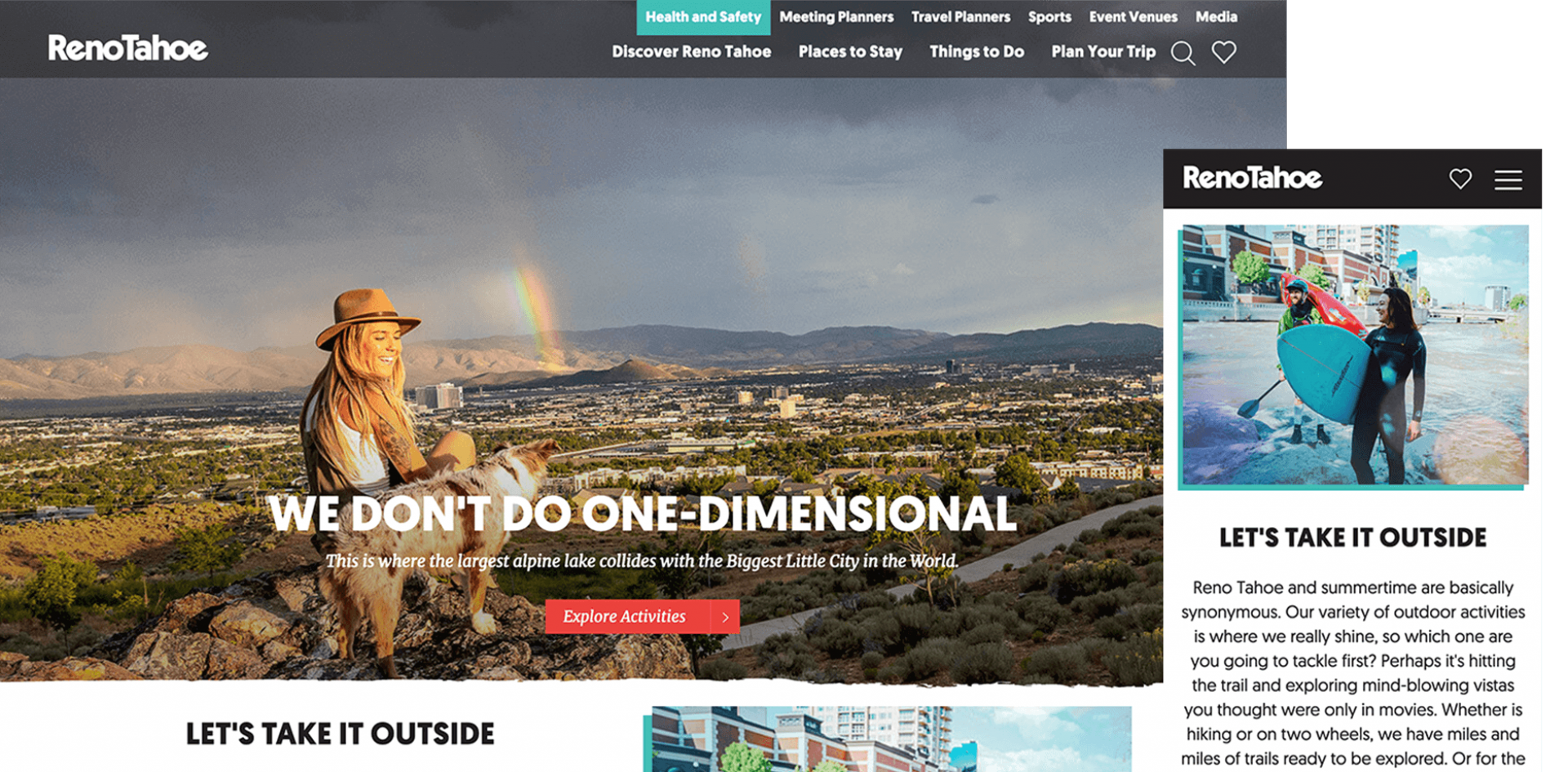 A Growing Community Needing Marketing Assets and Brand Awareness
Looking to capture a Millennial audience, the RSCVA turned to Noble Studios for its digital branding and site redesign efforts for VisitRenoTahoe.com. The new website needed to capture the great contrast of the region. After all, this is where the country's largest alpine lake meets the Biggest Little City in the World.
Get in Touch
---
Two Key Opportunities
Create a highly visual website to inspire and engage.
Develop a media strategy for young, diverse demographics.
171

%

Increased paid search spend

59

%

Increase in sessions

68

%

Increased sessions from California

369

%

Increase in lodging referrals
---
Create a Highly Visual Website to Inspire and Engage
We whittled the site down from 14,000 pages to 3,200. We took a mobile-first approach, highlighting influencer work through imagery, including photos and videos. The website evokes a more editorial-style immersive storytelling approach.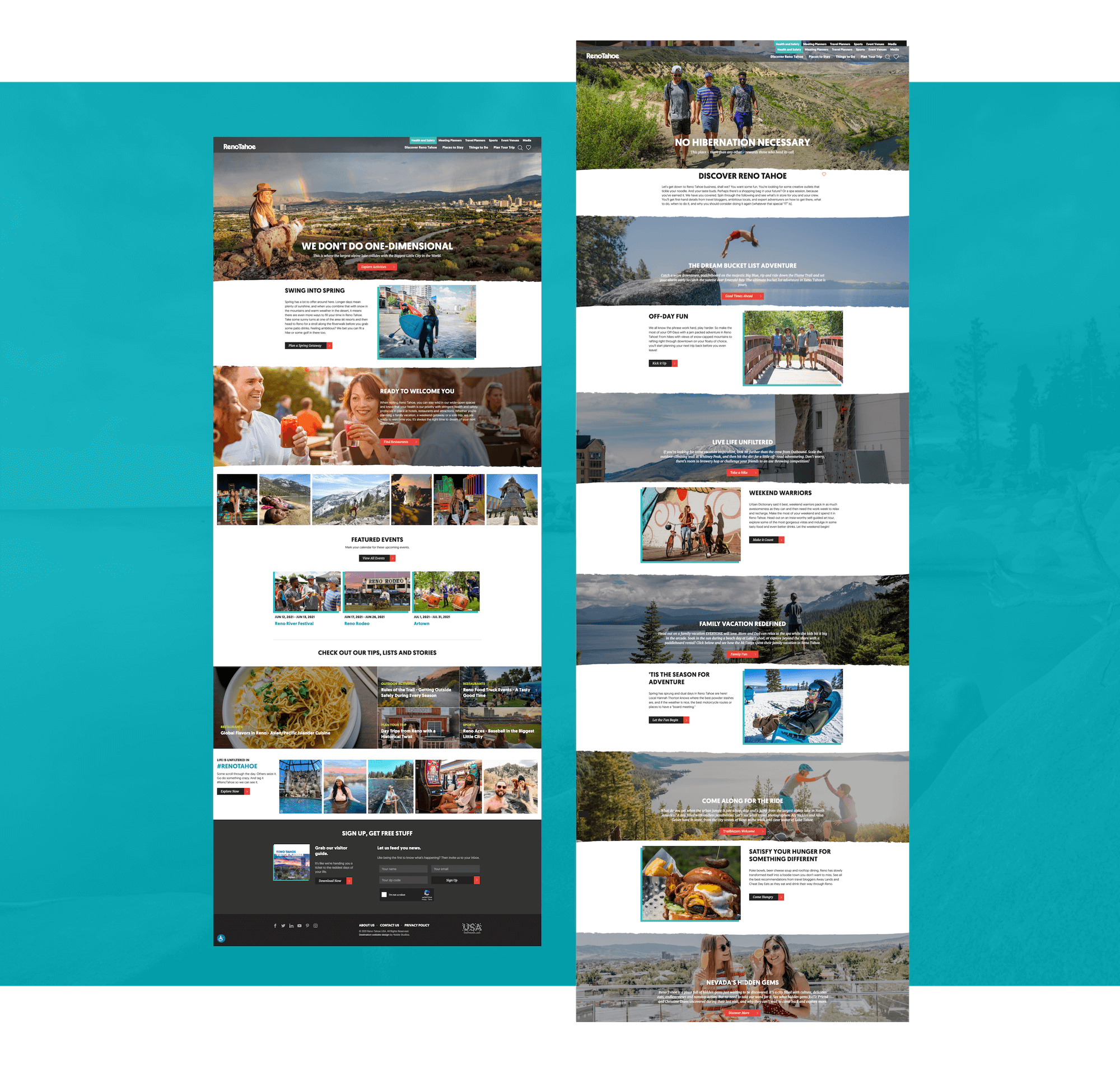 New Look, New Feel
The website includes vibrant imagery and storytelling that showcases that duality. The sprawling layouts focuses on the unique aspects of the region and allows potential visitors to visualize themselves living the brand; seizing life, acting on instinct, and exploring infinite possibility.
Develop a Media Strategy for a Younger, More Diverse Demographic
A Boost to Conversion Rates
We adopted a personalization strategy with the destination targeting multiple markets at once (San Francisco, Southern California and Seattle). Utilizing geographic information and tags embedded in advertising messages a personalized experience is offered on key landing pages. These unique and highly relevant CTAs have driven higher conversion rates and increased engagement metrics across the board.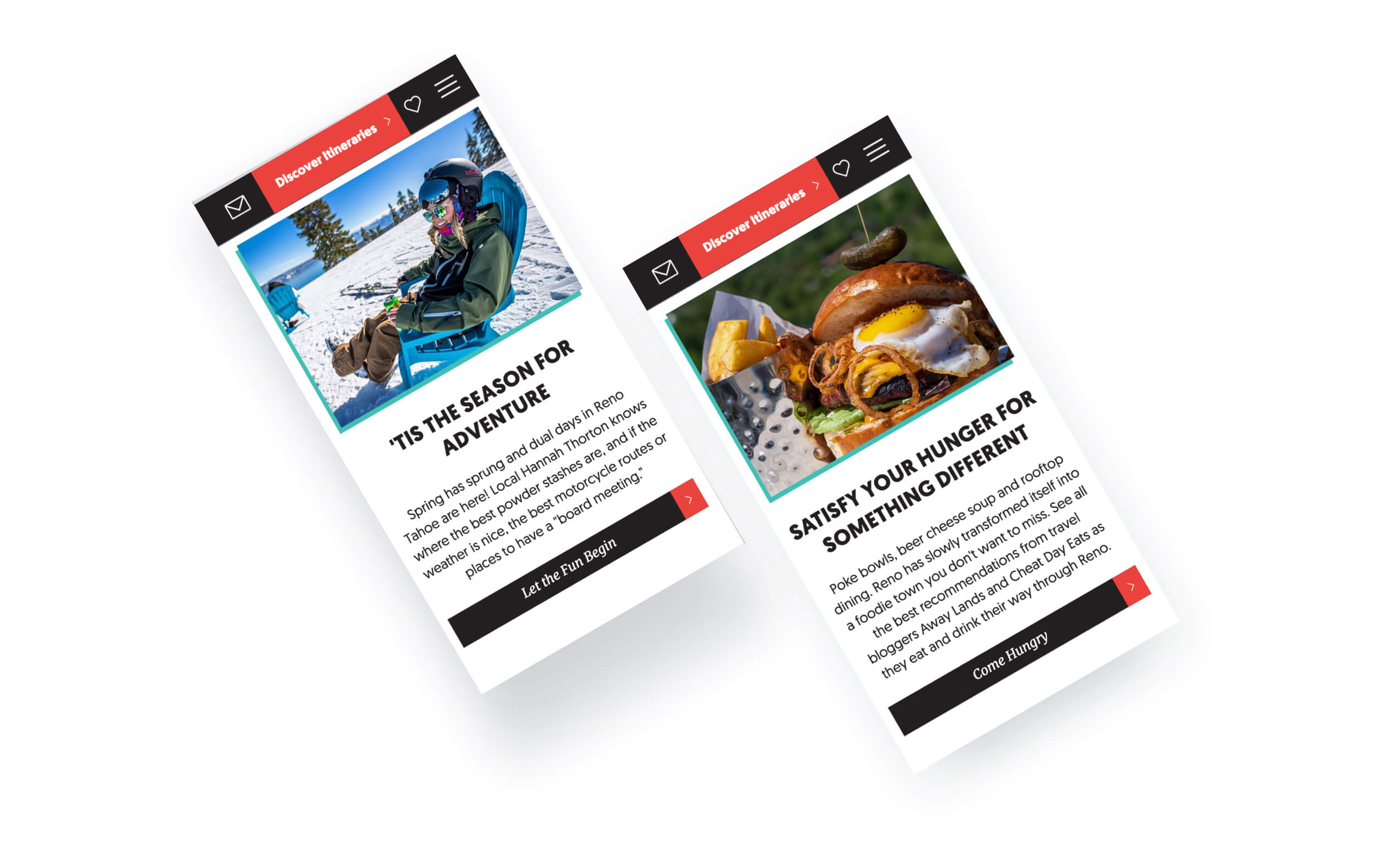 ---
Using Social Media Star Power
Millennials are the primary new audience segment targeted by Reno Tahoe. The site features extensive user-generated content (UGC) including the use of influencer authored stories and images embedded at key conversion points.
The RSCVA then tapped a handful of influencers to add into its storytelling mix. These influencers would be featured in billboards and ads, both print and online. The influencers would then share photos of the billboards and other campaign materials with their vast following to create a buzz around the Reno Tahoe brand.

171
%
Increased paid search spend
We boosted VisitRenoTahoe.com's paid search efforts over the past six months
1.8

K%

Paid search goal completions

Thanks to an increased paid search spend, visitors are taking action in droves

59

%

Increase in sessions

Visitors are flocking to the site, bumping year-over-year session stats

68

%

Increased sessions from California

Visitors from target markets in Arizona increased 414% and Colorado visitors increased 438%

92

%

Meeting planner RFPs

Year over year, meeting planner requests have nearly doubled

369

%

Increase in lodging referrals

Stakeholders are seeing a serious ROI, with more and more people booking

32

%

Increase in position one keywords

The top spot in search is a coveted place to be, especially in such a competitive landscape
Interested in turning your digital marketing efforts up a notch? Fill out our start a project form, and we'll be in touch.