Welcoming Home Nevada's Youth Experiencing Homelessness with the Keys to Greater Campaign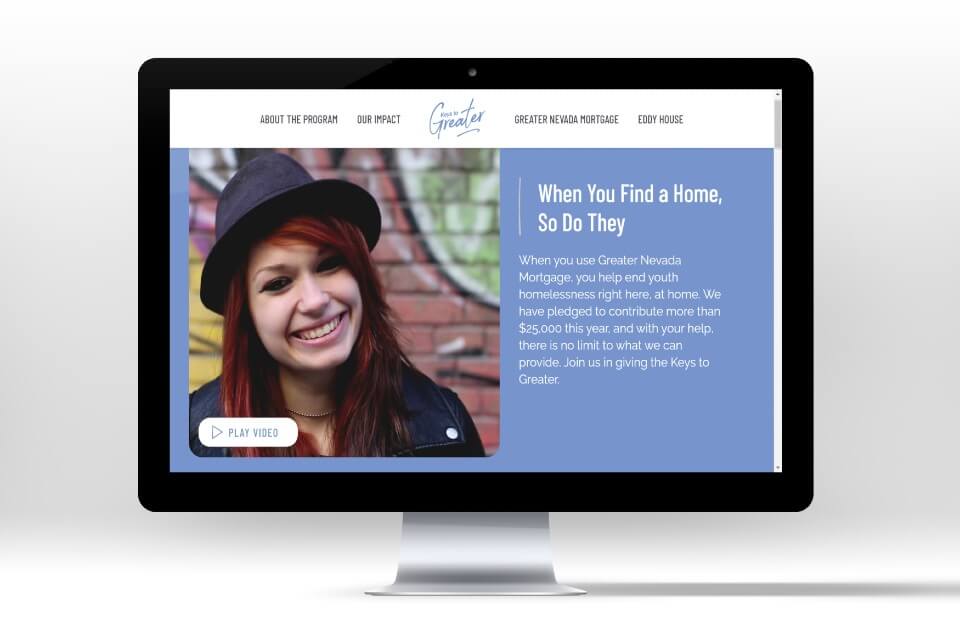 Now, maybe more than ever, being mindful of the needs of others is essential. Greater Nevada Mortgage pledged to do their part and called on Noble Studios to help bring that message home.
The Keys to Greater campaign was created to help those in need, and its first goal is to put a stop to youth experiencing homelessness in Nevada in partnership with local nonprofit, Eddy House. Greater Nevada Mortgage pledged to give at least $25,000 in 2021, through proceeds from new mortgages and home refinances. The program is set to make a real impact on the 1,300 homeless youth in Nevada.
"This program really was important to our organization as we strive to help people achieve their dream of homeownership at Greater Nevada Mortgage," says Michael Thomas, VP of Marketing for Greater Nevada Credit Union. "Noble took the ideas and concepts of the initiative and created a compelling campaign platform that will enable us to make the most impact. The team allowed us to connect with our customers and really drive home why this vulnerable group of young adults deserves our attention and help."
Eager to assist in aiding an organization that hits close to home, Noble Studios got straight to work. We first established a program name to communicate the mission concisely and put together a visual identity to match. Using clean imagery and straightforward language, we also created a landing page to spread the word.
Amid a pandemic, with recommended shutdowns all over the region, we had to get creative in order to produce two videos for the campaign. Through virtual interviews, conducted online via Zoom and iPhone, we were able to tell the individual stories of homeless youth in Nevada and showcase their urgent need for assistance.
The first video tells an urgent story through the voices of those who live it. Narrated by youth who escaped homelessness, the CEO of Eddy House and CEO of Greater Nevada Mortgage, we tell a clear story of the very real issue that affects Nevada today.
The second video uses vivid imagery to drive home the very dire situation that youth experiencing homelessness face every day in the state. Often living without shelter, access to healthcare, hygiene items and guidance during a pandemic, these young people need help, and Keys to Greater is doing their part.
Of course, we love using our strengths to help all of our clients succeed in reaching their goals, whether through carefully planned content creation, compelling messaging or website development. But it's projects like these, where we have the opportunity to assist a company in doing something good for the community, that truly fuels our passion.