Noble Studios and Lake Tahoe Visitors Authority Launch New Brand, Visit Lake Tahoe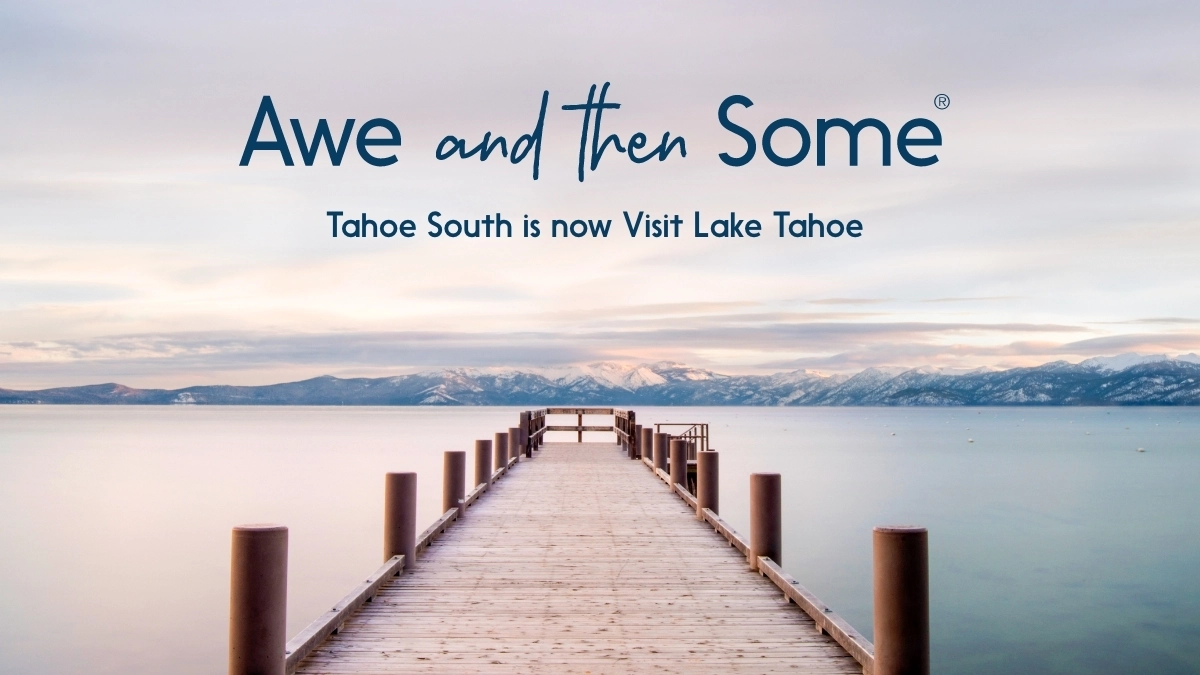 We're excited to announce that Tahoe South is now Visit Lake Tahoe! In conjunction with the Lake Tahoe Visitors Authority, their board and marketing committee, we launched an exciting new name, logo and brand platform for this destination marketing organization, representing the South Shore of Lake Tahoe.
Our brand strategy and performance brand services help any business or destination create a platform and visual identity that thrives in a digital-first, modern marketing landscape. That starts by creating a brand platform and positioning that defines what you stand for, how you benefit people and why you stand out. And that's exactly what we did for Visit Lake Tahoe.
Why Did We Rebrand The Destination?
Through extensive brand research, we discovered that the Tahoe South brand didn't match the criteria of a high-performance brand strategy. The brand no longer matched the wants, needs and future of the South Shore. They are building a state-of-the-art events center, bringing more improved lodging online, helping craft a lake-wide vision for sustainability and their visitor base is continually expanding nationally and internationally. Rebranding to Visit Lake Tahoe matches that evolution. Don't just take our word for it. Check out this video where staff, board members and marketing committee members share their perspectives.
What is Awe and then Some?
Awe and then Some is the new Visit Lake Tahoe brand line and the perfect embodiment of the destination. When you visit Lake Tahoe, you get the awe of one of the world's true wonders. But on the South Shore, you also get so much more. It's more than just a pretty place. You get a total Tahoe experience.
It's a welcoming place filled with good times, casual vibes and invigorating experiences that fill you with smiles, laughs and peaceful moments. It's a communal place where you connect with friends, loved ones and strangers on the lake, over a campfire, on the trails, over a meal, in a bar or at a show. It's all sorts of awesome, and it all makes you feel alive. That's "awe and then some."
What Is The New Vision For Visit Lake Tahoe?
Sustainable tourism, which is defined as balancing social, environmental and economic factors, while continuing to thrive as a destination, is increasingly crucial to destinations like the South Shore of Lake Tahoe coming out of the pandemic. It's important that the DMO creates that balance for locals, for the delicate Lake Tahoe environment and for the visitor experience, so in collaboration with Lake Tahoe Visitors Authority, we dreamed big with a 10-year vision for Visit Lake Tahoe, focused on a desire to promote responsible tourism and become a leader in the space.
In 10 years, we will be considered to be in the top 10% of Destination Marketing Organizations known for leading sustainable tourism around the world, all while continuing to fulfill our organizational mission to market the South Shore of Lake Tahoe as a unique, year-round destination to the global marketplace and to favorably impact the South Shore economy through overnight stays and tourism spending.
Get to know the new brand on VisitLakeTahoe.com, and keep your eyes peeled for an exciting new campaign launching soon!