ADA Compliance Meaning & Why It Matters for Your Website's Accessibility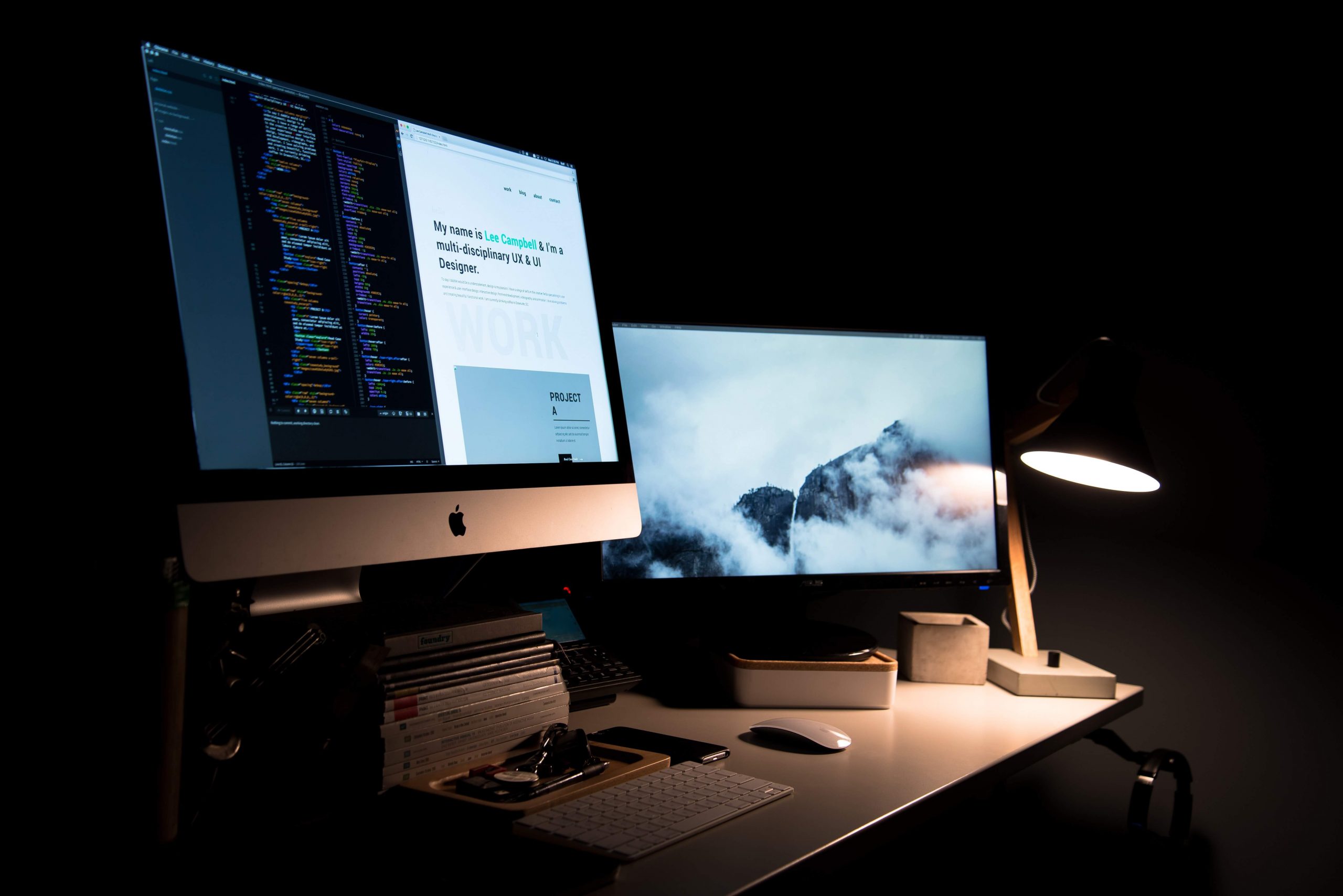 Author's Note: We're Creative Digital Performance Marketers, not attorneys. We can't really provide you with legal advice (sorry!). It's best that you consult your lawyer for legal advice. The intent of this article is to provide perspective on the importance of web accessibility for the digital marketing industry.
According to Interactive Accessibility, 57 percent of Americans have a disability, meaning nearly 20 percent of users on the web in the U.S have a disability. That's a lot of people. As the internet and websites have increased in popularity and are being used by the masses, the effort to ensure sites are following ADA compliance and WCAG standards have been persistent.
Additionally, at the time of writing this article, COVID-19 has effectively changed how we live and sustain our lives. Many more people prefer to make purchases online as a new way of living life. With 64.6 percent of U.S internet users purchasing personal care products digitally and 61.5 percent of internet users purchasing food and beverage products online, it is now more important than ever to ensure your website is easily accessible for all.
Everyone should have a better experience when navigating websites.
What is the Meaning of ADA Compliance?
According to ADA.gov, the Americans with Disabilities Act (ADA) is a "federal law from 1990 that prohibits discrimination and guarantees that people with disabilities have the same opportunities as everyone else to participate in the mainstream of American life to have employment opportunities, purchase goods or services and to participate in state and local government programs and services."
Originally the text of ADA did not include websites since that technology was not widely used in 1990, according to the United States Department of Justice Civil Rights Division. Fast forward to 2020, and life couldn't be any more different. Technology has advanced and most businesses have a website available to consumers.
Because of this, Title III of the ADA compliance act is now being interpreted to include websites as "places of public accommodation," so websites must now be designed with accessibility features for all users, or risk legal ramifications. For more detailed information on ADA, visit here.
Why Do ADA Compliance Standards Matter?
ADA compliance standards and web accessibility are key differentiators and make positive impacts for more people than you would expect. While websites need to be accessible to people who have disabilities that affect their hearing, vision or physical capacities, they also need to be accessible to those who have circumstances of limited ability. Circumstances of limited ability can include a temporary arm injury or the permanent loss of a limb. An individual may also have limited ability due to situational circumstances like a new parent who might have temporary limited use of one arm while holding their baby.
Why ADA Compliance Standards Matter—by the Numbers
57 million Americans have a disability.
8.1 million have a vision impairment.
19.9 million have difficulty lifting or grasping
15.2 million have cognitive, mental, or emotional impairment.
Source: Interactive Accessibility
When your website is not following accessibility guidelines, you are bound to miss out on millions of potential customers who cannot access your website. In addition, failure to maintain an ADA conformant website could result in financial liabilities, lawsuits and damage to your business's brand reputation.
What are Web Content Accessibility Guidelines (WCAG)?
Web Content Accessibility Guidelines, or WCAG, is a child of the World Wide Web Consortium that, in cooperation with organizations around the world, provides a common shared standard for web content accessibility. While WCAG is not law for private entities and there is no explicit web accessibility law in the U.S, WCAG is most frequently referred to as a set of technical standards. Additionally, WCAG helps people with varying circumstances of limited ability including color blindness, hearing difficulties, physical or motor difficulties (mouse, trackpad and keyboard), cognitive, learning and neurological disabilities. Learn more about WCAG guidelines
The Inclusive Design Principles Behind Meeting WCAG Guidelines
Implementing inclusive design to meet WCAG standards is not only about meeting the needs of those with disabilities but about considering the varying needs of diverse users who have different ways of interacting with your site. Inclusive design is thought-out digital content that is accessible, empathetically designed for people with diverse characteristics like gender, education, living or operating environments, and in consideration of those who have different levels of access to technology.
"Inclusive design increases a pool of potential users that can be successful on the website (and that equals loyal customers).
There are four core principles which lay the foundation for WCAG guidelines and success criteria. In order to create an inclusive user experience, your content must be: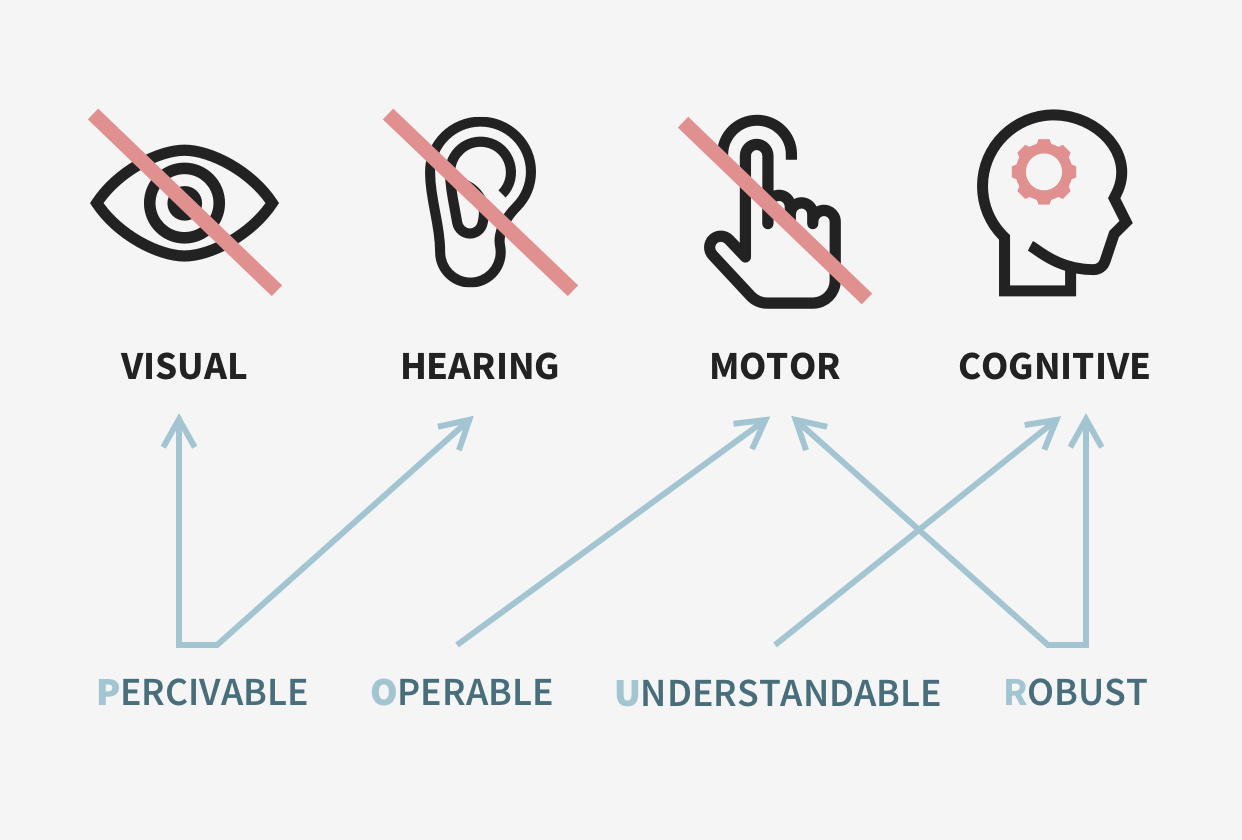 Image Source: Accessibility is Our Responsibility 
Perceivable – Is the digital content easily processed or interpreted in a variety of ways?
Operable – Is the digital product easy to navigate and easily controllable without confusion?
Understandable – Is the user able to understand all information within the interface, including all functions?
Robust – Does the digital product work with various assistive technologies and devices?
Website Accessibility and SEO
Websites that meet WCAG guidelines and successfully incorporate inclusive design are accessible to search engines, users and screen readers alike. For example, sites readable by search engine spiders and sites with semantic markup around content have better context to be more easily findable by internet search algorithms. If your site is following WCAG guidelines, the chances are that your SEO efforts will benefit too.
What Can You Do to Ensure Your Website is WCAG Compliant?
Based on Robles v. Domino's Pizza LLC (more on this later!), ADA applies to websites and mobile apps reasoning that if your business has a physical store location, accessibility requirements extend to your website.
The accessibility standards outlined in WCAG 2.1 not only benefit users with disabilities but also aim to help everyone on the web by ensuring compliant sites have readable content and simple-to-navigate user interfaces. Higher quality user experiences designed for the benefit of all users, rather than the "average user," help people find what they need, drive more business and inspire innovation.
There are three levels of website conformance that you can meet according to WCAG guidelines. Level A is the minimum requirement to meet for an accessible site with levels AA and AAA following next, each rating becoming progressively more difficult to meet than the previous. The AAA rating is regarded as the gold standard of website accessibility. It is important to note that whether your website or app will need to comply with ADA often depends on a case-by-case basis.
Full WCAG criteria information referenced below can be found here.
WCAG 2.1 Level A
For all websites, apps and electronic content such as documents, Level A is viewed as the minimum level of requirement with 25 criteria. Our team accomplished this with the launch of the USAC website. Level A criteria are designed to minimize the impact done on the structure or design of the website.
WCAG 2.1 Level AA
Level AA adds 13 criteria to the Level A criteria and is viewed as the acceptable level of accessibility for many online services. If met, Level AA should work with most assistive technology widely available on both desktop and mobile devices. It can also be purchased as a third-party installation. Level AA is regarded as the recommended level to meet from a legal standpoint.
WCAG 2.1 Level AAA
Lastly, Level AAA is viewed as the highest standard level of accessibility, encompassing a complete accessible offering with an additional 23 criteria to meet from Level AA and Level A. Design options for Level AAA are more limited and are suited for specialist sites.
What Happens When Your Website Isn't ADA Compliant?
As web accessibility is becoming more and more pertinent in recent years, businesses must comply to avoid costly lawsuits that target websites. Failure to adhere to WCAG guidelines leaves businesses vulnerable to legal action.
In 2019, the Robles v. Domino's Pizza lawsuit ruling concluded that the popular pizza establishment violated the ADA act after Guillermo Robles, a man with a vision impairment, was unable to order food through their website and mobile app. Robles, wanting a permanent order for the business to make its website and mobile app accessible, sued Domino's for violation of the ADA. Robles stated that Domino's failed to comply with ADA because their website and mobile app were not accessible to screen readers as he tried several times to order pizza but could not.
Because Domino's website and their app directly connect customers to the physical restaurants that prepare the pizzas whilst ordering online, the District Court and Court of Appeals agreed that the ADA did, in fact, apply to Domino's website and app. The ruling stated that ADA requires "full and equal enjoyment of the goods, services, facilities, privileges, advantages or accommodations" to people with disabilities.
"No individual shall be discriminated against on the basis of disability in the full and equal enjoyment of the goods, services, facilities, privileges, advantages, or accommodations of any place of public accommodation by any private entity who owns, leases (or leases to), or operates a place of public accommodation."

Source: Southeast ADA Center
Web accessibility and inclusive design are pertinent as costly lawsuits target websites opening up the potential to leave organizations with an immense liability.
Your Website is Compliant & Accessible, Now What?
WCAG guidelines continue to be updated and changed. Content will periodically be added to your site and new technology integrations will arise. Once a site is compliant it is important to continuously review, monitor and maintain your site for compliance.
If you're struggling with ADA compliance and how to make it fit for your site, we have a team that can help.