Travel Trends Research: Fostering Familiarity and Flexibility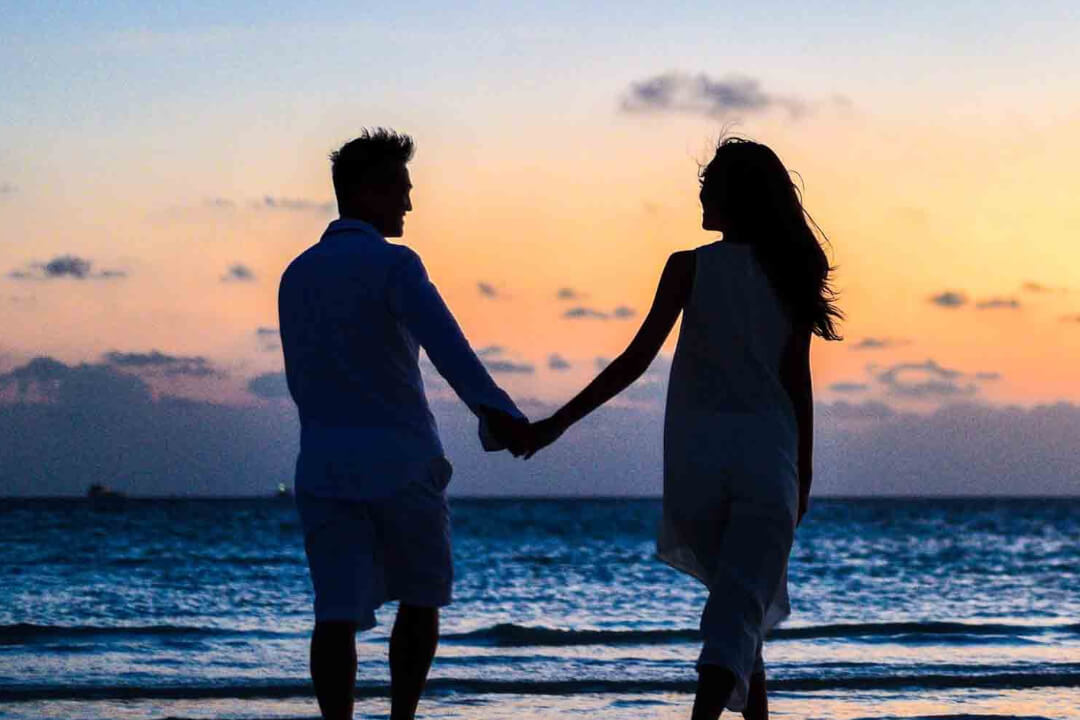 People have long sought out contentment in their travels. Whether on a tropical beach, ski chalet, or a dirt patch in the woods, a peaceful ease of mind is a powerful motivator. This drive is even more compelling coming out of home confinements, toilet paper shortages and 10-day quarantines.
According to our travel trends research, finding a simple delight from the familiar, and without overcommitting, is the traveler's current state. Returning travelers are seeking good vibes to go with a health-oriented peace of mind.
Creatures of Comfort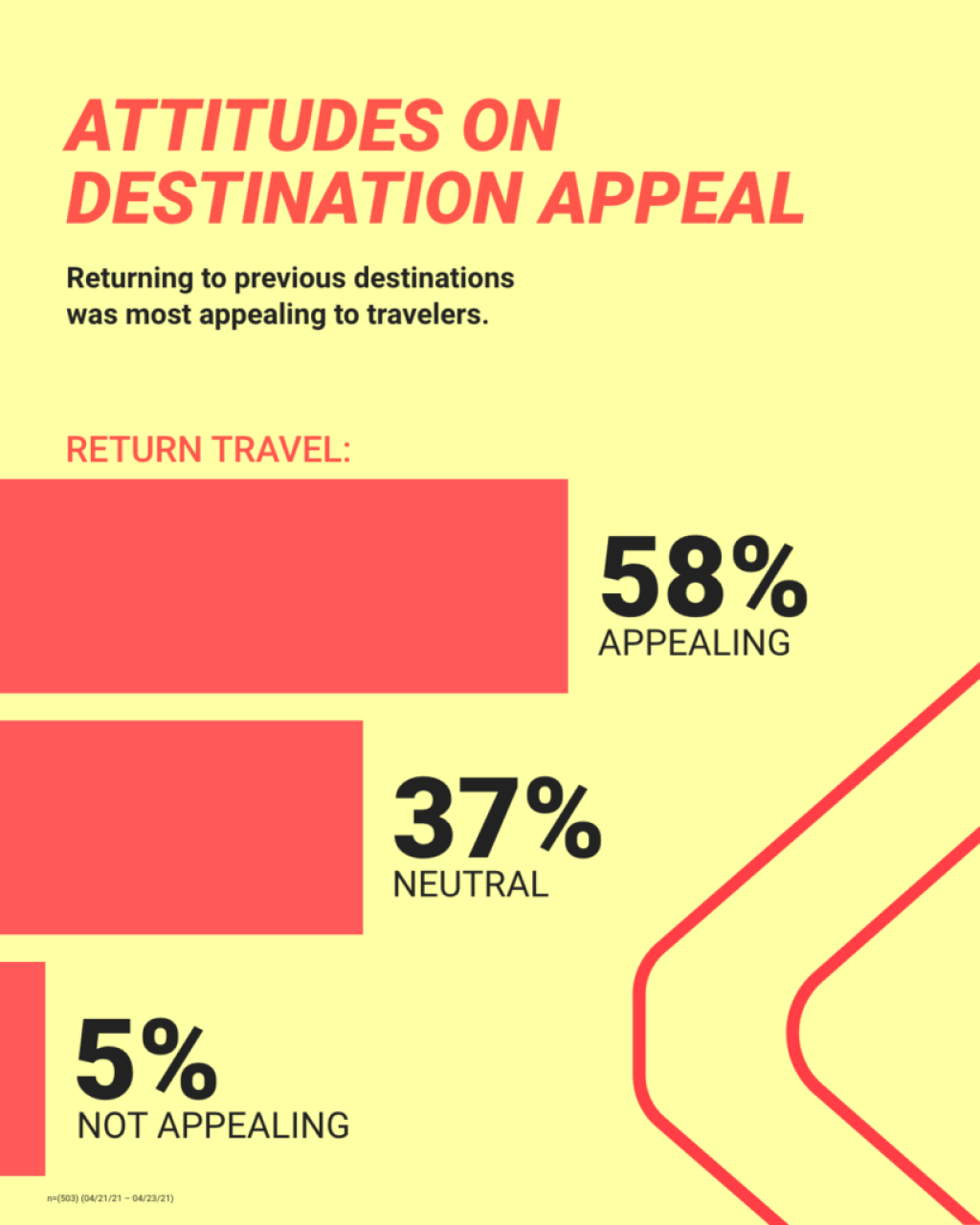 When asked about the appeal of different types of travel, 6 out of 10 survey respondents ranked returning to somewhere they've been before as appealing.
Traveler sentiment reflected a level of confidence and control that they can have a good time again when they return to a familiar destination. If they've already had a good time, returning makes it easier to slip into the peace of mind that the familiar allows.
DMOs and other leisure travel marketers can capitalize on this by focusing more on their database of previous travelers. Reminding travelers what made their previous trips so enjoyable can resurface those feelings of contentment and create consideration for a new trip.
Start With Short Stays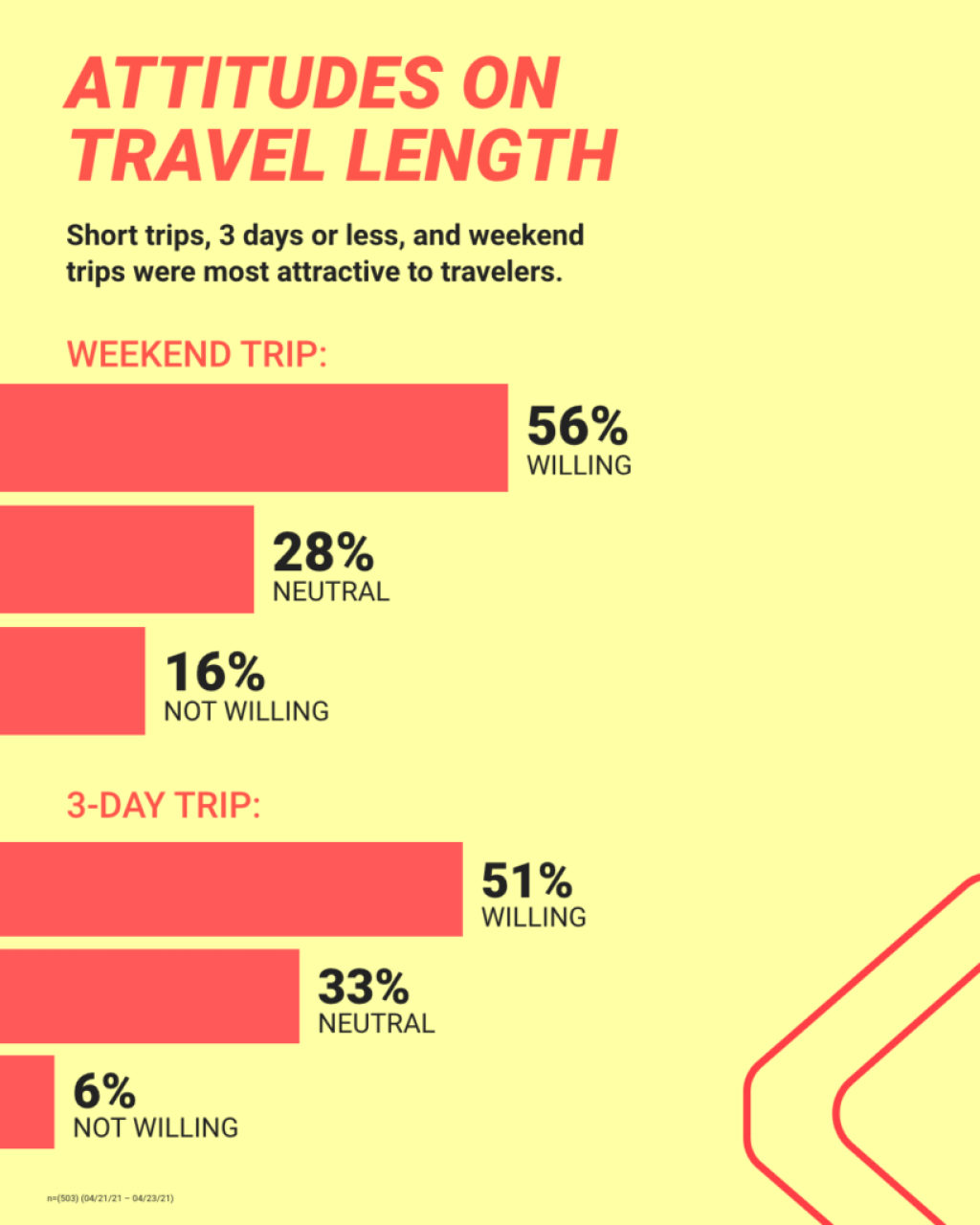 While travelers found revisiting appealing, they also want to keep the trip short. Unlike international travel that may require five or more days, short trips allow the benefits of relaxing and disconnecting from home and work life while also developing a new mental perspective.
Both weekend and 3-day trips had high favorable responses in our travel trends research survey. 56% of respondents were willing to plan a weekend trip, and 51% were willing to plan a 3-day trip.
From a content perspective, DMOs and travel-related businesses can cater to travelers looking for short trips by building sample itineraries that showcase the destination's key experiences. Further, in a nod to personalization strategies for travel and tourism, 3-day itineraries can be tailored to different personas like foodies, shoppers, pet owners and adventure seekers.
Focusing on travelers seeking shorter trips can also help narrow the addressable audience. Shorter trips are likely to start from destinations in the surrounding regions, so geo-targeting nearby cities are more likely to produce conversions than targeting destinations across the country. Also, knowing that travelers are thinking in terms of weekend trips, incentivizing travelers with deals and perks could drive mid-week visitation.
Travelers are Ready to Hit the Road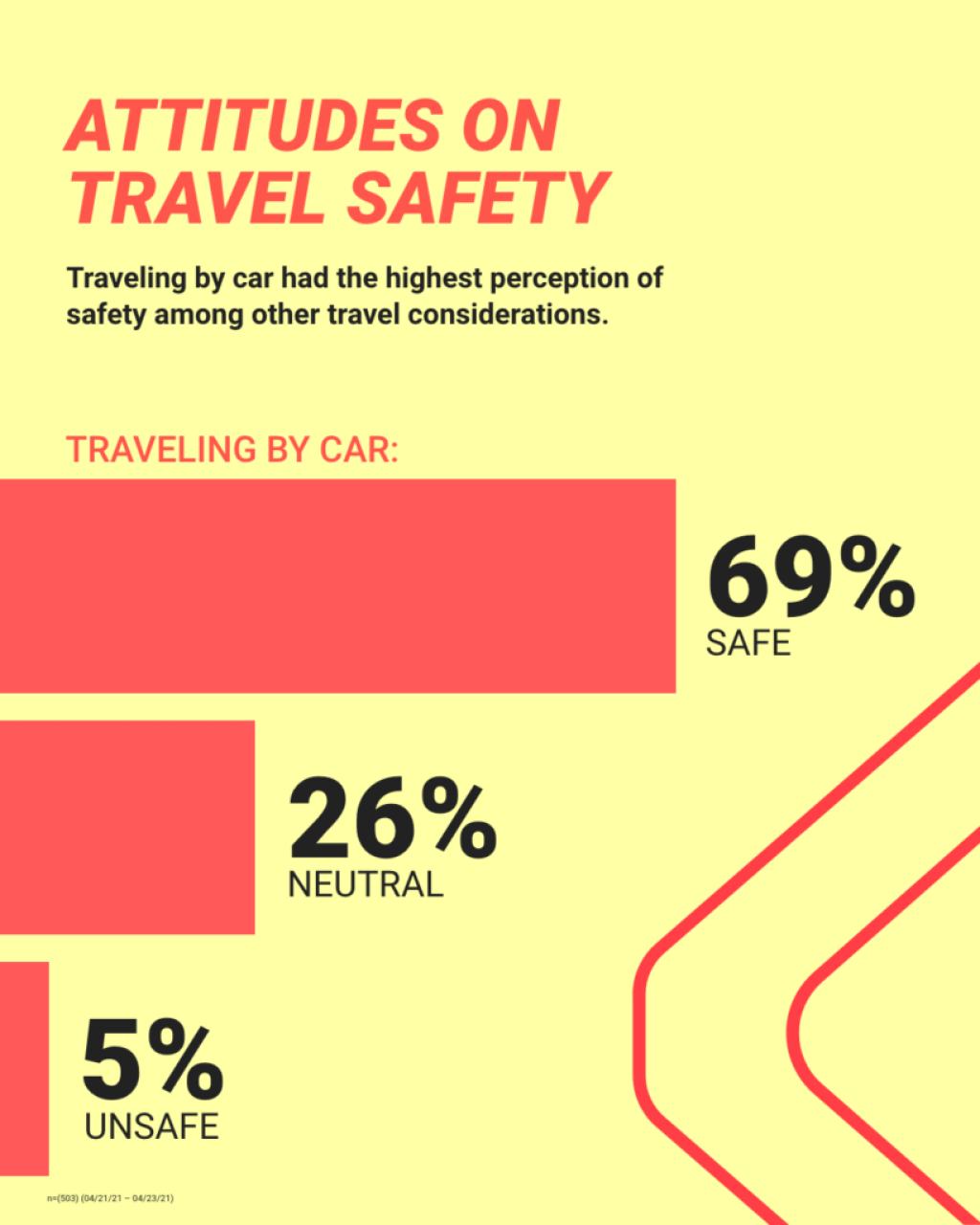 Focusing on nearby markets also leverages another finding from our travel research survey: 69% of respondents cited car travel as a measure of safe travel. This continues to support the road trip trends that we've seen in the past year.
Choosing car travel allows travelers more command of their environment, avoids public or shared transportation in the destination, and adds a level of flexibility in timing. Driving to a destination allows travelers an escape plan if the trip doesn't go as planned.
Options Give Confidence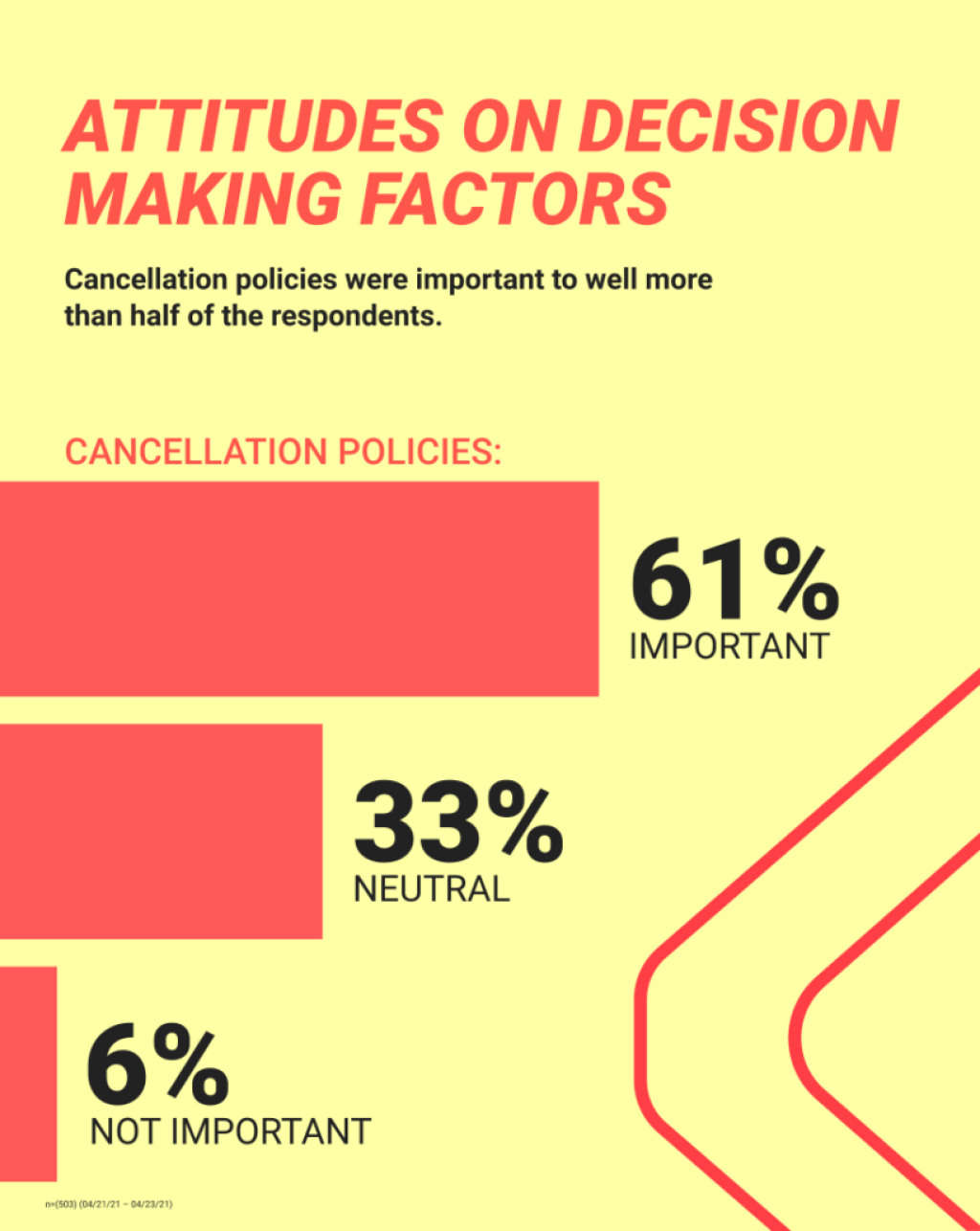 Having flexibility is definitely a key traveler expectation. Having options gives a measure of control to travelers who are still regaining confidence and may not know how a trip will turn out.
Our travel trends research found that 61% of respondents viewed cancellation policies as an important factor in travel planning.
Travel industry businesses that depend on pre-booking can use a cancellation policy as a differentiator and not just an amenity. Placing the policy in a prominent position on the website and in the purchase process can elevate awareness. Auditing competitors' cancellation policies can reveal opportunities to create a contrast.
Creating Contentment
Data from our travel research study shows that travelers are looking for contentment in their travel. Travelers want more of the happiness and peace of mind they've enjoyed in the past but don't want to over-commit either. Short trips by car and helpful cancellation policies build trust.
Want a deeper dive into the survey? Let's talk! Or, read our other insights from the travel research study about travelers seeking travel trust signals and what travel planning looks like now.
About the Survey:
Our survey was a snapshot in time taken as COVID-19 fears were decreasing and travel began to rise. Since then, volatility has returned and the Delta variant has negatively affected travel sentiment.

Noble Studios partnered with S2 Research to execute an online survey between April 21 through 23, 2021. There were 503 responses in the United States from adults at least 18 years of age and who self-identified that they would travel at least once per year in a typical year. The confidence level for the results is 95% (±4% margin of error.)