Making Way For In-Market Personalized Digital Experiences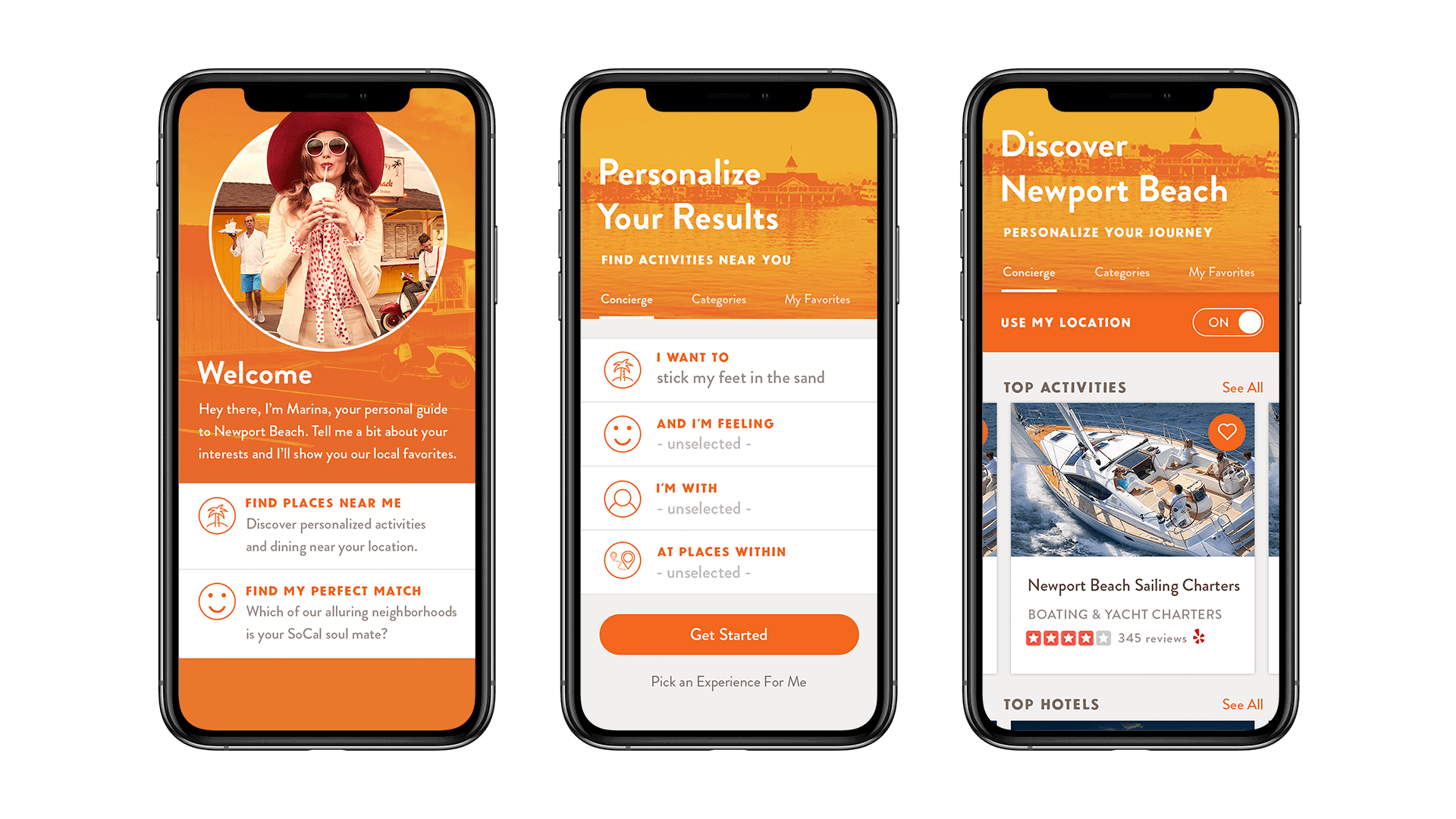 Noble Studios CEO
Jarrod Lopiccolo
knows a thing or two about
digital marketing for the travel and tourism industry
. He's been helping destination marketing organizations convert dreamers to bookers for over 15 years, and spoke at Destinations International's 2019 Annual Convention where he addressed the growing importance of in-market personalized digital experiences for travelers.
Jarrod shared the stage with Senior Vice President and Chief Marketing Officer at Newport Beach and Co. Doug McClain to present "To App or Not to App? Creating the Destination Digital Concierge of the Future." The two provided an overview of the planning process for the development of Ask Marina, a progressive web app developed by Noble Studios to function as a personal digital concierge service for visitors to Newport Beach.
As a progressive web app, Ask Marina utilizes the latest browser technology to create a fast mobile web experience with app-like functionality.
"This highly customized mobile experience (mobile concierge) serves up destination content and messaging in precise and exact ways that match the customer's needs, wants and desires with destination attributes, features and benefits that fit that unique and specific customer," Jarrod said.
For example, you're walking down the street and on one block Ask Marina updates to show you nearby restaurants and attractions based on your interests – you keep walking and on the next block the app updates with local souvenir shops or happy hour hot spots. In a matter of a few feet, travelers are presented with various in-market activities matched to their interests.
Such personalized experiences are exactly what consumers are expressing they want with a SmarterHQ report finding 72% of consumers in 2019 only engage with marketing messages customized to their interests.
Noble Studios followed a similar approach when working with Visit Reno Tahoe to increase traffic to their homepage. Target audiences were split into three groups based on the user's geographic location when accessing the site. Local visitors received personalized recommendations for events happening that night or the upcoming weekend while drive- and fly-market visitors received recommendations for broader types of attractions and activities.
By targeting travelers with personalization, DMOs can create better practices for presenting the right content to the right traveler at the right time, and then keep them engaged with in-market activities and increase destination revenue.
Noble Studios recognizes half the battle for DMOs is still getting travelers to actually visit their destinations, but once travelers are there, information gathered in the customer journey can be personalized to create experiences that make meaningful long-term connections between destinations and travelers.
These memorable personalized experiences lead to advocacy on social media and word-of-mouth advertising that only extends the conversation and brings in new travelers.
Digital marketing for the travel and tourism industry is evolving, and all roads point to personalization as the key to keeping travelers coming back for whatever unique experience DMOs have to offer. Want to learn more about creating personalized experiences for travelers? Contact us.