Staying Ahead: Digital Trends in Travel and Hospitality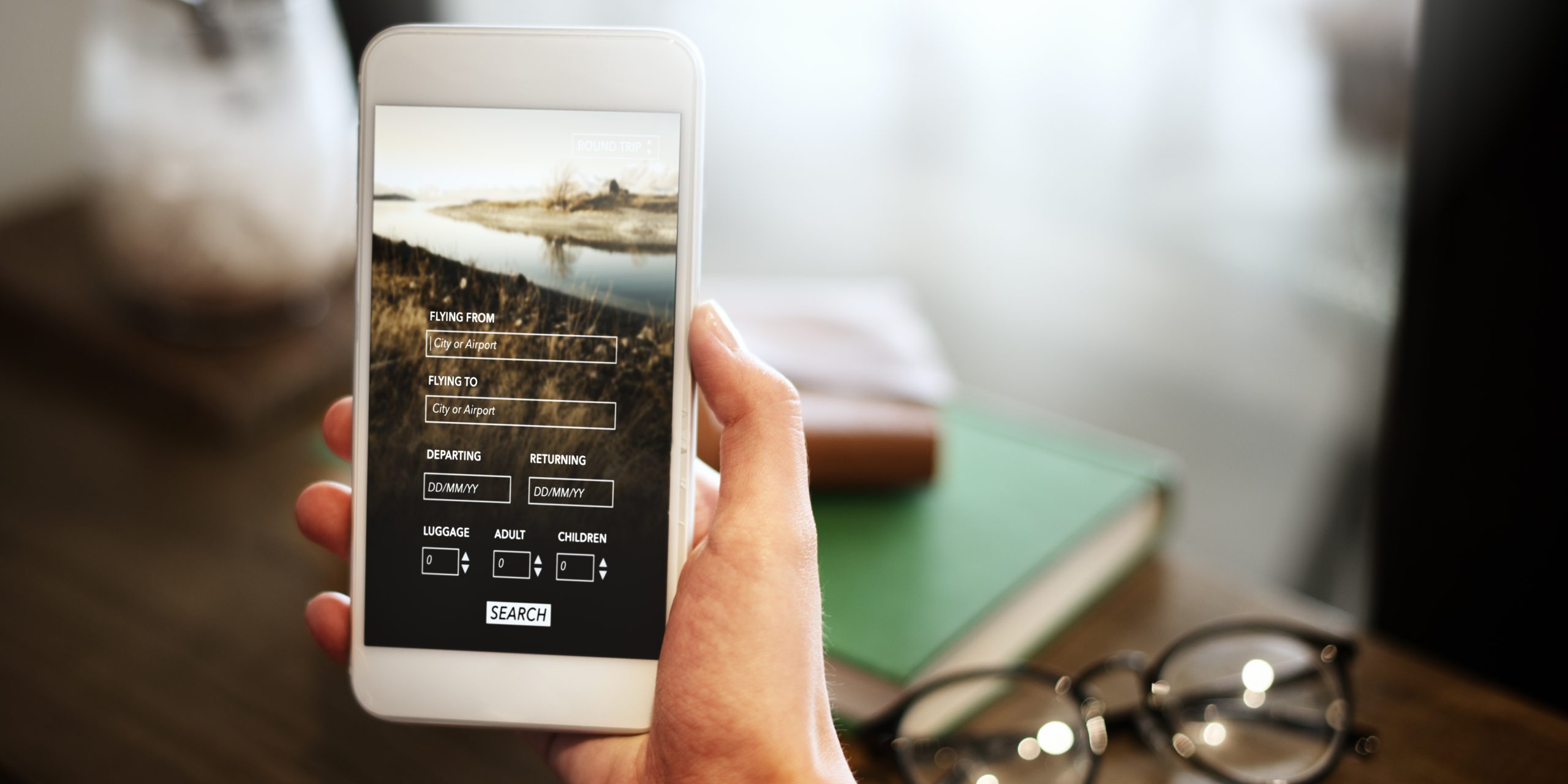 Digital trends in travel and hospitality are changing rapidly as technology and consumers evolve. From influencers to van lifers, to travel junkies and last-minute vacationers, consumers are looking for real, authentic travel experiences tailored to their personal preferences. They want their information quickly, and they expect it to be streamlined.
To stay relevant in the travel and hospitality industry, companies should be thinking user first. Customers are looking for personalized planning experiences, and travel companies should be using this trend to direct their content strategy. Staying ahead of the curve with both emerging technologies and tailored experiences means incorporating new marketing trends and identifying users by helping them make informed decisions through personalized recommendations.
The Latest Digital Trends in Travel
Embracing Consumer Behavior with Smartphones
The most common technology being used for travel planning today is smartphones, and voice-activated search is playing an increased role in that process. When searching for restaurants or things to do in a new city from a smartphone, users expect that the search engine will pull up amenities that are personalized to your specific location, time of day, and maybe even past interests depending on what data sharing options you've chosen. Because of this, it only makes sense that Google has just announced a new virtual travel assistant experience.
Consumers are increasingly comfortable with the idea of conversing with computers. Almost 70 percent of requests that Google Assistant receives are said in natural language. Answering to consumer's hyperlocal mobile search intent, powered by proximity based-location services, Google can provide personalized results in these micro-moments, where customers are prepared to take action and not just have a passive search experience. This means locating the user and identifying a trending hotspot based on their specific interests–like the nearest pub to quench their thirst while they get their bearings in a new city. Google Maps is no longer limited to just directions. The user expects more.
Focusing on the Mobile User Experience
A recent study by Google and Phocuswright suggests that more than 60 percent of U.S. travelers would consider an impulse trip based on a good hotel or flight deal, and according to Think With Google, 37 percent of travelers in the U.S. think about vacation planning once a month, and 17 percent think about it at least once a week.
That's huge. The question at hand then is: Are you getting your information to the user in the most clear and concise way possible to help them plan and book on mobile?
You must consider the user's experience. How do your services differ from those that are offered for free? Mobile's share of travel visits has grown by 48 percent, and because mobile sites are helping people find what they want more quickly, time spent per session on mobile travel sites is down seven percent while mobile web conversion rates for travel sites has grown by 88 percent.
Mobile now accounts for 37 percent of travelers shopping for flights and 43 percent for accommodations; a much smaller percentage actually make travel purchases on those devices. Only 25 percent of those surveyed say they book accommodations on their smartphones, and even fewer–18 percent–book airline tickets on their smartphone. While users are doing the research on these devices, conversions happen on the travel company's desktop site. Seventy-nine percent of mobile travelers completed a booking after doing research on their smartphone, which is nine percent higher than in 2016. Meanwhile, 78 percent of business travelers are more loyal to a travel company that personalizes their experiences online and offline.
Travel companies beware, research also shows that brand loyalty is becoming a thing of the past. Very few visitors know which brand they will book with prior to doing research. If your travel company is not providing the types of user experiences that will help potential customers plan their trip from start to finish in a personalized and tailored way, you are missing a huge business opportunity.
Considering what factors will make the user's experience more contoured is key to conversions on your travel site. Ask yourself these questions when considering your travel site and services:
Is your site optimized for mobile?
How long does it take to load?
How many clicks does it take for a user to access relevant content?
Can the user easily consume your content?
Is the content skimmable, with an obvious Call-to-Action (CTA)?
Does it quickly and easily grab the user's attention?
While having a visually immersive experience is important to showcase your destination, it must be balanced with practical load times on both mobile and desktop. Users are doing the brunt of their research on mobile, but they are coming to your site to book. Heavily optimized images and using a CDN (or content delivery network) such as Cloudfare can help balance a visual website with loading performance. Users will quickly abandon a site due to load times, so testing your site to ensure it is user-friendly is a must.
Finding the sweet spot for users in the travel and hospitality industry means anticipating the needs of the user, while directing them to the information they are looking for, in an easy and digestible format. It's providing a friendly, warm and welcoming environment focused on helpfulness, entertainment and geniality. It's giving them all the information they need to plan a trip from start to finish in one place–providing authentic content to them to help them curate a truly unique and localized experience.
Creating Authentic Editorial-Style Content
Be Real, Reaching the User Through Authentic Experiences
To the uninitiated, influencer marketing is a relatively new form of social media marketing in which focus is placed on leveraging influential people rather than the target market as a whole. Organizations identify individuals who have influence over potential buyers and orient marketing activities around these influencers.
Instagram is easily the most popular social platform for influencers, but don't let that discourage you from using Facebook, Twitter, YouTube and even Snapchat. These social channels will increase brand awareness. Social media's role in the travel journey simply can't be ignored. Fifty-five percent of people like social media pages related to trips they are planning, according to Webpage FX.
Whichever platform helps you to get your story and brand across to the right people is the right platform. There's no definitive line.
Identifying Your Angle
The key here is to develop a strategy in which influencers can showcase relevant and meaningful content to their audience rather than ads or product placement. This content can include anything from photos and video to 'right now' travel moments that can easily be executed for a short visit to a city.
This is why Instagram is so popular. Through photo and video, Instagram has opened the door for sharing travel experiences off the beaten path. Social media users are not looking to mimic what influencers have done, but to create their own unique and meaningful experiences inspired by the travels of their favorite internet personalities. Influencers can share their travel experiences–good and bad–via photo, video, and copy, causing their fans to explore or ignore new brands thanks to authentic communication. In 2018, travel campaigns should look less like traditional ads and more like content marketing.
Be Transparent, Always
One underappreciated aspect of working with social media influencers is the creation of authentic content that can be used on your website. Modern travel audiences are too sophisticated to respond to traditional marketing ploys, and influencer content can be used alongside quality optimized content on travel websites to create truly impactful results.
With Noble Studios' recent redesign of VisitRenoTahoe.com, we partnered closely with the client to ensure this influencer and editorial-style content was an integral feature with a dedicated section to editorial-style content. Making your content largely visual will increase interactions with your content. Being there for micro-moments while your audience is in the decision-making process, through content that either entertains, educates, or invokes an emotional response, will connect your customer with your brand.
With so many travel blogs, like TripAdvisor, providing the same guidance for typical museum and park visits, users are looking for the insider's view. They want to get away from the tourist traps and experience the city like a true local. Airbnb does a tremendous job of building city guides around the globe with information about what locals complain about and which neighborhoods are best for your vacation. That's why with our recent partnership with VisitRenoTahoe.com, we created content through the eyes of a true local.
At Noble Studios, we work closely with these techniques to create custom-tailored user experiences for travel and hospitality industry sites that are proven to reach the right audiences. We pride ourselves on being on the cutting edge of digital trends in travel. Use the above tips and tricks to compare your site to your competitors, and if you need a helping hand, Noble Studios offers content strategy and content marketing services to get you where you want to go.
Learn more about how we create even better practices for digital marketing in travel and tourism.