Phase 2 Rebound: The Digital Marketing Strategy Roller Coaster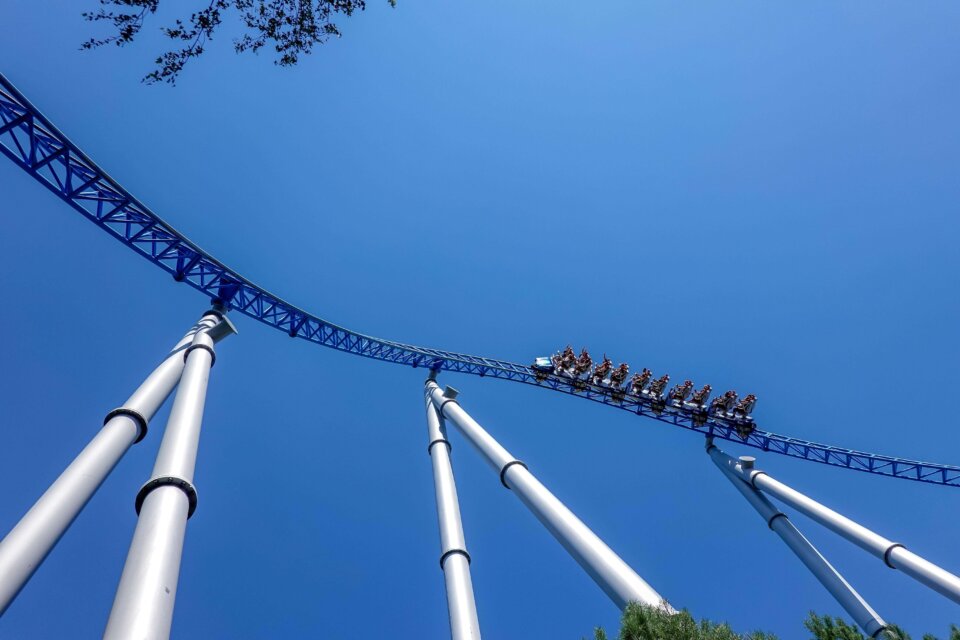 Great news! It looks like the economic freefall is over, and getting back to marketing during coronavirus makes sense for most businesses.
It's easy to see that consumers are getting more comfortable with returning to spending money. There's confidence from stocks and home prices being at record highs and unemployment rates creeping down.
But continued spikes in COVID-19 infection rates, evolving government public health measures, a looming election and reduced consumer confidence have these gains hanging by a thread.
Buckle up, because this train is moving fast, has unpredictable drops, twists and turns, and there's no going back.
Ride the Digital Marketing Strategy Roller Coaster
Welcome to The Rebound Phase of the three phases of marketing during coronavirus.
The React Phase, Phase 1, began as the economy rapidly shut down, and consumer behavior shifted in a blink of an eye. Embracing agile marketing for survival was critical. Messaging shifted, media placements disappeared, we all watched "Tiger King" and downloaded TikTok.
The Rebound Phase, Phase 2, is well underway with mass quarantine restrictions lifted and commercial activity returning. Now is the time to adjust operations and communication planning to an elastic marketplace.
The Recovery Phase, Phase 3, which feels distant, is reserved for a time when COVID-19 infection and mortality rates are insignificant, presumably after a treatment or vaccine is widely available and adopted. Workers will be able to work from offices, and business travel will be common. Generally, businesses will be able to optimize operations in a stable environment free of fear and frenzy.
Aligning an Online Marketing Strategy to Market Conditions
We embrace being the Change Huggers at Noble Studios, and we recommend you do the same to address the unknown factors in the economy. As always, these conditions will work themselves out over time (and make this article feel old), but they're very real today.
We're not macroeconomists, but we pay attention to current events, do extensive research and talk to our clients, peers and friends about their business. We agree with the general consensus that the parallel threats below will impact how all consumers do business:
Cycles of high and low infection rates followed by government restrictions that hamper commerce
High unemployment combined with a deep recession
Continued stimulus packages for the unemployed and for businesses
Potential long term solutions to lessen the impact of COVID-19 infections
Working at home will persist
A contentious presidential election
Competitors, old and new, are facing the same challenges as your company, so while there is volatility, everyone is feeling the same pressure. Each one of us has a personal story of how we've been affected by COVID-19.
Flexibility is Crucial When it Comes to Your Digital Marketing Strategy
Volatility can be your ally if you play it right. Playing it right requires staying focused on goals and objectives but being flexible in how they'll be met. Bruce Lee captured this concept best in his classic quote:
"Be like water making its way through cracks. Do not be assertive, but adjust to the object, and you shall find a way around or through it. If nothing within you stays rigid, outward things will disclose themselves." – Bruce Lee
As we move through the Rebound Phase, consider how demand has shifted. Has your target audience changed? Moved? Will the marketing landscape change? The answer of course, depends on your industry, but likely – you will say yes to all three. You may see the demand shift within your target markets, and you should be ready to develop a content plan to address that.
Online Marketing Strategy for the Rebound Phase
Audience Targeting During the Rebound Phase
You will still want to target your existing audiences, but consider if the age range has changed. For example, in the travel and tourism industry, most DMO's are projecting that younger generations will travel first, followed by older generations. Those types of nuances should be tied into campaign targeting and timing.
Perhaps you need to change what you are marketing or how you are talking to your potential customers. For example, if you write a small business blog, you likely shifted your content strategy to include blogs with resources for small business to navigate the COVID-19 pandemic, or how to communicate with employees or how to save money – whereas you previously may have served your target audience articles that were more focused on marketing.
Geo-Targeting for the Rebound Phase
While you are building your rebound and recovery plan, consider if your target market shifted.
For example, if you are a travel organization driving visitors to your destination, people might not want to fly, and you need to assess changing your paid advertising targeting to focus on a drive market radius. Or if you have a local storefront business, you may no longer want to solely reach your local city or town – it's not enough traffic, especially with people not being able to browse and the losses you experienced while business were closed. You now need to expand your audience targeting via your digital efforts and ramp up your online store so your reach spans across the country and you meet an increased online demand.
Rebound Campaign Budgeting
You likely cut back or paused advertising efforts during the React Phase. Now is the time to take any unspent funds and build budgets for your upcoming recovery marketing campaigns.
For COVID-affected clients with a healthy annual marketing budget, we recommend you should have a maximum budget but do small tests before you spend it all to ensure that the engagement and conversions are where they need to be to justify the spend. If the campaign timeline is delayed or demand shifts, you can move funds to consequent months when demand is forecasted. This rationale is to budget for money in case you need it. It's easier to scale back spending when the money is in the bank, but if it was never there in the first place, you'll never get it. Consider budgeting for paid advertising efforts, content writers, website maintenance and CRM – especially as we enter the competitive recovery phase.
During the rebound phase and especially the recovery phase, competition will be high. The more money you have to compete – either across a broad array of channels or via a highly specific channel approach, the more potential revenue you will generate for your business, paving a path for your own recovery.
Coronavirus & Digital Marketing: Top Marketing Channels to Consider
Many businesses have launched brand awareness campaigns during the rebound phase across social media and display. As we get closer to recovery, they'll layer in additional channels and campaigns, like paid search marketing.
It's important to develop an integrated digital marketing campaign that includes all channels, which will give flexibility in which channels you activate and where you can scale back. Still, you always have your plan to ladder back to. It's important to know who you are trying to reach, budget per channel, your target market, what channel you want to prioritize first and what goal you want them to accomplish like a form completion or newsletter sign-up.
Channel Breakdown for Your Rebound Internet Marketing Strategy
SEO Strategy
Now is the time to publish that new content and track performance. During this time make sure your top pages are optimized for your target keywords. SEO optimized content is the top priority because organic CTR (Click Through Rate) is up to 5x that of a paid ad. Plus, it takes longer for search engines to index content.
Consider updating your site navigation titles to match the target keywords for their respective pages. Check and optimize your URL structure. Optimize images with useful file names and relevant metadata. Search engines weigh this effort towards improved organic rank.
Paid Search
Intent-based channels that capture people most likely interested in your products or services. Developing a paid search marketing strategy relevant for after a crisis includes making campaigns beyond the brand campaign you're likely running. You can include relevant non-brand campaigns like inspirational or planning-oriented campaigns. As you move through the rebound phase and towards recovery, you can increase your acquisition efforts. Ensure your paid search campaigns are optimized and ready for when people begin searching for what your business has to offer.
Display Media
Display ads are an effective way to create brand awareness as you move through the rebound phase. As market conditions improve, display ads can become more targeted by showcasing strong calls to action or value-based offers.
Retargeting
Capturing and locking in a user's intent is a valuable paid strategy. Use retargeting techniques to get more from your site traffic by presenting ads to site visitors once they leave your site. This "warm" audience is likely to convert at higher rates and at a lower cost than a similar audience that hasn't visited your site.
Organic Social
Continue running organic social and show up well. Take an inspirational, sensitive approach (especially at the beginning of the rebound phase). You can layer in messages that you are there for your followers. If you shifted a physical store to an online store, you can tell followers that and note any discounts you're offering. Social media marketers may begin to post updates on location planned openings (like beaches and outdoor spaces).
Email Marketing
All the relationship-building you did during the React Phase can now bear fruit. Engage your email list by sending business updates, promotional messages and make sure to include existing and past customers.
Leverage Traffic Analytics: What are people searching for in regards to your brand? Take that information and use it as communication pieces in your email marketing.
Segment your email lists to deliver content that's relevant, timely and sensitive. If your niche has been economically hard-hit, consider focusing more on-brand messaging and unique selling propositions instead of strong calls to action that will likely fall flat. Remind users why you're the best in your vertical and track their interactions for re-engagement campaigns.
Content Marketing
Start planning how you're going to launch your full content marketing campaign in recovery and what this looks like. Focus on research that pinpoints how customer behavior has changed. What buyers value and how they purchase may have radically changed. Capitalize on the opportunity by developing new content that addresses changed behavior.
You don't want to have a tone-deaf approach on your site, but you don't have to be in alert mode. Shift your COVID-19 messaging to explain opening updates, regional updates, local business changes, etc.
Coming out of the React Phase you still want to ensure that your messaging and imagery are sensitive.
Make sure CTA's and Headlines have evolved to match what's being impacted. If your storefront was previously closed, but is now open, create messaging welcoming consumers back and thanking them for their patronage.
Ensure your COVID-19 page is updated to highlight new policies and procedures for how your brand is operating in the new phase. This should include limitations for how many people are able to be in the business at one time and how your handling employees coming back to work. Also, include a date with each policy update, even if nothing has been updated, so customers have confidence that this is the most current information.
The Rebound Phase, the second of a three-phased approach to marketing during the global pandemic, has created marketplace stability despite an erratic economy in recession. Where businesses were able to "be there" for their customers during the React Phase, now consumers can "be there" for businesses as they reengage, reopen and restrategize.
The Rebound Phase has been characterized by marginal improvement powered by flexibility. New opportunities will appear as conditions evolve, and creative digital performance marketing is an increasing aspect of finding success. Businesses can find the right channels with the right messaging can scale up or down, back or forth, as consumer confidence changes.
Has your business remained agile during the Rebound Phase? How has your business found new opportunities in a changing economy?