Prediction: Top 5 SEO Trends to Pay Attention to in 2023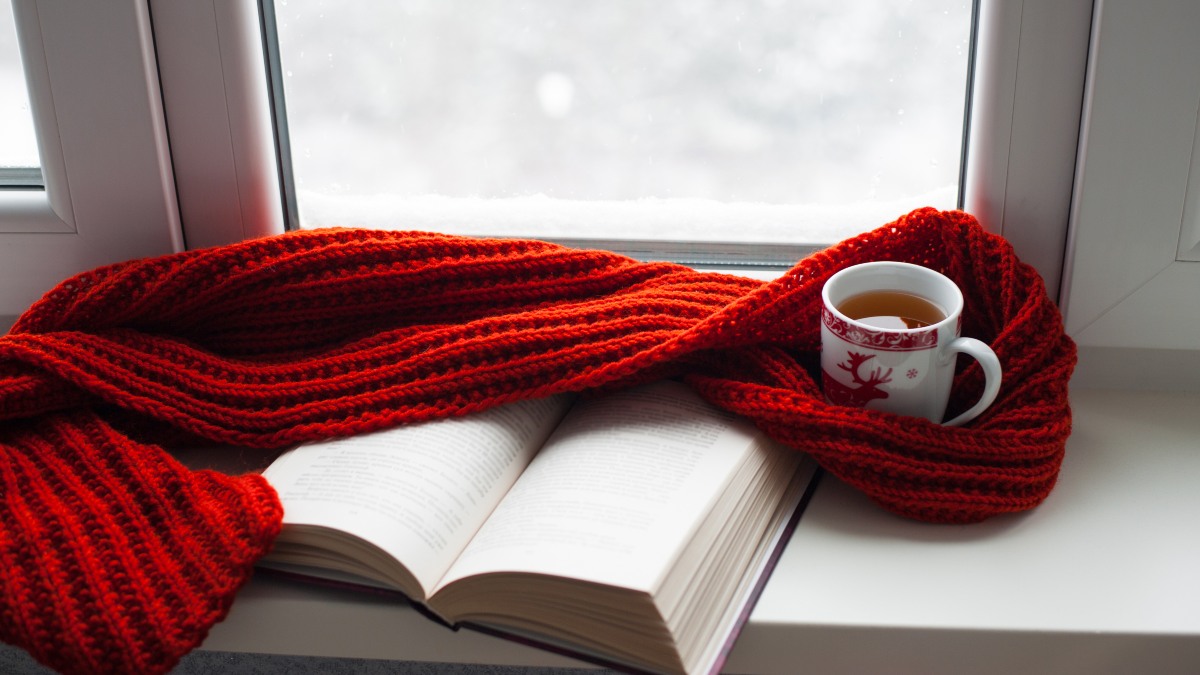 To get to the state of SEO, we first have to talk Taylor.
Taylor Swift fans united this year to not only listen to Midnights at midnight parties, but they also received fan verifications for priority ticket buying to next year's "The Eras Tour." When the verified fan ticket sale dates came, fans were met with a disaster of greedy scalpers, dysfunctional technology, overwhelming demand and an antiquated monopoly that left a lot of Taylor's biggest fans empty-handed.
The overwhelming, nightmare-inducing dread that Swifties felt in November is not unlike what SEO specialists felt all year long, with scores of converging trends compounded by NINE Google updates.
To recap 2022, it was a busy year with big changes in the SEO world. Digital marketing as a whole saw technological advances in machine learning and AI as well as privacy-forward initiatives like third-party cookie depreciation that will have a major impact on strategies moving into the new year. The nine Google ranking updates impacted features like the product reviews ranking system, helpful content prioritization, spam detection, page experience on desktop and the broad core algorithm.
Now, heading into 2023, what trends can brands expect to see influence rankings in organic search?
Despite (or maybe in spite of) the technological advances available to marketers, SEO will double down the focus on human experience. As search engine algorithms become more sophisticated at understanding users' search queries and at catching black hat SEO specialists attempting to game the system, we'll see websites rewarded for providing human users with the most relevant, unique information and high-quality onsite experiences.
Here are our predictions for the top 5 trends that will be influencing search engine optimization in 2023:
1. Content Creation in Different Formats
People consume information in lots of different ways: visually, audibly, through text, and sometimes all three at once. Search engine algorithms like Google's are advancing to reflect this experience for users. No longer will the algorithms just look at web pages as a single piece of text content. Google will look at all the ways real people consume information: text, images, videos, infographics, tables, charts, and interactive elements that make up a piece of content.
In recent years, we saw the rise of visual search – particularly in image-heavy industries like travel and tourism or ecommerce. Moving into 2023, Google will expand its foothold in multisearch and multisearch near me. 
What is Google multisearch? Google's multisearch feature lets you do a visual image search by taking a photo, then adding a text query on top of it. Google will then show you visual search results based on both the image and the text query. In April 2022, Google launched multisearch beta for English and U.S.-based queries. It plans to expand to 70 new languages over the coming months.

The near me aspect of multisearch lets you look for those products (or anything, really) via your camera to find local results. So if you want to find a restaurant while you're on vacation that serves chocolate cake, you can do so. Google previewed multisearch near me at the Google Search On event, announcing it would launch late fall in 2022 in the English and U.S. search results.
Google is using its powerful image analysis capabilities to improve its services as a long-term strategy to broaden its utilization across multiple tools and interfaces. In 2023, expect more users to learn the benefits of tools like multisearch.
2. Responsible Use of AI & Machine Learning
For the last couple of years, writers have had the opportunity to utilize artificial intelligence (AI) to support content writing. Then in 2022, the internet took the next step in AI content creation: DALL-E 2. One of many AI creative tools, DALL-E 2 was widely celebrated for its ability to create content from scratch with little human intervention. Keyword prompts guide the AI-engine to generate content like images, code, stories, poems from 175 billion trainable parameters. In 2023, a new AI-model, GPT-4, is expected to begin rolling out with what is rumored to be 100 trillion parameters, about 500 times larger than the GPT-3 AI model used by DALL-E today.
GPT-4 is expected to create even more human-like writing and design. But, as useful as content and design AI tools can be, they are not (and should not be) replacements for the human touch. For example, would AI think about referencing Taylor Swift in an SEO Trends article? The magic is in the keyboard, and Google knows this.
In mid-August, Google announced a search algorithm update called the "Helpful Content Update." SEO specialists believed this update would fundamentally change search results. It didn't. BUT, it does signal where Google is headed in 2023.
This update essentially rewarded content that created satisfying user experiences and penalized content written "for search engines." AKA, content that spammed keywords excessively, was clearly written by AI, and/or mass produced with no topical expertise. The Helpful Content Update was part of a broader effort to help searchers see more original content written by and for humans, instead of by AI and for search engines.
So, we know Google will do its best to crack down on AI-driven content creation. But, as marketers, we also know that AI can be a valuable tool in our arsenal.
What are some ways that we will see AI used well (or poorly) in 2023?
Responsible Uses of AI
Irresponsible Uses of AI
– Topic ideation & research
– Unblocking writer's block
– Mass-produce content
– Creating content without heavy manual oversight
AI advancements have become sophisticated enough to replicate human writing and design, but they are not (and should not be) complete replacements for the magic of the human touch.
3. Increased Focus on Human Experience
Content isn't the only way Google is honing in on the user experience. In May 2021, Google updated its algorithm to incorporate the three Core Web Vitals:
Largest Contentful Paint (LCP)
First Input Delay (FID)
Cumulative Layout Shift (CLS)
The three Core Web Vitals, in addition to page experience signals like mobile-friendliness and site security, are used as key inputs in Google's ranking systems. Perhaps even more important, the Core Web Vitals are direct indicators of human users' experiences while interacting with your brand online.
Moving into 2023, this focus will expand to include additional metrics for measuring user experiences. Metrics to keep an eye on include:
Time to First Byte (TTFB)
First Contentful Paint (FCP)
Interaction to Next Paint (INP)
Time to Interactive (TTI)
Total Blocking Time (TBT)
Similar to the three Core Web Vitals, these additional metrics attempt to quantify key aspects of the user experience, like the load speed, interactivity, and visual stability of a page. The goal of optimizing for these factors is to improve the onsite experience and make for a more satisfied, engaged, and loyal audience.
In 2023, success will come from creative digital performance marketing teams working together to improve the human experience with technical proficiency. This cross-functional team will consist of SEO teams, designers and developers who can make a website visually appealing while also outperforming Google's Core Web Vitals benchmarks.
4. Prioritization of Long-Tail Keywords
For years, we have talked about the impact of "zero-click SERPs." So in 2022, SEMRush conducted a study to assess the impact.
The question: Is Google stealing all those zero-click searches for themselves?
The answer: It's complicated. The study found that only 25% of desktop searches and 17% of mobile searches truly resulted in zero clicks. Instead, query refinement and clicks to other Google products (ex. images, news, shopping) were the major players in searches that don't result in an immediate click-through to a website.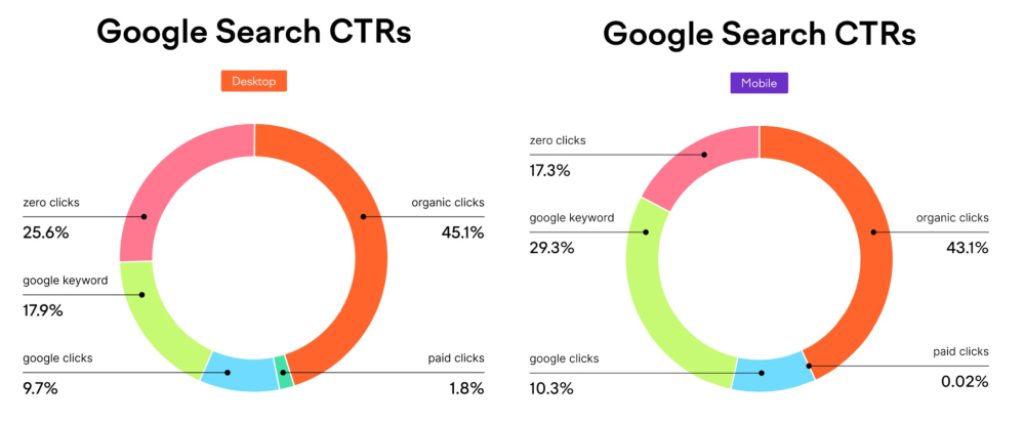 Google's VP of Search highlighted the influence of long-tail keywords and query refinement during his keynote speech at SMXNext earlier this year. During the keynote, he mentioned, "Google is going to become more exploratory." He explained that, when you make a search today, SERPs are optimized for the searched keyword. The results that surface are all directly related to (and optimized for) that search.
In the future, Google wants to think about ways to be more helpful on lower pages (2-4). For example, suggesting new topics that are adjacent to the original query. That further educates the user and potentially nurtures them through the search journey.
And it's clear this is already a priority. Moving into 2023, more and more SERP features are enticing users to refine their searches or interact more with Google's products. In December of 2022, Google rolled out a scrollable list of related filters immediately below the search bar to help users refine their results.
So what does this mean for SEO? As Google's algorithm becomes more sophisticated, so will content creators' keyword targeting. 2023 will see an increase in:
the ability to target more conversational and complex queries
the importance of understanding and targeting semantically related keywords
a focus on long-tail keywords
5. Content Quality Over Quantity
In the past, SEO specialists found success by creating unique pieces of content for every single keyword variation. In recent years, search engine algorithms have become more sophisticated at understanding keyword search intent, which will change the game.
The purpose of a user's search is keyword search intent. Google automatically interprets the intent and shows results that attempt to align with it. Understanding and writing to match search intent helps businesses…
Better serve their audience
Reduce bounce rate
Increase onsite engagement
Appear in featured snippets
As algorithms are better able to understand the intent behind a user's search, they are also better able to group semantically related keyword variations. This means that 2023 will see the consolidation of similar content pieces to better align with search intent, not the creation of a new page to match every single unique keyword variation.
This may seem counterintuitive to the long-tail keyword strategy. However, a well-rounded SEO strategy in 2023 will be about the sum, not just the parts. So, for some businesses, this will mean investing in content consolidation and cleanup in the new year.
Need Help Preparing Your SEO Strategy for 2023?
One thing to count on in 2023? Taylor's Eras Tour is going to be amazing! And the SEO landscape will not be stagnant. To get started optimizing your site's SEO, contact Noble Studios. We'll help your site performance get better every day.