Meet the Most-Awarded Agency at the Reno AAF's 2023 American Advertising Awards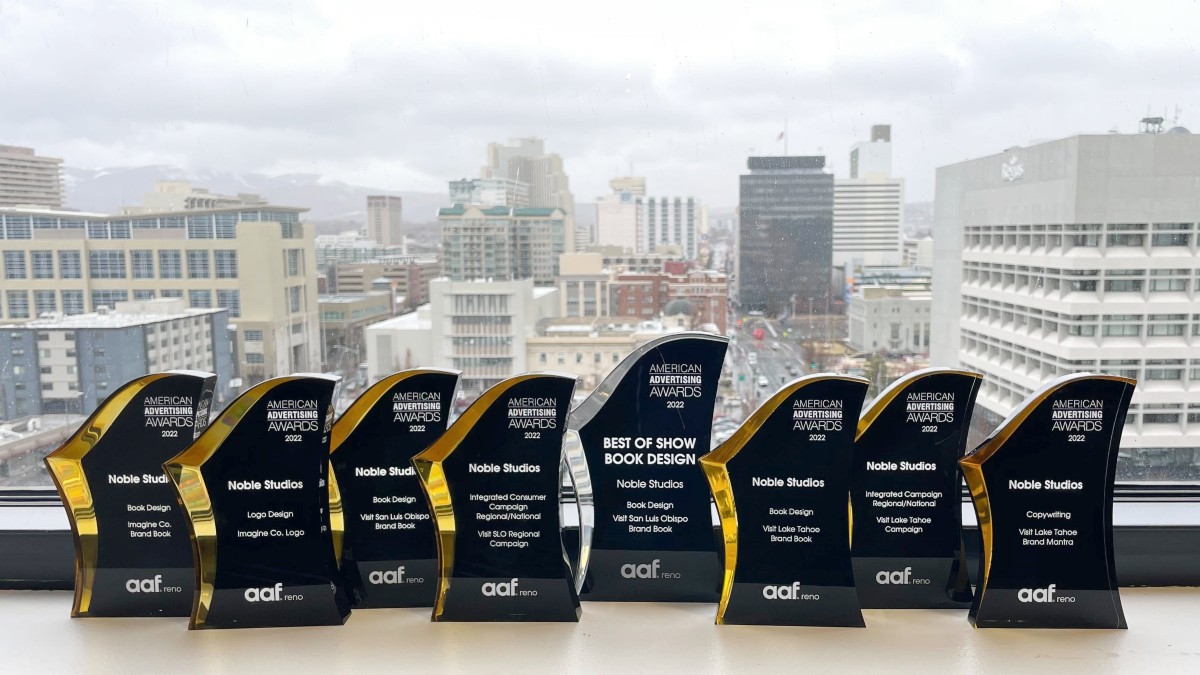 As the countdown began, a hush fell over the crowd. The air was thick with anticipation, and excitement crackled in the air like electricity. The lights were dim, the music was pumping and the gathered crowd was abuzz with excitement.
This was not a lunar landing or a first contact event, it was the 2023 American Advertising Awards ceremony hosted by AAF Reno. This year's event took on an outer space theme, including an event host, dressed as throwback Zenon: Girl of the 21st Century, that kept the crowd of 150+ reeling all night.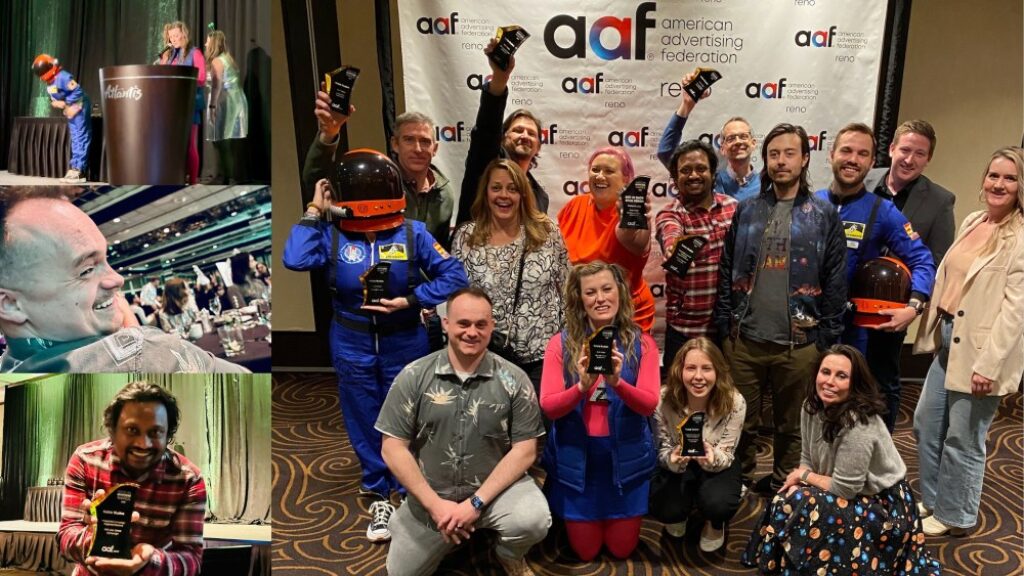 Awards Rocketed Noble Studios Way
Dozens of advertising agencies, creative firms, production houses and in-house creative teams from throughout the region submitted their work to the competition. Noble Studios moonwalked home with 12 awards, including 7 golds and a Best of Show award. Below is some of the work that led us to take home the most awards of the night.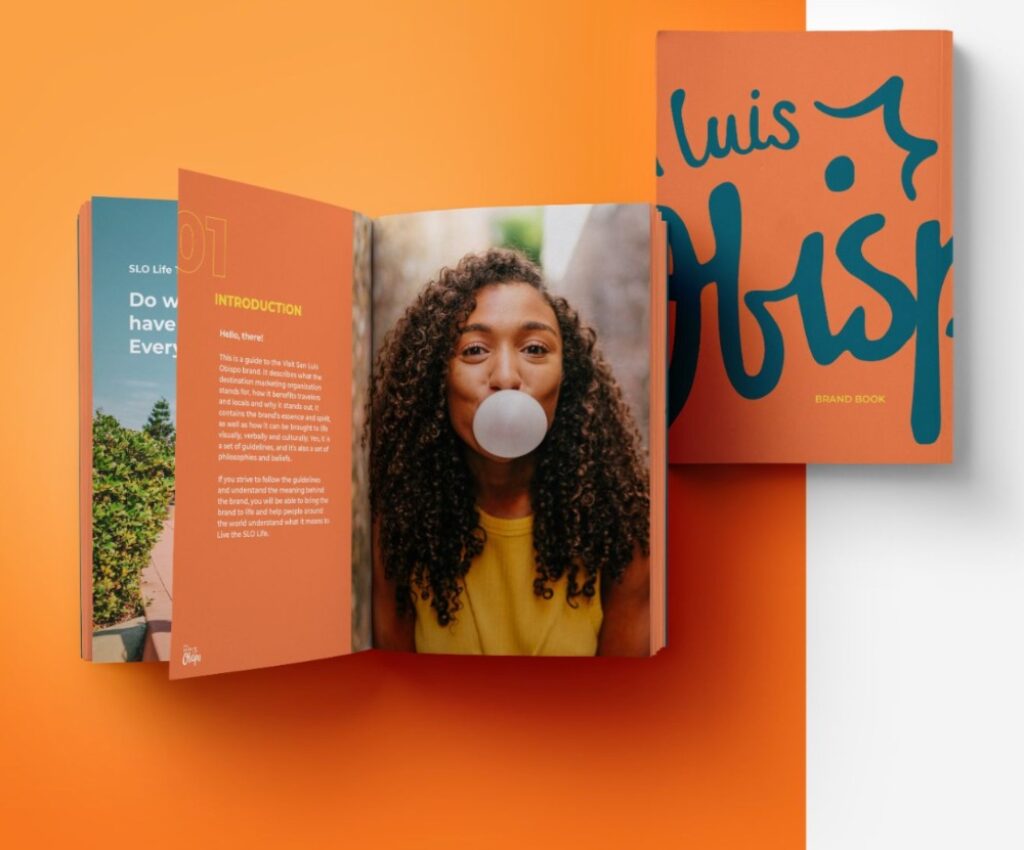 Best in Show & Gold for Visit San Luis Obispo's Brand Book
Located at the heart of California and equidistant from Los Angeles and San Francisco, San Luis Obispo (SLO) is a charming city that offers everything from friendly locals to pleasant weather, as well as picturesque streets and wine tasting.
According to brand research, travelers who were not familiar with SLO did not understand its value proposition. As they spent more time there, they gradually recognized that the city possessed something exceptionally remarkable. This created a need to articulate and convey that exclusive SLO feel, known as "Live the SLO Life."
Visit SLO's brand book describes in detail what "Live the SLO Life" means and how internal and external stakeholders can leverage the brand accurately. The brand book provides strategic insights into the brand platform that describes the destination's purpose, principles and personality. It also describes more tactile considerations like the appropriate color palette, logo guidelines and messaging.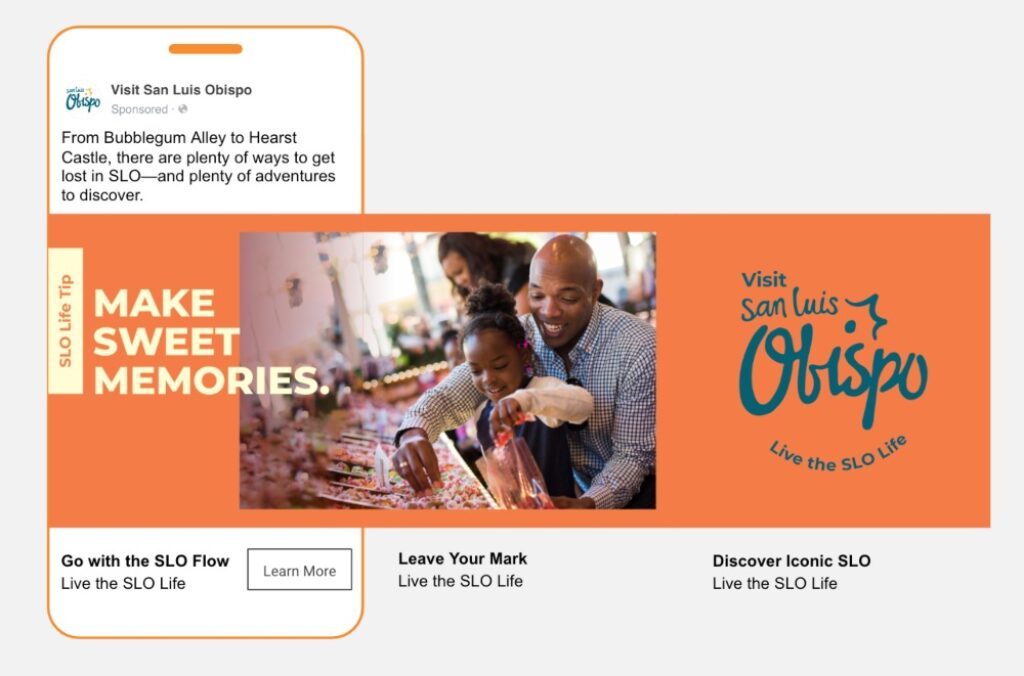 Gold for Visit San Luis Obispo's Integrated Campaign
An integrated campaign was developed to leverage Visit SLO's "Live the SLO Life." The campaign would be a way to frame and communicate that unique quality to key audiences so they could understand its value sooner.
A series of social ads accompanied audience-specific landing pages, outlining ways to "Live the SLO Life." From the advice to "SLO Your Stroll" to encouragement to "Live and Visit Sustainably," these tips are designed to paint a picture in the minds of visitors so they have a sense of the town's mix of charm and progressive values.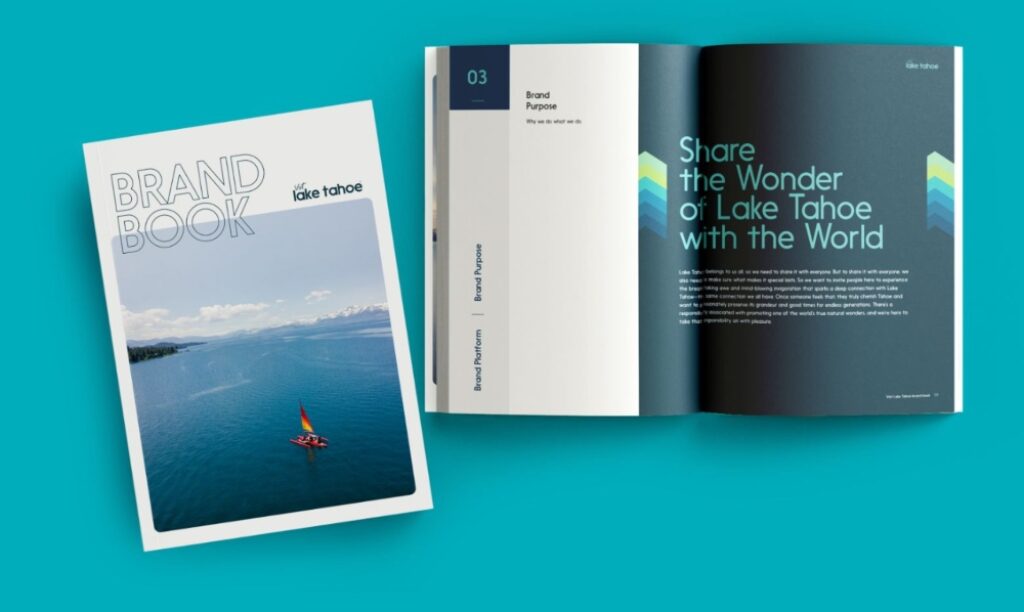 Golds for Visit Lake Tahoe's Brand Book, Brand Mantra and Integrated Campaign
Although Tahoe South had been a long-standing brand of the Lake Tahoe Visitors Authority (LTVA), it no longer resonated as effectively as it once did. As a result, the LTVA aimed to develop a brand strategy that would endure beyond the pandemic and cater to an evolving tourism landscape. This involved transitioning into a Destination Marketing and Management Organization (DMMO), transforming local perception, enhancing sustainability endeavors and adjusting to a shifting visitor demographic.
To accomplish this transition, it was necessary to rebrand and reposition Visit Lake Tahoe. Noble Studios' goal was to assist LTVA in creating a distinct brand with a clear purpose and value to distinguish itself from competitors. It was also necessary to foster unity among stakeholders and create a connection with both locals and visitors.
The award-winning brand book melded all of these elements together into a cohesive brand platform that led to the creation of the brand line, "Awe and then Some," which emphasizes the all-encompassing experience offered by the South Shore, a destination with literally every type of activity a visitor could want. Visitors can encounter an array of awe-inspiring moments, from the breathtaking views of the lake to lively dining, entertainment and nightlife.
We initiated a community-focused campaign the rebrand and introduce the novel organizational principles to the local populace. This emphasized Visit Lake Tahoe's commitment to promoting the appropriate type of tourism in the future.
Other American Advertising Awards
Copywriting
Silver for Yes& Vacations' Brand Mantra
Book Design
Gold for Imagine Co.'s Brand Book
Silver for Yes& Vacations' Brand Book
Logo Design
Gold for Imagine Co.'s Logo
Bronze for Visit Lake Tahoe's Logo
Consumer Campaign
Bronze for Visit San Luis Obispo "MidWeekend Campaign"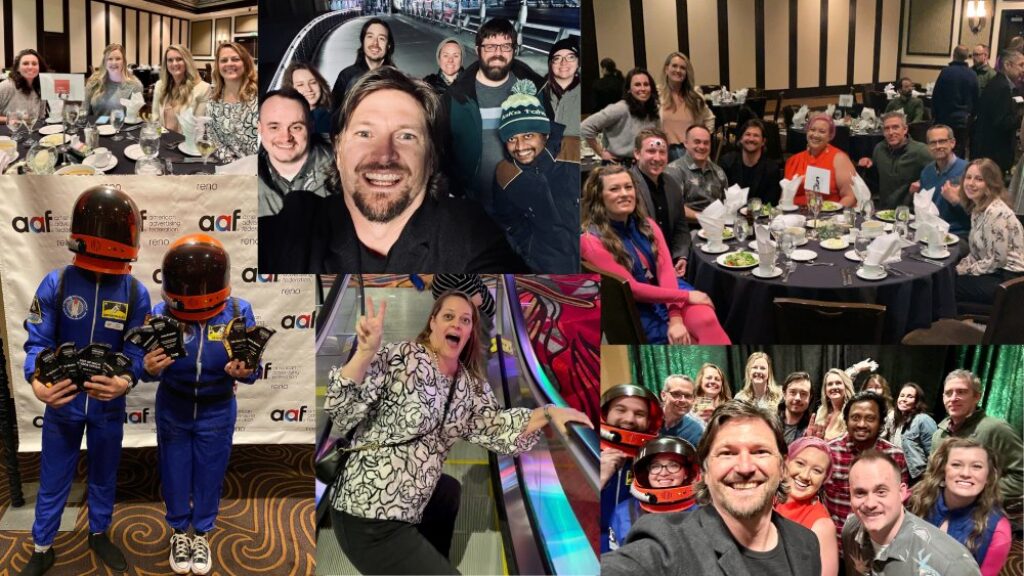 2023 AAF Reno American Advertising Awards
Each year, the American Advertising Awards draws in 50,000 submissions from professional advertising companies and individuals across the United States. These entries are judged at local, district, and national levels to honor exceptional creativity in advertising.
The Reno American Advertising Awards serves as the primary fundraiser for the AAF Reno Foundation, a non-profit organization dedicated to promoting the arts and arts education in northern Nevada. Through its efforts, the foundation has been able to award $300,000 in scholarships to students in the region. Additionally, the foundation organizes programs like the Reno ADDYs and Nevada Young Artists to support these goals.
These American Advertising Awards will contribute to Noble Studios' impressive collection of hundreds of other accolades, including recognition from the HSMAI Adrian Awards, Pantheon Lightning Awards, and the Search Engine Land "Landie" award.
We are grateful for the opportunity to be acknowledged for our work this year, and we owe our success to the unwavering support of our clients and the out of this world talent of our whole team. Their dedication to achieving results, overcoming challenges and striving for continual improvement have been instrumental in our achievements.